SHOPPING
❤ ❤ ❤ ❤ ❤ ❤ ❤ ❤ ❤ ❤ ❤ ❤ ❤ ❤ ❤ ❤ ❤ ❤ ❤ ❤ ❤ ❤ ❤ ❤ ❤ ❤ ❤ ❤ ❤ ❤ ❤ ❤
 A
beautiful evening in winter should pull-out - cozy corners, mouth-watering cuisines, happy and warm people strolling around and, of course, stalls to shop. And one of the places that would always pop-up among winners is
"Delhi Haat".
It perfectly fits the name "Shoppers' Paradise", because all you need is a perfect shopping partner (or not) who is ready to stuff mouth with food every 15 minutes.
Let's roll!!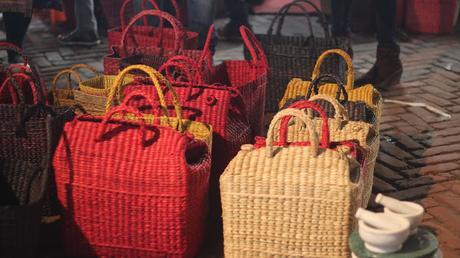 Woven Grass Tote Bags and Baskets - whether someone wants to become a street style fashionista or a save-the-planet kinds, it would attract all. I found them beautiful, cute and perfect to click the lenses. Lovely!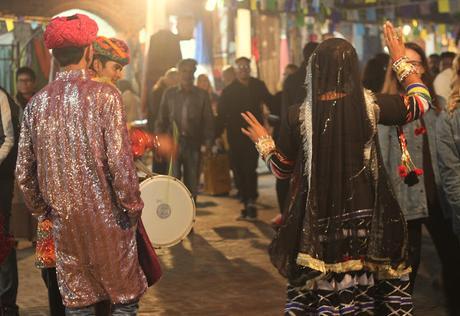 Traditional Rajasthani Dancers and Puppeteers - This bling-bling kurta  stole the whole show though!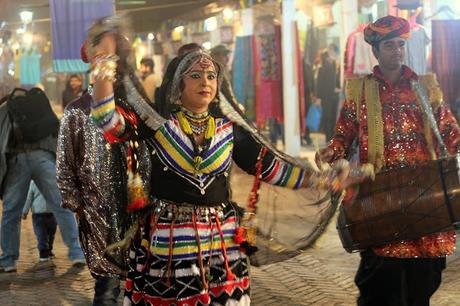 I had to show ya'll how they colourful and happy they are from front.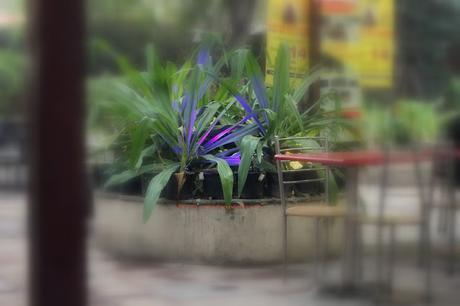 Plants - Simple yet fresh, watered and adorned with colourful lights add to the delightful experience at Dilli Haat.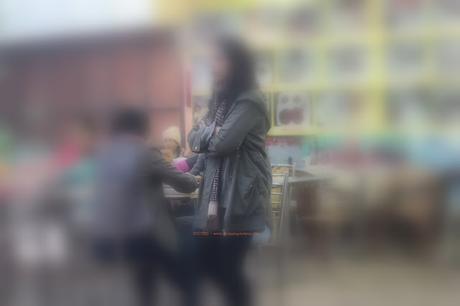 Street Style - The place is full of those who love fashion and flaunt their styles. I couldn't resist but capture the forest green parka.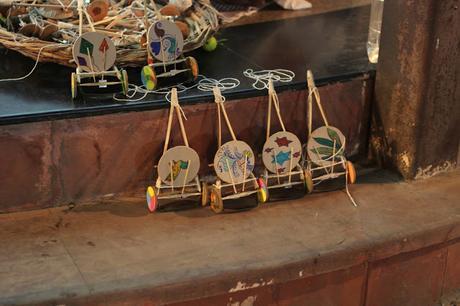 Clay and Paper Handmade Toys - Ah!! these remind me of my childhood when my grandfather used to take me to seasonal and festive fares in the town. I always returned with this toy in hand making noise that makes adults put hands on their ears. But those memories of childhood - I couldn't put hands on my ears but smile ear to ear when my baby girl pulls it with a string attached to it.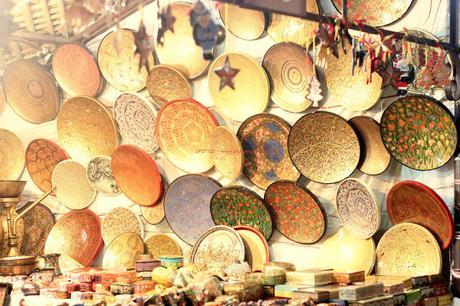 Hand Painted Wooden Trays - I don't remember the name of the sellers because I caught them from far and I just happened to save it for later. But these are very pretty and you can use them for decoration in your house to give a classic, warm touch.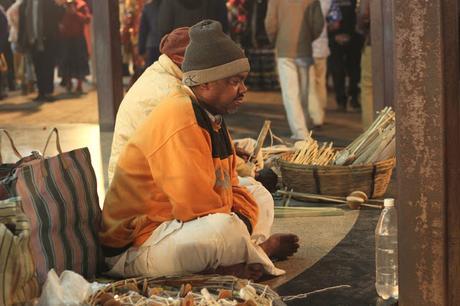 A random click of Sarangi Seller!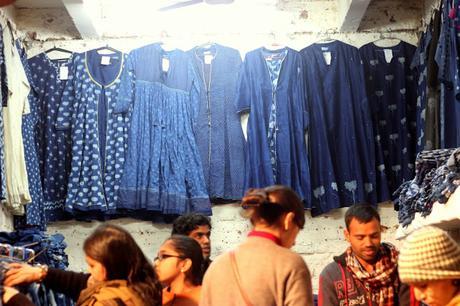 Indigo House - Everything cotton dipped in indigo color from head to toe to be found here. What I was missing is the size because I was late (8PM IST or so) and I can bet my size was sold out.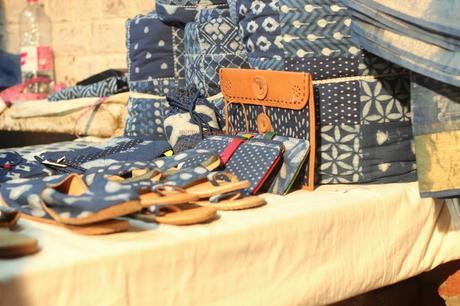 Indigo House - Chappals, juttis, wallets, clutches and fabric lengths for sale.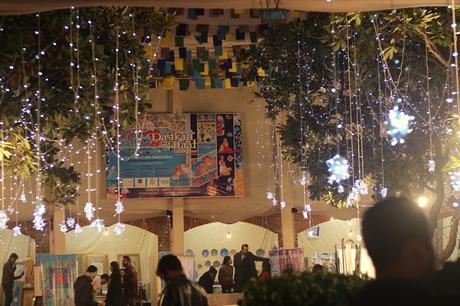 The same time happened to be the season of "Dastakar  Haat"  captured from far.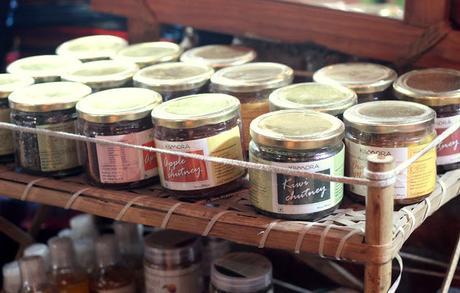 Kimora Chutneys made of organic fruits.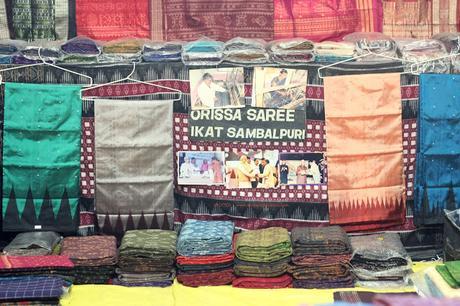 Sambalpuri Ikat Sarees at Orissa corner.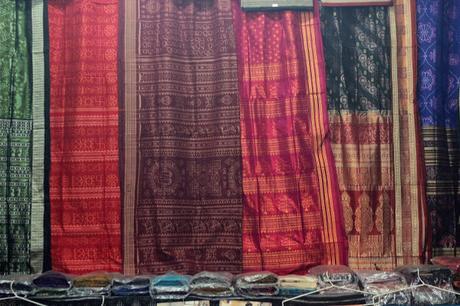 Hand Printed Silk Sarees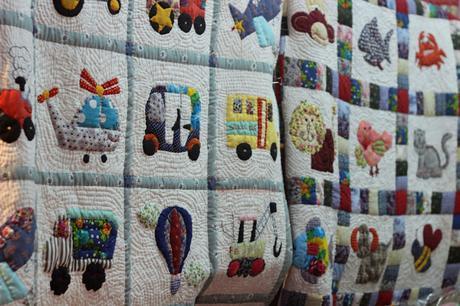 Patchwork and Stitched Quilts and more at this stall. I loved it! But unfortunately in Delhi Haat, most of the sellers do not take card or cash so i had to skip because of demonetization.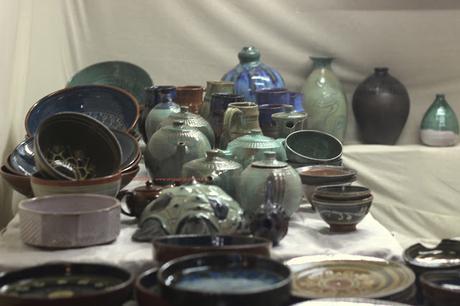 Andretta Pottery - Pottery has essentials like handmade, lead-free glaze, slip designing, high-fired and micro & oven safe. Such a fascinating color code that I started dreaming some another era that i can't quote because I don't know really! #LOL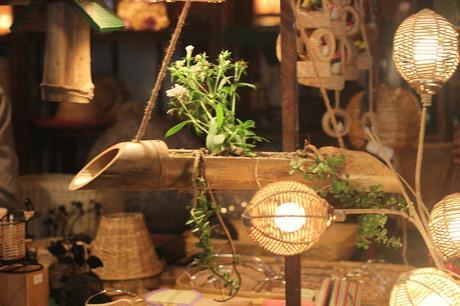 Home Decor and Garden Accessories - made of bamboo, wicker, waste wood etc. I would love to own this bamboo pot and lamp.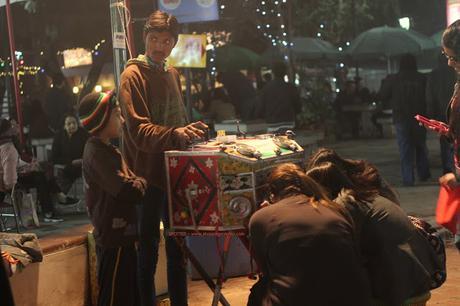 Do you guys know what it is called? OMG one of the most amazing experiences I had in January. I have always wanted to see what was inside and I got to see it. I won't tell you anything. If you haven't experienced it, you gotta do that!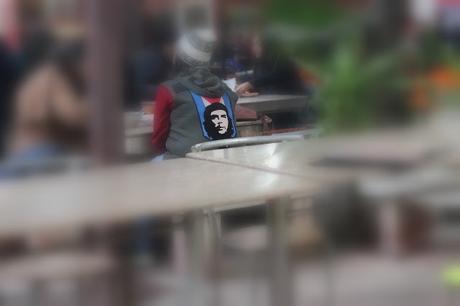 Another girl's jacket papped by me from the back! Hey, if you are reading - a shout out to you. Loved Che Guerra with you!! Kisses!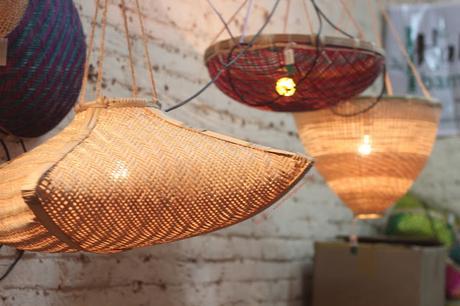 Mubarakpur Weaves Stall - selling handcrafted lamps for that seating corner in our houses where we have cozy sofas and hanging lights above.
Located at the heart of the city (I guess), the experience at
Delhi Haat
can be enjoyed year-round. Classic architectural elements like red bricks, densely put plants and amidst all this - the shopping stalls of handmade products, stalls of low-key regional cuisines of different states make it mesmerizing. I just love the whole feeling I get when I visit some time there. It's my one of the happy-places and thanks to my blogging hobby that I know what it is called - "My Happy Place".
So, tell me your happy place in Delhi where time stops for you and you just B-E? Be yourself and enjoy!?!
*This post may contain affiliate links, products sent by brand/PR for consideration, paid contents.
Never miss A Post

  :
NEWSLETTER | FACEBOOK | TWITTER |  GOOGLE+ 
Disclosure Policy
.