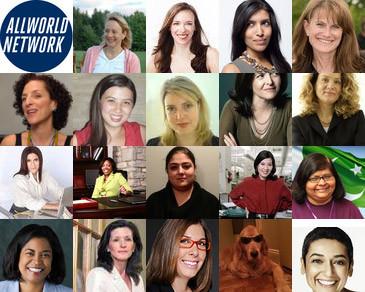 Co-written with Taryn Bird, Senior Manager of the U.S. Chamber of Commerce's Business Civic Leadership Center's Global Corporate Citizenship Program.
In an age of unparalleled opportunity for women, female empowerment has become a diverse proposition. Women are changing the world in business, government, the NGO world, and media. And they are re-defining what it means to be entrepreneurial in every field, from starting their own businesses and social ventures, through being successful corporate intrapreneurs, to innovating in other ways that give women a voice and a equal role in the society.
The power of social media, and in particular Twitter, has allowed these empowered women to share not just their big ideas, but the daily details and information sources they rely on to advance the issues they care about. As we get ready to celebrate International Women's Day, let's harness the power of social media to connect with such women and share their work.
The Center for International Private Enterprise (CIPE) and the US Chamber of Commerce Foundation's Business Civic Leadership Center (BCLC) have complimentary missions when it comes to women's economic empowerment, and together we want to highlight twenty women on Twitter who stand out as the articulate, informed voices of the future. The list is certainly not exhaustive but these women offer great insights on how to harness entrepreneurial ideas to empower women, and who themselves represent the great things women can achieve.
Stay tuned as we talk more about women's empowerment and entrepreneurship this week at @CIPEGlobal and @ChamberBCLC!
Entrepreneurs

Follow @AllWorldNetwork
Deirdre M. Coyle Jr.
Founder of the AllWorldNetwork, which increases visibility for scalable growth entrepreneurs in emerging markets.

Follow @edyson
Esther Dyson
Leading angel investor, entrepreneur, philanthropist, and commentator.

Follow @jessicajackley
Jessica Jackley
Social entrepreneur and co-founder of online microlending platform Kiva.

Follow @leila_c
Leila C. Janah
Social entrepreneur and founder of Samasource, which connects people around the world to dignified, computer-based work opportunities.

Follow @jnovogratz
Jacqueline Novogratz
CEO of Acumen Fund, a non-profit global venture fund.

Follow @willashalit
Willa Shalit
Artist, producer, and founder of Maiden Nation, an online ethical fashion marketplace that supports women's entrepreneurship.
Intrapreneurs

Follow @kristinbarrett
Kristin Barrett
Vice President at the Chicagoland Entrepreneurial Center.

Follow @sfallender
Susan Fallender
Director of CSR Strategy & Communications at Intel.

Follow @sherylsandberg
Sheryl Sandberg
Chief Operating Officer of Facebook.

Follow @gabizathp
Gabi Zedlmayer
Vice President of Sustainability and Social Innovation at HP.
Media & Authors

Follow @gaylelemmon
Gayle Tzemach Lemmon
Journalist, author of
New York Times
bestseller
The Dressmaker of Khair Khana
, deputy director of the Council on Foreign Relations' Women and Foreign Policy.

Follow @startupbiztalk
Cheryl Isaac
Entrepreneur and business writer, contributor to
Forbes
.

Follow @AmanSinghCSR
Aman Singh
Journalist, blogger, and founder of CSRWire.

Follow @WuDunn
Sheryl WuDunn
Business executive and Pulitzer Prize-winning journalist. Co-author of the bestseller
Half the Sky: Turning Oppression into Opportunity for Women Worldwide
.
Nonprofits and Associations

Follow @jehan_ara
Jehan Ara
President of the Pakistan Software Houses Association for IT & ITES (P@SHA), a CIPE partner.

Follow @LisaGreenHall
Lisa Hall
Leader of the Calvert Foundation.

Follow @KarenKerrigan
Karen Kerrigan
President & CEO of the Small Business & Entrepreneurship Council and Chair of the CIPE Board of Directors.

Follow @HenrietteKolb
Henriette Kolb
CEO of the Cherie Blair Foundation for Women.

Follow @npmcc
Nancy Ploeger
President of the Manhattan Chamber of Commerce.

Follow @ZainabSalbi
Zainab Salbi
Founder of Women for Women International, an organization which helps women survivors of war rebuild their lives.