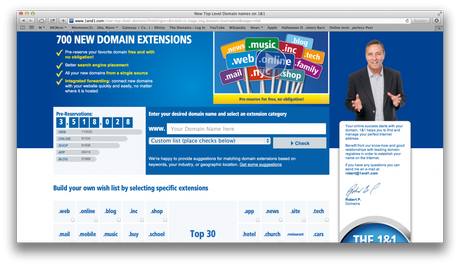 1and1.com new gTLD pre-registrations just topped the 3.5 million mark and for the first time the domain name registrar is showing the top 30 new gTLD's with the most pre-registrations.
1and1.com had only been showing the top 20 new gTLD based on pre-registration volume.
Here is the top 30 according to 1and1.com in alphabetical  order.
Interestingly  only one Geographic new gTLD made the top 30 list, .NYC.  Also only four of the new gTLD's of the top 30 have only one applicant, .Club and .Eat and .Guide and of course .Nyc
.app
.art
.blog
.buy
.car
.cars
.church
.club
.design
.eat
.fashion
.guide
.help
.home
.hotel
.inc
.mail
.mobile
.music
.news
.nyc
.online
.realestate
.restaurant
.sale
.school
.shop
.site
.tech
.web…