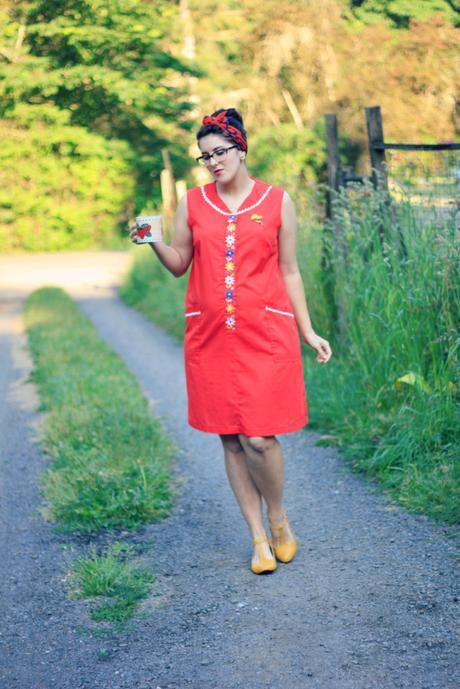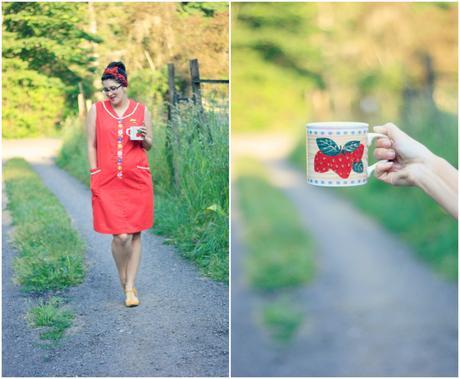 If I look a bit tired in these photos, it's because… I am. This morning I dredged my way out of bed at somewhere around 7:05, took a look at the makeup left over from yesterday (I have this bad habit of not washing my face at night), and decided that since I hadn't taken outfit pictures in 10 days and Asa was still asleep, I didn't care about the leftover makeup or the tiredness and I was going to just do it.
And I'm glad I did, because it's so much easier to take pictures in the morning when the sun isn't quite blazing into the yard yet.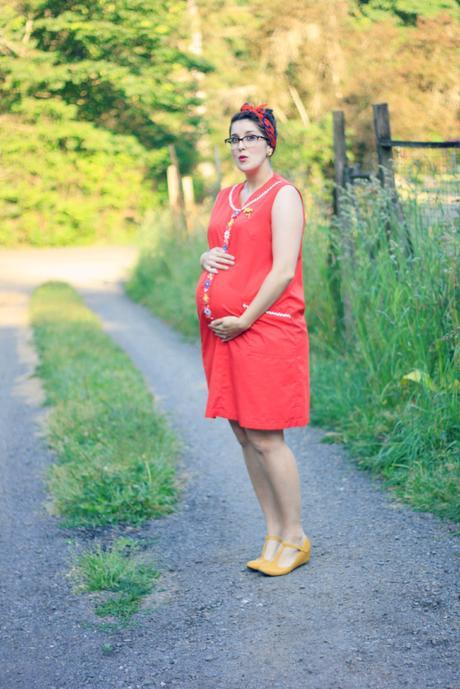 The entire time I was taking these pictures, I just kept thinking "I wear your grandma's clothes; I look incredible" (thanks Macklemore) because my husband very much thinks this is a total grandma dress (it is) and this coffee cup was my grandma's, and the scarf, earrings, and pin are all from my grandma's era. Basically, probably everything I'm wearing except my shoes and glasses belonged to someone's grandma before I thrifted it.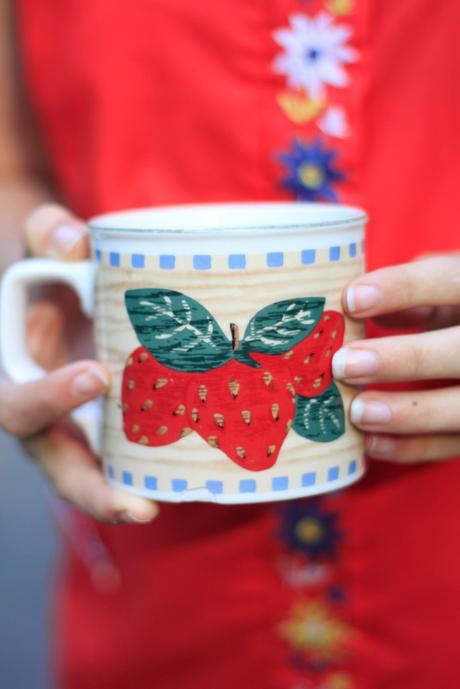 Speaking of glasses, this is my fifth pair from Firmoo, who I am always so incredibly thankful to work with, and I feel as though I never change my praises of them; I love this pair. I Googled Firmoo the other day to see what the internet was saying about them, and came across a few bad reviews (took a long time to arrive, frames were flimsy, bad customer service) and I just have to say… in all of my experiences working with Firmoo, never once have I encountered any of these issues.
I would say, having owned five pairs of their glasses, that's a pretty good record! The frames are always comfortable to wear and not too heavy (I don't like heavy-feeling frames); the prescription is always spot-on, processing and shipping feels like it takes nothing (two weeks at most?), and whenever I've had a question I'm always contacted back within a day.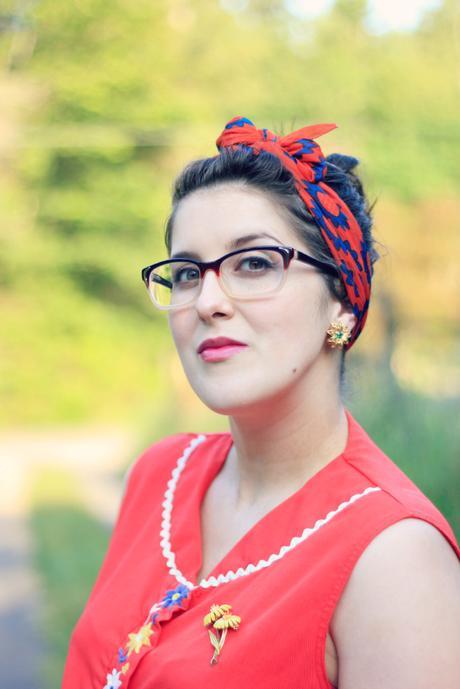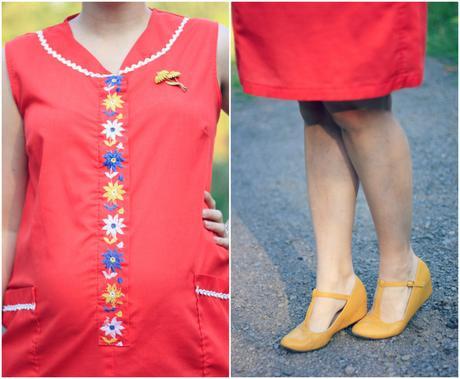 And perhaps this is partially due to the fact that I am gifted these glasses and work hard to provide them with quality reviews; maybe as a blogger promoter, I get better service. I don't know. I tend to assume that I am treated the same as any paying customer (I'd say paying customers should be treated even better – if that's possible, because I've always gotten awesome service and product).
Point being, I have recommended Firmoo to SO many people because I think that they have great price ranges, style ranges, customer service, and overall they are a company that, through being able to work with them, has made me a loyal customer. They are the first place I will look when I need new frames, and the first company I recommend when people are looking for new frames. Not because they are sent to me complimentary, but because I have always been extremely happy with them. There are definitely companies I have worked with multiple times that, the more I worked with them, the less I wanted to recommend them because at first glance they seemed great, but then quality slipped and over time it became clear that they were concerned first with getting their names out there. Firmoo is not one of those!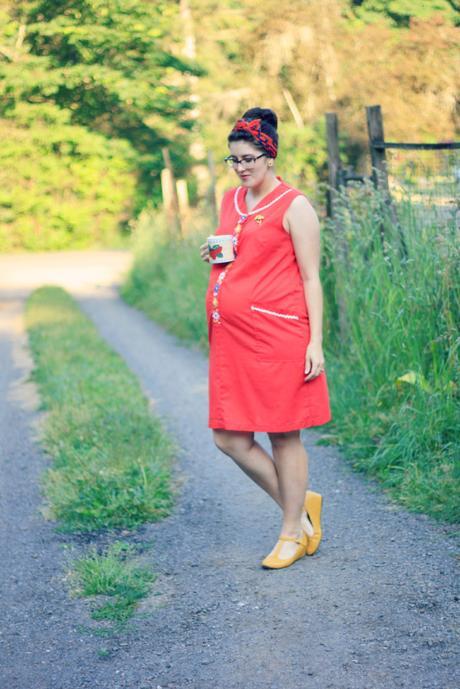 Vintage dress, earrings, brooch, and scarf, thrifted | cup, grandma's | shoes, Modcloth | glasses, c/o Firmoo
I have been thinking about sponsorships in general lately, and how when I first started getting contacted for sponsored posts, free items, and other types of marketing, it was so new and exciting that I accepted nearly everything offered to me with the excuse that I didn't really have money to spend on new clothes, so why should I refuse when they were offered? And whose business was it anyway why I chose what I chose to receive? But over time, as I've settled more into my blog and my style, I've realized I'd much rather be selective about what I promote; I don't want to be accepting free product just because it's free and exciting. I want to be working with companies who actually fit with my style aesthetic, who provide great service, who I would recommend to others, and whose pricing is in line with what I think is fair.
Sometimes, it's really tempting to accept the offer to receive a free $300 formal gown to wear and review, but I would never actually purchase something like that in real life so why should I be promoting it?
It's a subject I don't think many bloggers talk about, and I think they should. I don't think there is any shame in admitting you were sent a product for free; the work we put into showcasing that item can take a good chunk of our time and effort. As bloggers working with companies, we provide photography, styling, modeling, written articles, ad space, recommendations, site traffic, and a personal touch to everything we share. So in reality, we pay for those complimentary items with our time, effort, blog space, and talents, which is something that took me a long time to realize.
Do you promote items on your blog? What is your policy for accepting sponsorships or free items?
Happy Thursday!

Bloglovin|Facebook|Twitter|Pinterest|Instagram|Fiction Press|Etsy|Photography