Vogue Magazine – hair's little troubleshooter –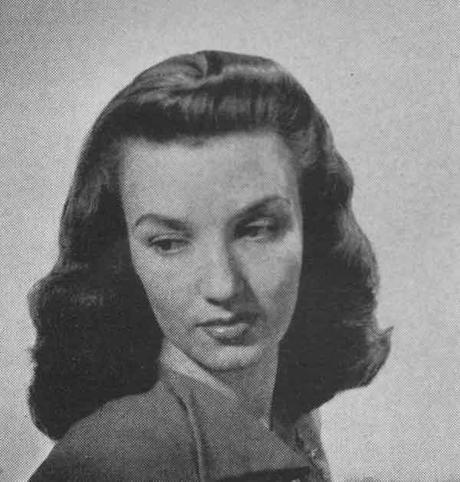 The perfect 1940s coiffure – with a half wig !
Wigs are the intelligent answer to a number of hair problems. Wigs are beautiful. A wig can look as natural as your hair. Vogue believes that more and more wigs will be worn, and more and more frankly. Today, wearing a wig no more admits a secret and shameful defect than wearing face-powder admits a poor complexion. Wearing a wig to cover up an aesthetic imperfection is merely putting beauty above false pride – proving that you are not like those women who, with a faint undulation in their tresses, scorn the blandishments of a permanent wave because their wave is "natural."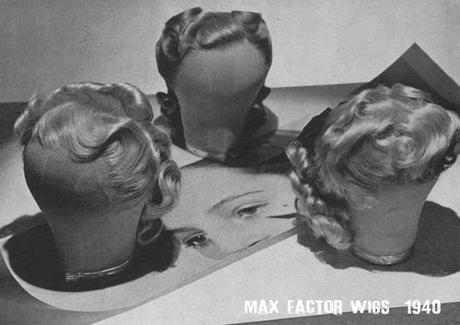 Max Factor makes wigs. He's been doing it for the movies. He makes wigs, or half wigs, for the public, not, perhaps, the general public, for they cost a pretty penny, but for many more women than you would imagine. He will even design them from across an ocean, from photographs, measurements and 'swatches' of his clients real hair. "You get used to them in a week," one woman tells us."It takes that long to convince you they won't fly off in a high wind!" You can try on hats to your heart's content, your part really is fool-proof, and they're so easy to put on, as our tutorial here from Max Factor studios demonstrates.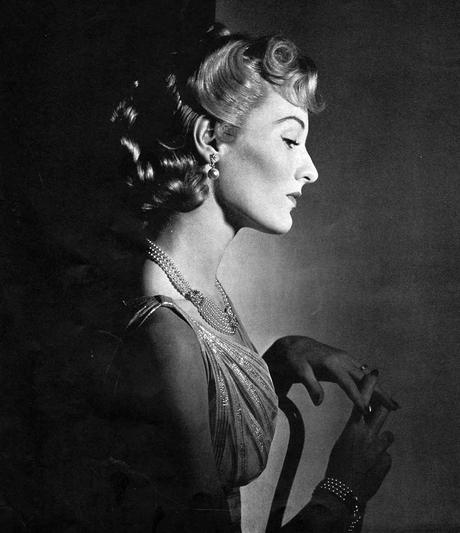 A flattering made to order wig from Max Factor Studios in 1940.
The Wig that goes on like a hat
The Full Wig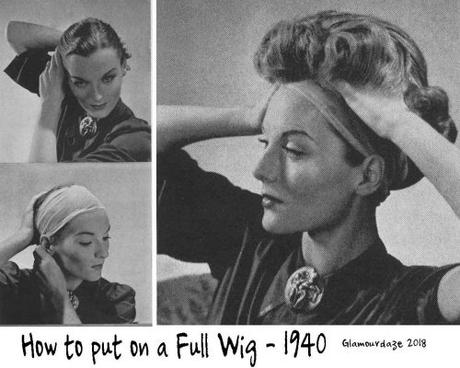 Step1: Before putting on any wig, be sure to draw the hair back tightly and smoothly as possible to the head, with no bulges to intrude.
Step2: Then wrap the wig-band snugly around the head, covering it as completely and smoothly as possible, in order that your hair will not be bulky. Set this wig-band back about one inch from the natural hair-line.
Step3: Start from the forehead and put the wig on as you would a close fitting hat. If the hair lace ( the fine net on which the hair is woven in place) is inclined to bulge, apply a little spirit gum to the edge.
The Half-Wig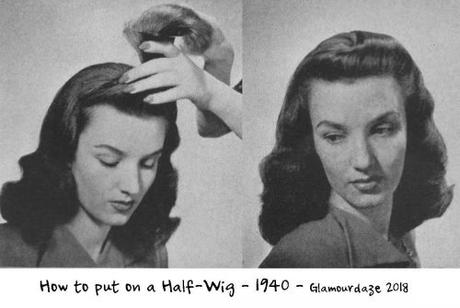 Part your hair across the center of your head, taking a straight line from ear to ear. Comb all the front hair down over the face and attach the half-wig firmly at the part with hairpins and little combs.
Then, comb the front hair back again over the complete edge of the wig ) an easy way to achieve a pompadour or the new serene=brow look), and your own hair will then blend perfectly with that of the wig.
Taking care of your wig.
You keep it, along with your hats, under sacheted muslin covers on a wig-block. When you think the wig needs redressing, you either return it to Max Factor, or go to a competent hair-dresser who will know how to clean and reset it for you. So if you're a girl with problem hair, then you can banish those worries and secure yourself the latest in 1940s hairstyles with a wig !
That's all !
©Glamourdaze 2018
Originally published Vogue Magazine 1940.