Pre-New Look experiments in dresses –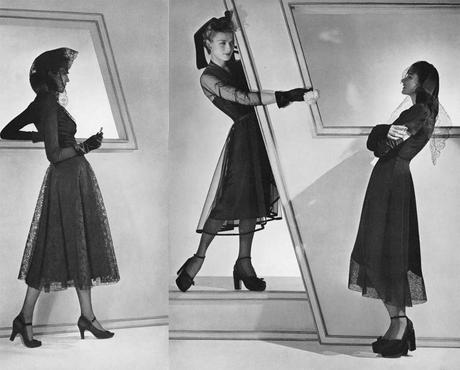 Image by Horst b Horst for Vogue magazine 1942
An interesting image from 1942 Vogue, specifically the skirt on the left. Very Christian Dior, some five years before the advent of his Corolle collection.
There's a new look at night ( here in translucent black). The dress is short – the cut and the fabric formal. Made more so, by important gloves and headpieces.
Left dress:
Dusky light through a leafy pattern of black rayon lace – over the head, over the skirt. Rayon jersey top. Bergdorf Goodman; I.Magnin Dept Store.
Middle dress:
Filtered light through nylon marquisette – sheer as an evening stocking, crisp enough for a full Pierrette skirt.Bound in solid black. Altman.
Right dress:
Night light through the mantilla and the hem of Norman Norell's black silk crepe dress. Long black mitts. Bonwit Teller; I.Magnin Store.
That's all !
©Glamourdaze 2017