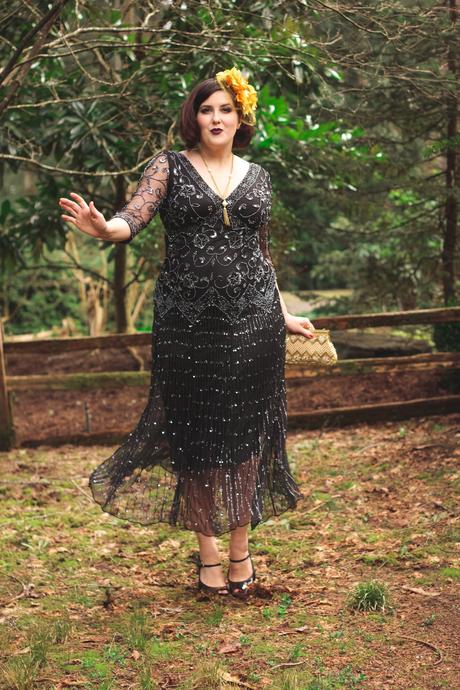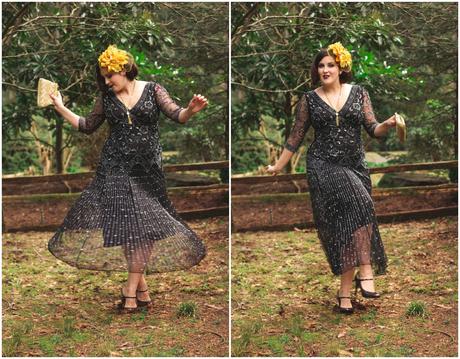 All That Jazz
I have never been very inspired by the 1920's. The preferred body shape of the time was flat chested, straight up-and-down, and about as far from curvy as one could get. With their dropped waists, straight cuts, and mid-calf length preferences, the 20's held about as much appeal to me as a paper bag. With my hips and bust, I could never fathom trying on anything 20's inspired and loving it. Straight cuts, on me, look horrible.
Enter this dress.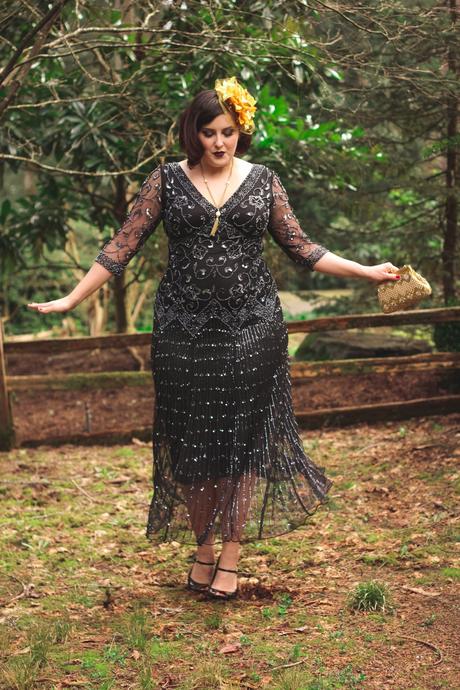 I was perusing my local Goodwill, and grabbed this dress to add to a sale post I had going (where I occasionally post in a BST site with any retro inspired or vintage things I find while thrifting, as I find them). It is a size 8, and on the hanger looked far too small to fit me. I usually wear 3-4 sizes larger if dresses have no flare in the hip. My top half is an 8, but my bottom half is usually around a 16. I very nearly just photographed it on the hanger, because it wasn't my style or my size.
But on a whim, I decided to pull it over my head. It was stretchy, I discovered, and zipped easily, and fits… perfectly. The bias cut and stretchy lining mean it fits me now, and will fit later if I lose weight. The cut also means it is incredibly flattering on my body type, because it's not baggy and hanging loose in odd places! Count this the first time I've adored a 1920's inspired cut on me!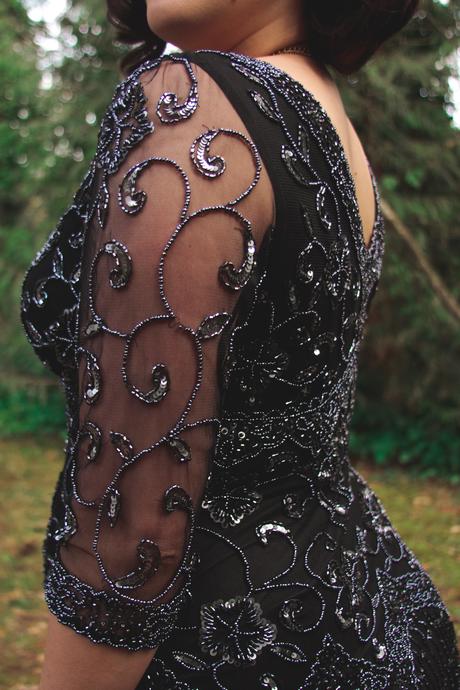 Silver and Gold
My friend and fellow vintage blogger Skye has noted before that the 20's were a very bohemian age, during which patterns and colors were thrown together with abandon. Matching was of little consequence. So, though my first instinct was to pair this dress with silver accessories to coordinate with the silver-black beads, I decided to shake it up and grab a vintage gold necklace and my newest vintage beaded bag.  After that, the golden yellow fascinator was a no-brainer! I love the beautiful contrast it brings.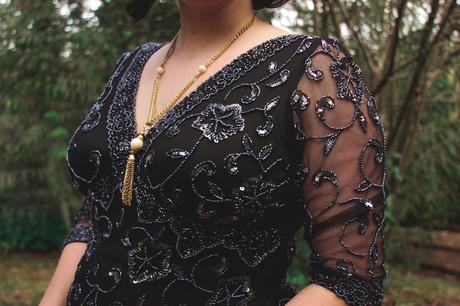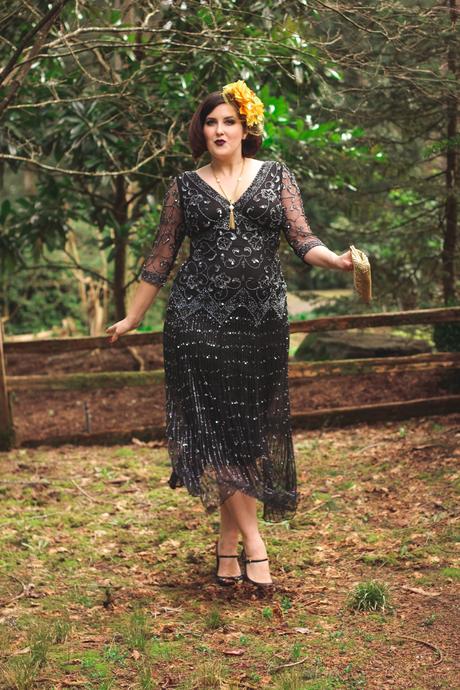 While I'm a coordinate-to-perfection girl at heart, sometimes throwing in a bohemian, wild element is so worth it. The pops of gold really help highlight all of the beautiful details of this dress, and bring it all into the flapper age so well!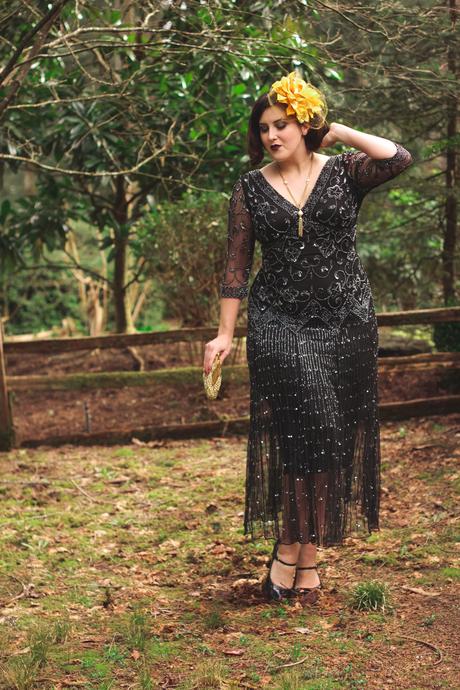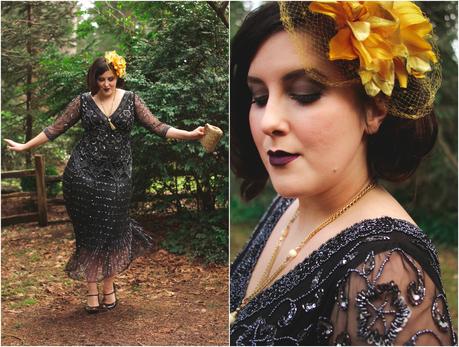 I couldn't stop moving and dancing wearing this dress, as you can see! And while I wish I could perfect the hair a bit more, it was so fun deviating from my normal midcentury look for a more sultry, vampy flapper outfit.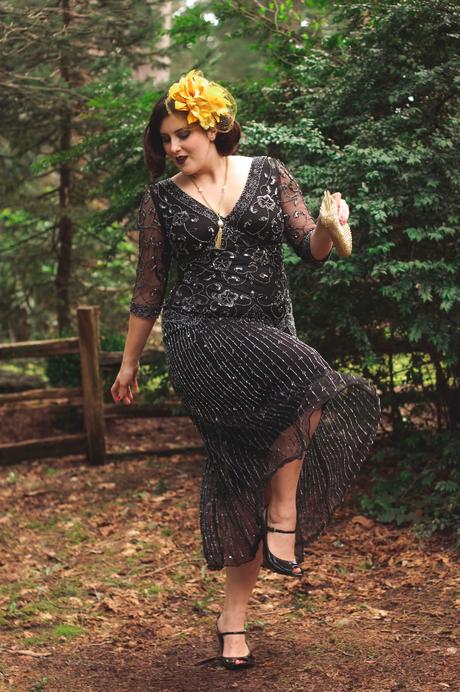 Fun fact: most hemlines in the 20's were between ankle and calf lenght, with only a brief two years between 1926 and 1928 of shorter skirts that showed knee. Those two years are what we associate with the flapper look, but I think this dress, despite its modernity, showcases more "accurate" 20's eveningwear attire. Though I'm sure I would not be quite as fashionable in that time period, because my figure is anything but straight. 😉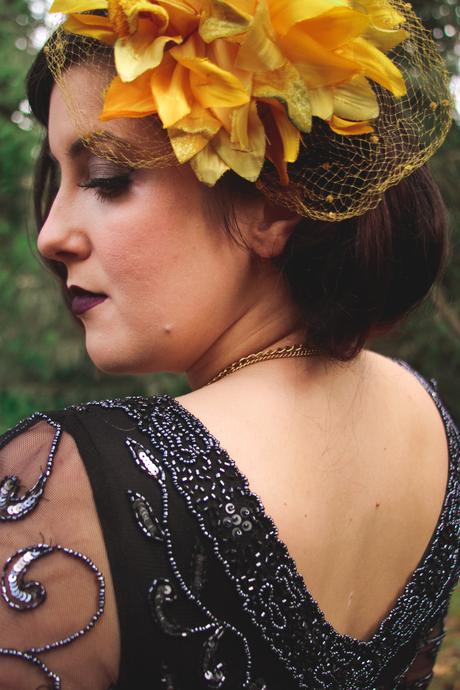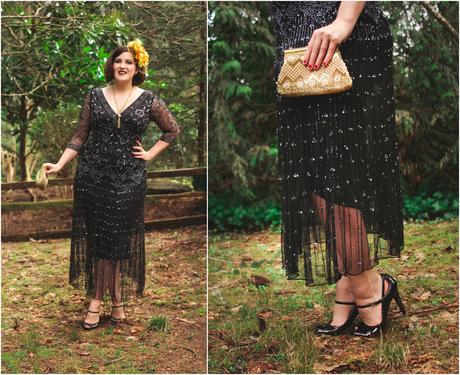 Now I'm wishing I had a Gatsby party to attend! Perhaps I'll just have to throw one. Maybe for my birthday next month.
Dress, Pissarro Nights but thrifted (still available online! And they have so many other gorgeous dresses!) | shoes, thrifted | fascinator, from @haileymelise on Instagram | necklace, vintage | bag, vintage/thrifted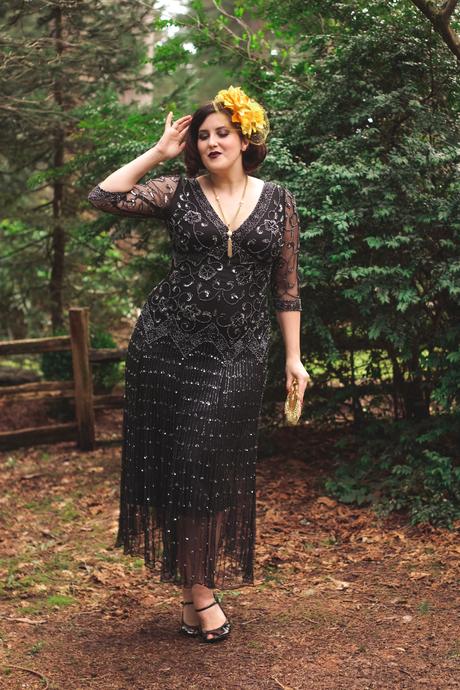 Save