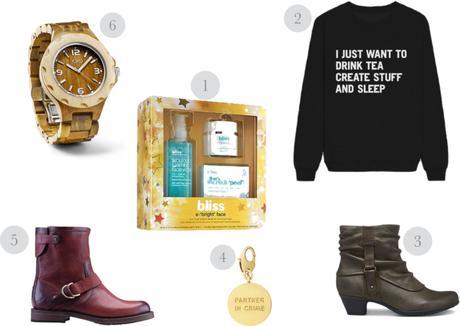 The holidays are in full swing, and to celebrate and help ease your mind I have put together my ultimate gifting guide: 19 perfect gifts to give to yourself, or someone you love this holiday season! I've included my personal skincare staples, some of my favorite brands, as well as the best multi-tasking beauty products in the business. Enjoy!
1. The Bliss A-Bright-Face gift set is everything that winter skin needs, all for $49 ($91 value). With a two-in one exfoliating face wash (which smells amazing), triple oxygen vitamin c moisturizing cream and a set of 5 glycolic resurfacing pads mini-peels, this will brighten anyone's holiday. It can be found at both Ulta and Kohl's. Or - click here to get the Bliss A Bright Face for 20% off.
2. I mean...this sweater kind of says it all. Find more super unique and quirky items, and support artists by shopping at rad.co
3. Cobb Hill Shoes make the most comfortable shoes ever. With soft supple leathers, waterproof options for the wet seasons, and their New Balance comfort technology, you seriously can't go wrong. If you don't know the persons size that you'd like to gift a pair of Cobb Hill boots to, get them a gift card!
4. Little charms like this one from Kate Spade can be so special. They can be attached to a necklace, bracelet, or purse.
5. OluKai boots are based out of California and deeply ingrained in Hawaiian culture with plenty of local influence, I couldn't be more proud to own them. Check out my recent outfit post wearing them, and learn why I love them so much. They'd make a great gift for yourself!
6. JORD wood watches are super unique, not one item ever looks the same. They're lightweight, beautifully and sustainable made, and perfect for the eco-hippie friend in your life. Check out my outfit post where I'm wearing mine.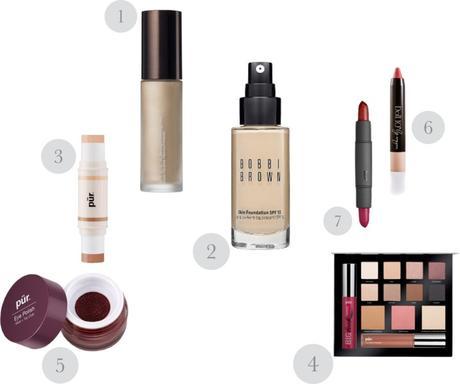 1. Secret: I just purchased this, and already I'm hooked. The Becca Backlight Priming Filter is $38 and gives that signature Becca glow to the skin. It works with all skin tones, so it's perfect for anyone on your list!
2. Bobbi Brown makes my favorite foundations. The newest one; Skin Foundation, is lightweight but layers up perfectly. It's $48, and if you're looking for a special gift to yourself you won't regret this one.
3. PUR Cameo Contour; This is magic. This makes the perfect gift both for the makeup expert or the friend who couldn't apply eye shadow to save her life; it comes with fool proof instructions on the back, and it's own application sponge. It's foundation, highlighter, and bronzer all in one! You've seen it in action on my Instagram, and I use it every day.
4. PUR Love Your Selfie Palette; it has eye shadow, blush, bronzer, highlighter, lip gloss, and mascara. I carry this with me in my purse and keep it in my car, and have an extra in my overnight bag. This is the perfect gift for anyone who loves makeup. See the Love Your Selfie on A Mused Blog here.
5. A lot of PUR, I know. But it's because their products multi-task and totally deliver. The Eye Polish is unique in that it's a primer, a shadow, and a top coat. Throw these babies into a stocking and call it a day!
6. The Doll no 10 Gel Lip Crayons are super soft and lightweight. They give a sheer wash of color, are moisturizing, and are long lasting. At $14.50 each, you can dish these out to your friends and not go broke. Find them at QVC, or doll10.com
7. Oh Bite Beauty...I love this brand. Their lip products are lightweight and butter smooth. This Min and Mingle lipstick is fun because it gives the wearer an opportunity to do what most women do anyways: blend their lipstick colors, but with less clutter. Pick up this gift at Sephora for $14.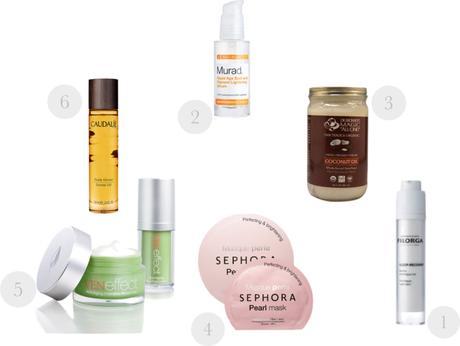 1. Filogra Sleep Repair is like forgiveness in a bottle; sleep late? Party too hard? This will have your skin looking like you got 10 hours of sleep, even if you got 4. This will make a great gift for your bestie who doesn't know how to slow down. I use mine every night as part of my routine, and love it. The product absorbs quickly into the skin, is non-greasy, and plays well with my other moisturizers. A true skin saver!
2. This Murad Rapid Age Spot and Pigment Lightening Serum might be a mouthful to say, but it works wonders. Reverse sun damage and acne scars with this in less than 4 weeks. I'm on my 3rd bottle!
3. Coconut oil will fix your life; apply to your hair, your food, your skin, your relationship... Dr. Bronner's is my favorite and can be found at Target.
4. I am addicted to the Sephora sheet masks. They're cheap (only $6), effective, and make great stalking stuffers!
5. The VenEffect lip and eye treatments are both part of my daily skincare routine. The lip product plumps and moiturzes lips, but also acts as a primer for lipstick. This would be a great gift for mom, or for anyone who takes their skincare quite seriously.
6. Caudalie Divine Oil - a classic staple that smells like heaven. Give this as a stalking stuffer in it's smallest size for only $9 at Sephora.
--
About the links - click away - no referral links have been used in this post. Enjoy and happy shopping!