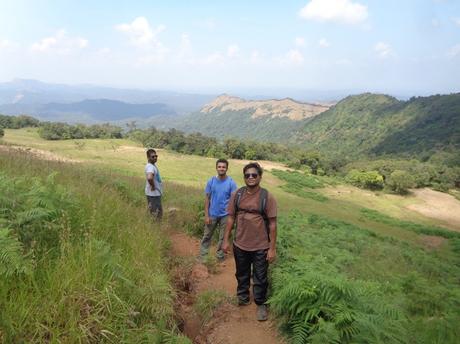 Place
: Kodachadri & Kavaledurga Trek
Distance
: 400 x 2 = 800kms
Directions
: Bangalore > Hiryur > Shimoga > Nagara Fort > Kodachadri > Kavaledurga
Krew
: Aditya (Adi) > Ashok (momz) > Aravind (Arvi)> Karthik (Sp)
Car
: Creta
Previous Visit
:
BR Hills
IN LESS THAN 50 WORDS:
Alright, this was one of those getting back into flow trips. Kodachadri trek in one day (both climbing up & down by foot) basically flushes out you mind and body pretty good. The trek up hill is quite enjoyable with lot of wild life scenes. Then when you back this up with another trek on the next day, you will officially called mental. Haha that we proudly are :P
All 4 days was with cell network, so yeah, had to be good!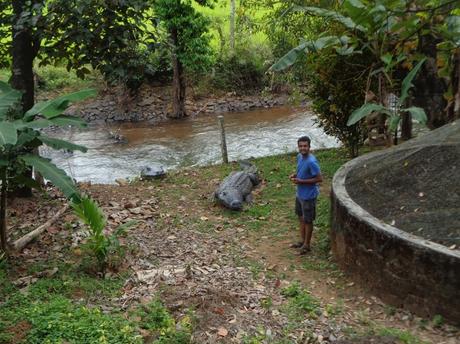 INTRO & PLAN:
After August 2018, we hadn't been anywhere in Sept & Oct. Rusty 2018 it was, trust me! 2019 should be different. 2019 will be different. Okay, to get the juices flowing we decided to hit a big one. We did try out a few option in the Western Ghats but these couldn't materialise. So I began my enquiry into Shimoga side and we finalised on Kodachadri trek.
Having 4-5 options and finally we finalised and were all set to go and BAM! I was asked to travel to Amritsar from office and when I broke this down to my friends they said fine some other time. This took me aback, I decided to fight for this trip – was it worth it? Hell Yeah! \m/
TIME: 22:00 (29/10/2018)
ASSEMBLE & LEAVE:
Yeah I was up by 4AM did a few sit-ups and push-ups and was all set to go. We met at college at 7AM after formal greetings we were all set to go. The plan was quite simple:
Day1
: Go – VV dam+ Nagara Fort, Day2: Kodachadri, Day3: Kavaledurga, Day 4: Come back!
TIME: 07:15
DAY 1: Go to Shimoga!
RIDE 1: (Bangalore–Hiriyur – Shimoga – Nagara - Nittur)
This was a 400kms drive with two places covered on Day1. The first 200kms was butter smooth and 2nd half of the journey was slow paced. We left Bangalore by about 07:30 and the drive was smooth. We pulled over at our regular hotel for some yummy breakfast. Post breakfast we drove non-stop and testing my memory we took the correct turn near Hiryur to reach the beautiful Vanivilas Sagara Dam (200kms)
TIME: 11:00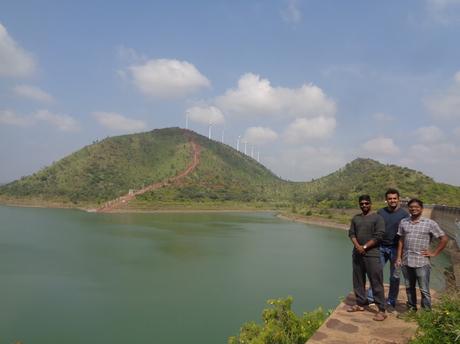 After spending some quality time at Vanivilas we left towards Shimoga. The drive was again smooth but slow paced. At hosadurga, we went on foot exporing the town and finally found our Laxmi :P. Driving further at a smooth but steady pace, we pulled over at Shimoga for some Biryani batting. After a heavy lunch we left towards Hosanagara, and we stopped at the Nagara Fort for exploration.TIME: 16:45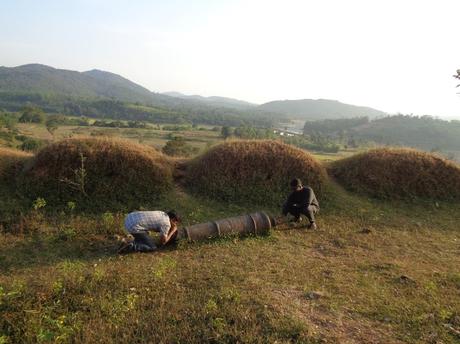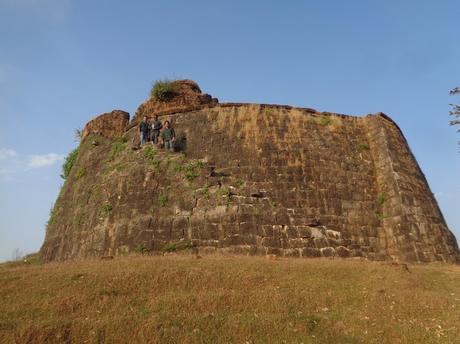 NAGARA FORT: Nagara fort would take approximately an hour to cover. It would be better to visit this fort during monsoons as the entire fort would be fraped with a green grass blanket. The fort has a few pods, meeting halls, and outposts. Its quite spacious and easy to climb and hence a good pit-stop on the way to the might Kodachadri!TIME: 17:30Continuing further we reached Nittur and calling up Mr.Aditya, we eventually made it to Simha Farms. TIME: 18:00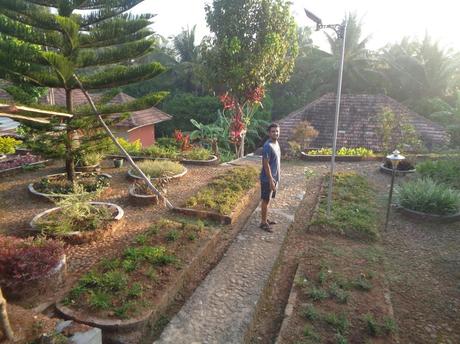 SIMHA FARMS:Trust me, this does require special mention as this was like none of the other home-stays we had visited. As we were proceeding from the gate to the Villa, we seeing sculptures of Buffalos, Snakes, People working in fields and they looked so real and being in their own natural environment made them even realistic. This kind of sobered us down!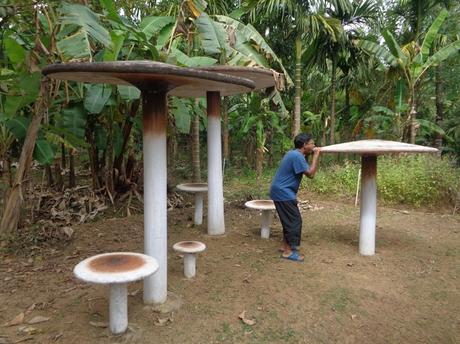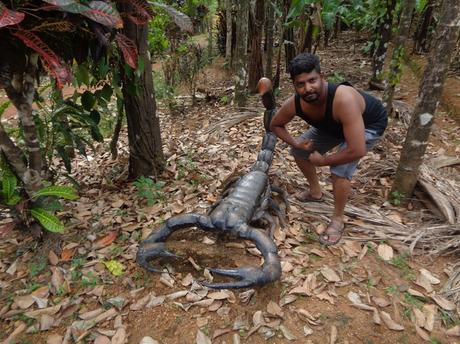 Mr. Aditya is a wild life photographer and his father was an art lecturer and these sculptures were his babies. We were truly impressed about the passion these people had. I usually don't write much about the home stays, but this deserved special credit. Contact details mentioned at the end. (Else u won't read the whole article, kidding! :P)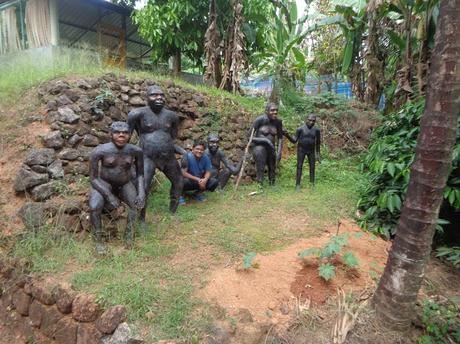 We ventured out to Nittur by 7PM to get few essentials, and there we saw a batch of people in a jeep make a pit-stop. They had just returned from Kodachadri and looked totally busted. They went to a medicine shop and were enquiring for some pain-killers. We enquired as to how the trek was and they to my horror, they gave us the wildest of description. Considering they looked fit and all, this made me worried of the fact that our team would be worried. Anyway, we made back to our home stay, opened the bottles and sat around till 1AM speaking. Special mention to the friendliest kitten I've met till date, he jumped on our thighs and ate from our plates. Jumped on our bed and was sleeping on our bed. Haha, crazy fellow!TIME: 01:00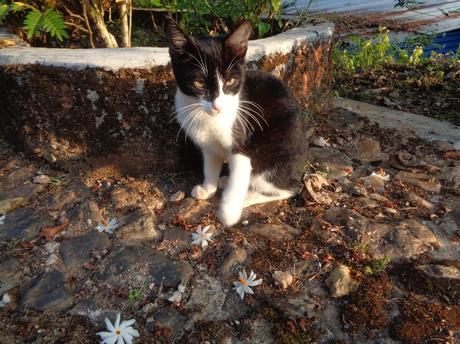 DAY2: Kodachadri trekking – The Reckoning dayWaking up at 5AM, I went outside and sat. Next to wake up was Momz. We had some tea and sat in the peaceful ambience.  We had our breakfast and decided to leave to kodchadri with a lunch packed and water 4-5 litres of water. The base of the hillock is about 30mins from Simha Farms. We reached the base of the hill, awoke the lizard's spirit within and were all set for a day of mental & physical flushing.We took about 3.5hours to climb up and about 2.5hours to find ourselves down.  People can go upto the temple in Jeep as well.TIME: 10:30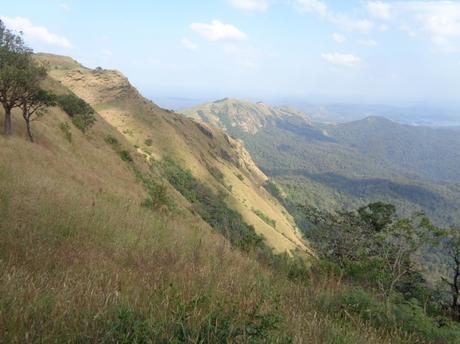 Like always people. I have divided the trek into 4 segments – makes it easier to know your milestones when you head out there (yes, u gotta head out there!)
Base to Hidlumane falls 20mins Easy
Hidlumane falls to Peak1 60mins Straining
Peak1 to Jeep Route 45mins Easy
Jeep route to Temple 15mins Easy
Temple to Peta (End) 30mins Easy but cautious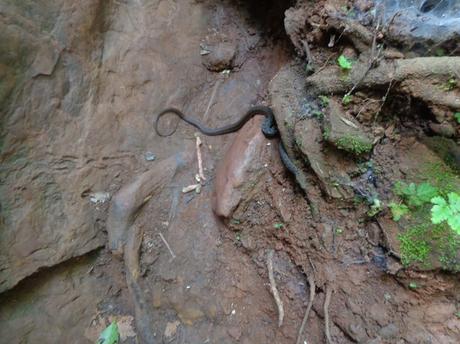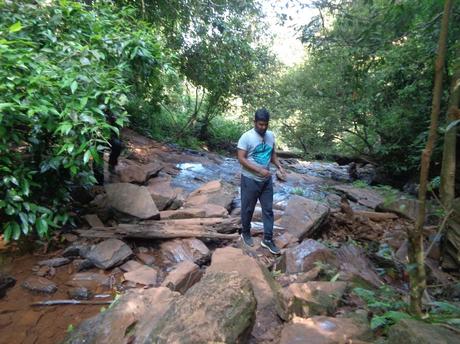 1.Base to Hidlumane Falls:
This was first stretch, it gives a pretty first good impression of the trek to come. Lots of streams and trees can be found. We made our way jumping with excitement and we came near a set of rocks, we had to cautiously proceed and make it across into the forest. And guess who greeted us? A snake! Wow, the day was getting better minute by minute, wanted to hold like always, but it crawled its way into a burrow! After 20mins or so, we made it to mysterious hidlumane falls. We decided to take a shower during our return to the place.
TIME: 11:00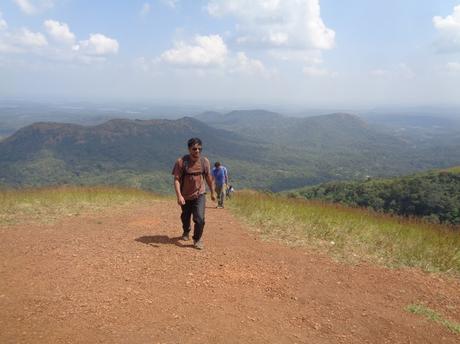 2. Hidlumane Falls to Intermediate Peak:
Okay, this stretch would be the most gruelling, energy consuming and risky part of the trek. As we left hidlumane we were still below the tree-line and no sunlight hit our heads directly. After a few minutes in the forest we were out in the open and the energy began to drain at a much faster rate. The terrain was steep, slippery with gravels and stones and not many resting points in between. It was a pure test of leg muscles. Pushing ourselves step by step ( don't forget the lunch and water bottles) we made on top of the intermediate peak – pretty much busted.
TIME: 12:00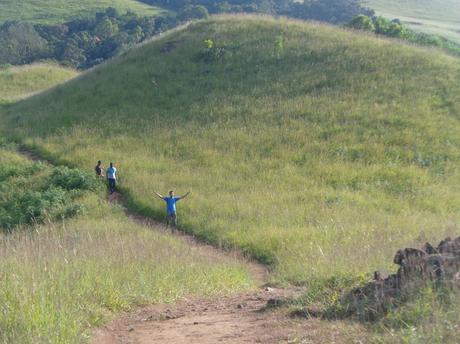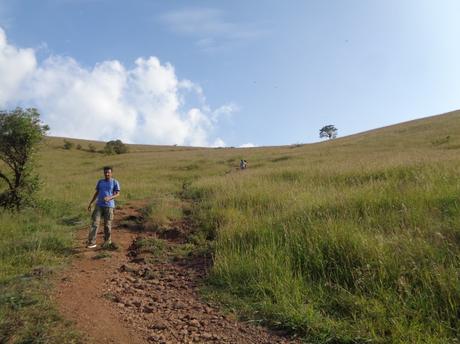 3. Intermediate Peak to Jeep Point:
After reaching the peak, we took rest for sometime and looked at the next stretch. We were happy to see a downward stretch followed by a climb again. Most of the trek was on flat lands and it was pretty easy. We made it to the intersection with the jeep route. This place is very scenic and offers very good views of the surrounding valleys and peaks.
TIME: 12:45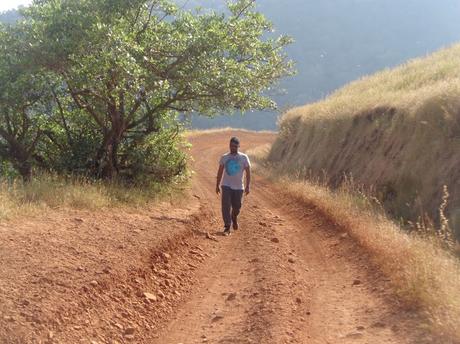 4. Jeep Point to Temple:
This is a 1 to 1.5km walk on flat-ish muddy road. Considering the all climbing so far, it felt like heaven and we more or less put our bodies in neutral to take us further. The roads are with red mud and jeeps keep traversing. We did find a second snake here, but it was crushed under a vehicle. We reached the temple premises and there's a pillar here whose metallic composition still remains mysterious to date. It is claimed that it blocks most of the cell tower signals.
TIME: 13:00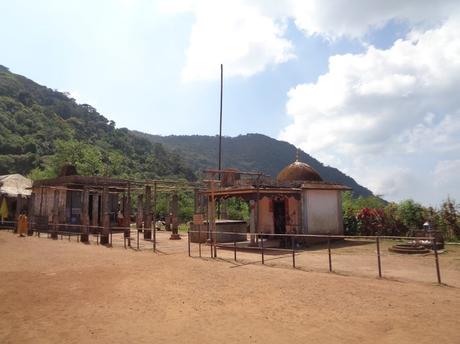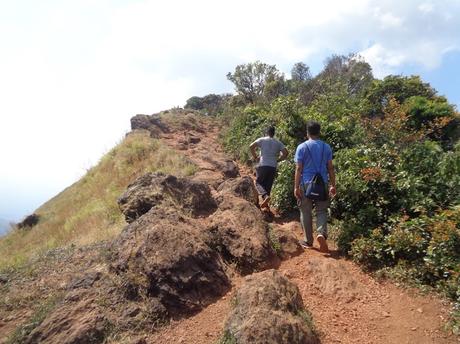 5. Temple to Peta:
This is the final stretch. People have to climb this stretch, until the last stretch people have an option of taking a Jeep. The final stretch was pretty good. It offered us very scenic views and it is said on a clear day we can spot the Arabian Sea from here. The path ran right along a steep ridge and it was slippery. So even though it was easy, high caution would be required. We made it to top and let out a huge breath from the bottom of our lungs.
TIME: 14:00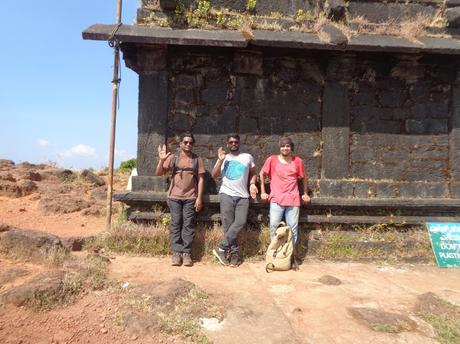 TOP OF KODACHADRI:
It is believed that Shakaracharya meditated here. We paid respect the place and quickly descended a few steps below to find a nice place to crash. We realised we don't usually get to push our bodies to such limits, hence that
jolting of ourselves is always required once in a while. We wiped out the slightest thoughts of heading back in jeep and decided to climb down on foot. We opened our packed lunches and began munching. After having a few bananas we decided to take a nap for some time and rejuvenate our body and mind.
TIME: 15:00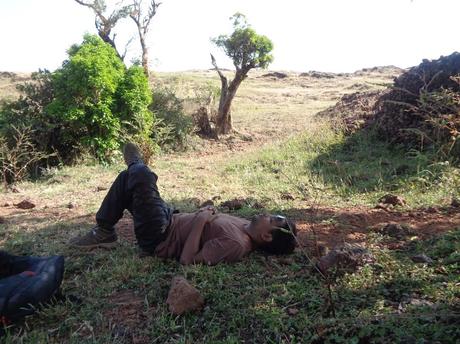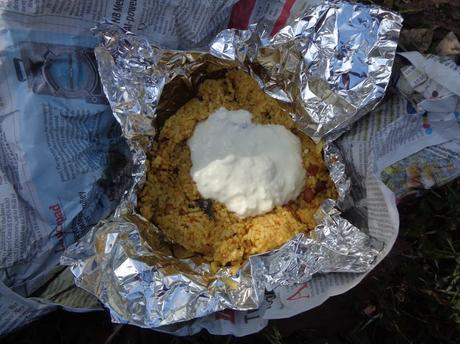 TREK DOWN:
After a good deep sleep, we felt so fresh waking up. We began our descent and it took us 2.5hrs (excluding the 1 hour at Hidlumane falls). We made it to temple in about 30mins and we started walking towards the jeep point. From the jeep point we made it to peak one enjoying the surroundings, the sun had begun his way down to the horizon as well.
Getting down the steep part from Peak 1 was kind of scary. It was taking a major toll on out knees and ankles. We did spot a herd of Bisons afar and also heard that once an elephant had made it until the temple. We reached Hidlumane falls by 5PM.
Even though the falls looked very pleasing, once we got below it, we could feel the force of the crushing water on top of our skulls. It was as though our skull was being ripped apart into two pieces gradually. Covering our heads and sides of ears we allowed the water to ease our pains. Once we emerged out, most of the pains had instantaneously disappeared.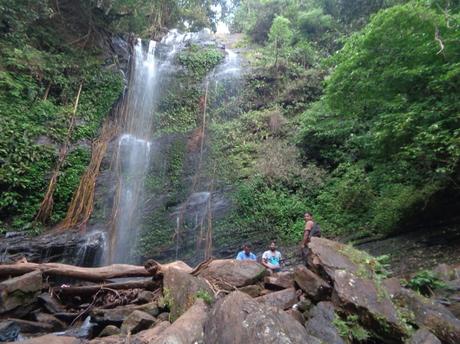 Making our final way to the base, I was so excited I was jumping around the creek and boulders, I sprained my right ankle. But I knew I had sat and held on it, it would cement. Hence bit my teeth hard and continued to jump on the boulders enduring the pain. And guess what, it became alright. Tried and test method – sprain your ankle? Just continue walking. It will self-heal.We reached back the base in one piece!
TIME: 18:00
So, that was day 2. Crazy day, we had flushed out bodies and minds by jolting it. Night we sat around the camp fire with glasses and snacks in our hand and had relaxing sleep post-dinner.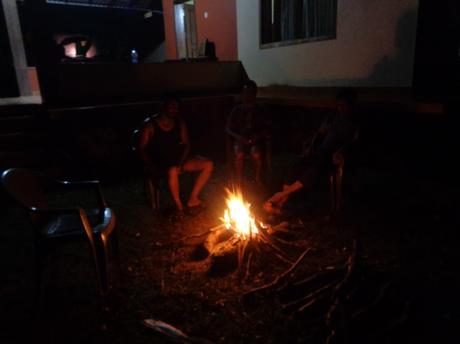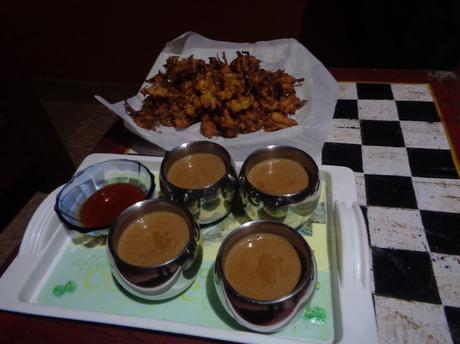 DAY 3: Kavaledurga Trek – Mental People = Mental Plans
I was up by 5AM again and once Adi woke up, we went and got chess pieces and started playing chess ( off-late it had possessed me) After a good breakfast we decided to spend 2-3hours just exploring Simha Farms as it looked so artistic. We explored the farms, found it few other sculptures. And finally we hit the mother load when we found a canal running right inside their farm. And guess what, there were brilliant crocodile sculptures right near it that spooked us out haha!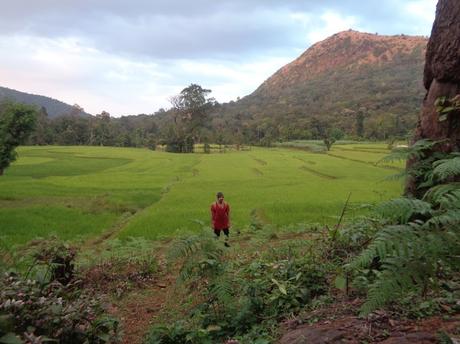 Now a big decision had to be made:
i)Get into cool waters and relax, finish lunch, sleep and again relax evening in the waters – Easy
ii) Get into waters and relax, have lunch and then head out to Kavaledurga
iii) Head out to Kavaledurga, Have lunch and return back and dive into waters – Toughest.
We actually spend 1hour unable to make decision. First option was scrapped as it looked too tempting – always suspicious.And we used a coin to make a decision and by 12PM we left to Kavaledurga.
TIME: 12:00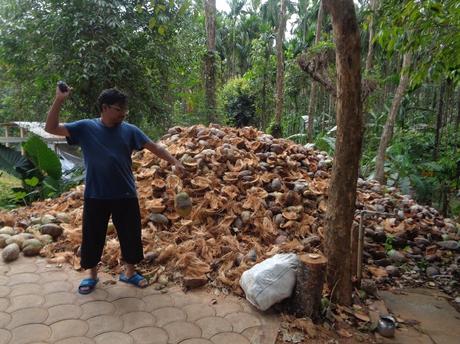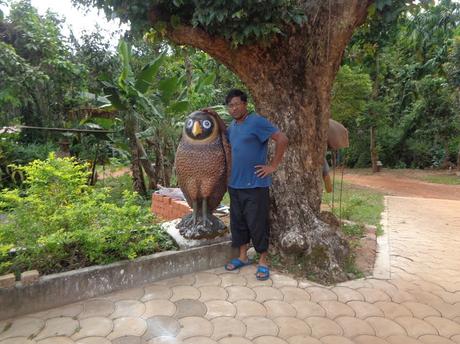 KAVALEDURGA TREK:
We reached Kavaledurga at about 1PM, our bodies still showed signs of fatigue owing to the Kodachadri trek. But this trek is pretty easy and took us only an hour to reach the top. Nonetheless considering the timing of our climb peak afternoon we were drained to the core. After about 30mins we found the palace laying ruins. This reminded of the Pink Floyd – Live in Pompiee concert. From the old palace the top is just 30mins away.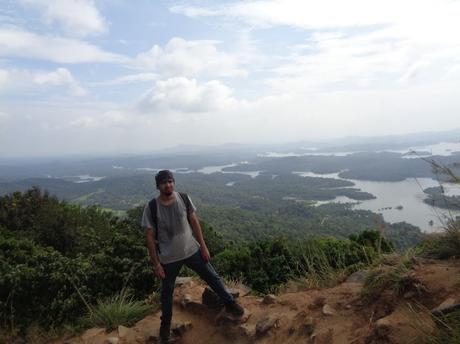 The view from the top is simply breath taking. We can spot a lot small ponds. But the final point is a small Shiva temple. People usually miss this as the awesome view of the lakes makes them feel that is they're on top.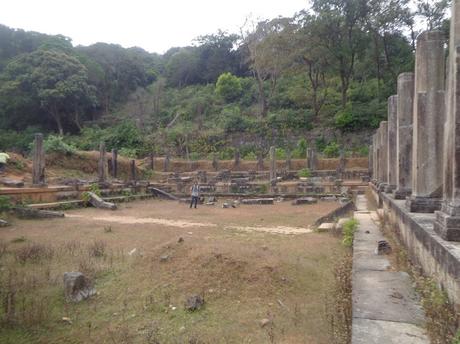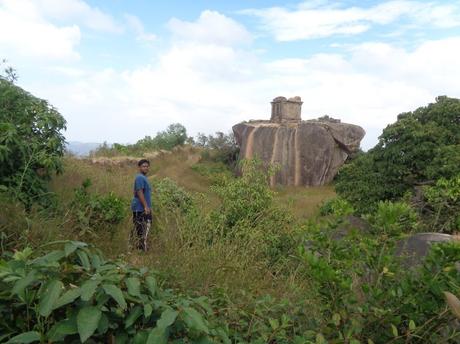 The trek down took us 45mins and we had to have a lot of coconut waters to re-hydrate ourselves considering the odd-hour of the trek. Once we were back to base, we drove to Nagara and had some special Fish curry lunch.And made it back to Simha Farms by 5PM and the cold flowing waters were simply inviting. And we dived right into it. WOW feeling!
TIME: 17:00
DAY3: Drive back
The 3rd day was especially reserved for drive back as it was a Sunday and we didn't want to get stuck in the late evening traffic of Tumkur Road. We pulled over for breakfast at Shimoga at about 8:30AM and drove non-stop any guesses doing what? Listening to Danish Sait Prank calls hahhahah!
TIME:12:30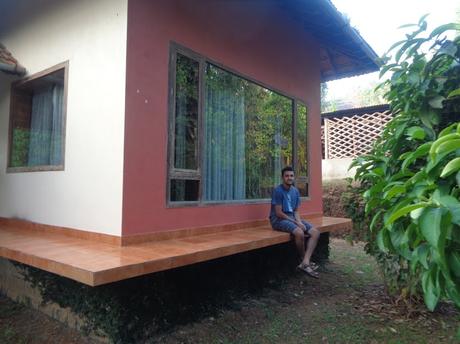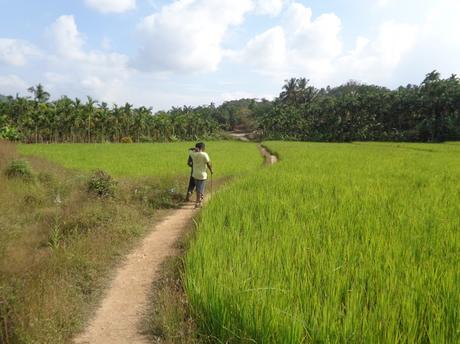 CONCLUSION:
"Overall I must say this was an excellent chapter. It was like holding a plow and reaching to the bottom of your mind and removing all the existing dirt and residues. Major flushing. And pushing our bodies to know what it can handle was truly a rejuvenating experience. Thanks Adi, Arvi, and Mo..I want Momz to re-collect the name of this place correctly only then I'll thank him :P"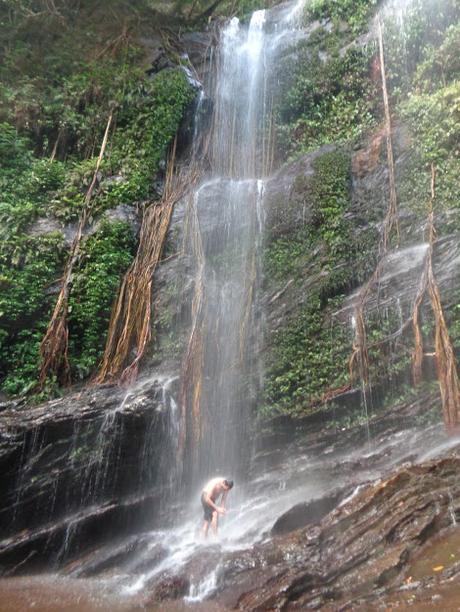 PICASA ALBUM: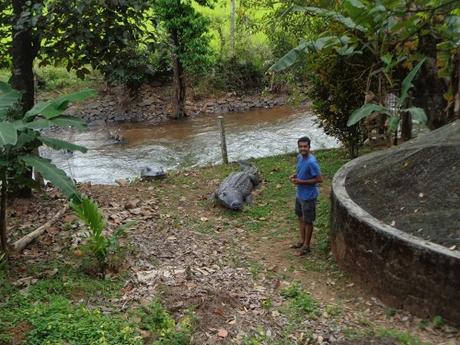 MAPS: