Navratri are the onset of festivities in the Hindu calendar for many of us (I'd like to say most). It comes for 9 days in its full splendour, and Navratri in October-November leave a month to look forward to ahead of us, with fun, excitement and enthusiasm in the air. These 9 days also mean fasting for a lot of us, and for those of us who don't fast, it's a time where we feast upon the choicest food that's available only during this time. That's when we look for restaurants serving navratri food.
Restaurants are in full swing to dish out the best of the best navratri food for you. Going all veg, making a menu without onion and garlic, making a special navratri menu for people who are fasting- thanks to these restaurants, we don't need to worry about cooking at home.
Here's a list of all the places serving Navratri special menu. Go get your binge on and gorge on your favorite food! Stand-alones, chain outlets, five stars- go wherever you wish to and satiate your cravings this Navratri!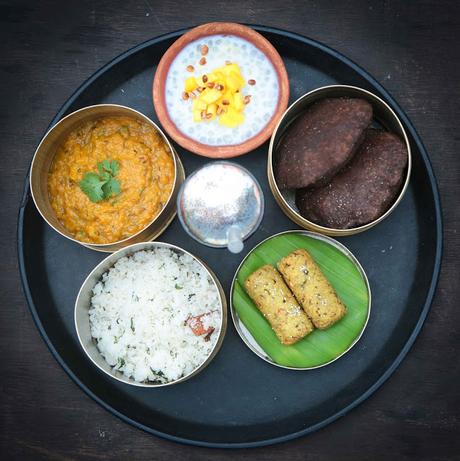 1. Haldiram's
One of the oldest in the game, we do not need to think any further if we want a quick delicious hygienic Navratri meal. Ala carte, thali, juices- there's a great deal you can choose from at Haldiram's. I particularly dig their Paneer and Aloo Subji in the thali!Address: All outlets across Delhi NCRDates: 1st to 10th October 2016Timings: varies to each outletHome Delivery: No2. BikanervalaNobody does a better Samak ki Khichdi than the Bikanervala outlets. The queues here during Navratri are never ending, and that is reason enough to go to Bikanervala when you're fasting and hungry like crazy. The most prompt service you can find at a restaurant during Navratri (don't forget why- it's self-service). Paneer pakode made of kuttu, sabudana cutlets, crisp sabudana papads. Bikanervala doesn't get fancy with their menu, they keep it simple and they keep it real. Deliciousness galore!Address: across outlets in Delhi NCRDates: 1st to 10th OctoberTimings: varies from each outletHome Delivery: Yes3. SattvikThis vegetarian-only restaurant dishes out the most fantastic Navratri food items possible! You mingle fasting with feasting at Sattvik, and you can't wait for the next navratri to come. Head to Sattvik without any doubt and go for a yummy Navratri experience!Address: S-5, 2nd Floor, Select CITYWALK Mall,Saket, New Delhi
Contact: 011 4059 9913Dates: 1st October to 9th October 2016
Price: Rs.595++ for a thali
Timings: 
12 PM - 3 PM
Home Delivery: Yes
4. Gulati Spice Market
One of my favorite places in town, Gulati Spice Market has the widest Navratri menu. Flavoured lassi, Jimikand Ke Galouti, Pudina Paneer Makhana, Amaranth Kheer- dishes that taste equally divine as they look! Head here for a delicious dine-out experience during Navratri and treat yourself with some great food.
Address:
 B
ehind Select Citywalk Mall, District Centre, Saket, New Delhi
Contact: +91 9958453636
Dates: 1st to 10th October 2016
Timings: 12 Noon to 1AM
Home Delivery: Yes
5. SodaBottleOpenerwala
A Parsi restaurant dishing out a Navratri special menu- explains why we celebrate every festival with equal excitement. Kera na Cutlets, Gwarfali, Khattu Meethu Kaddu, Aloo Sabzi, Kuttu Atta Puri and so many other dishes. SodaBottleOpenerWala does a three-course vrat menu this time, with the dishes available on ala carte too. Having had the food last Navratri, I can safely say they do some mean Navratri food!
Address: Cyber Hub in Gurgaon, Khan Market and DLF Mall of India in Noida
Contact: 
0124-6518801, 8527636633- Gurgaon; 01143504778, 011453504878 and 9810877701- Khan market; 01202595107- Noida
Dates: 1st to 10th October 2016
Timings: 12 Noon to 11PM
Home Delivery: No
6. Imly
With their three outlets making people go gaga over its food, Imly does a scrumptious Navratri spread too. Their thali is a treat for the taste buds, and only looking at it will fill you up. Go there early as people tend to queue up during peak hours. Tells you about how good their food is. 
Address: DLF Mall of India, Noida; Rajouri and Rajendra Place
Price: Rs.290++ for a thali
Dates: 1st to 10th October 2016
Timings: 12 Noon to 11PM
Home Delivery: No
7. Dhaba by Claridges
Enjoy mouthwatering dishes like  Kacche Kele ka Kofta, Jeera Sendha Namak ka Pulao and Singhade Aate ki Poori and Shakarkandi ka Halwa for a complete culinary experience. You can always trust Dhaba by Claridges, always. For someone who does amazing North Indian, they do an equally superb job at their Navratri menu too.
Address: 
DLF Place, Saket and Epicuria Mall, Nehru Place
Contact: Saket- 
4175 0555, Nehru Place- 
2641 0555
Dates: 1st to 10th October 2016
Timings: 12 Noon to 11PM
Home Delivery: Yes
8. The Hungry Monkey
The Navratri special menu at Hungry Monkey, called 'Nine Days of Abstinence' is hands down the most exotic navratri menu you will see this year. Tapioca sago croquettes, Baked roots trio, Cumin dusted cottage cheese and what not. Fasting but going out with a friend who wants a few drinks? The Hungry Monkey is your perfect solution. Go get your fancy on this Navratri!
Address: 
B 6/6, Second Floor, DDA Market, Opposite Deer Park, Safdarjung Enclave, New Delhi, 110029
Contact: 011 4604 9801
Dates: 1st October to 9th October 2016
Timings: 12 Noon to 1AM
Home Delivery: Yes
9. Rajdhani Thali Restaurant
What do you expect from a place that's so so famous for its thali comrising of Rajasthani and Gujarati dishes? You expect them to be great even at their Navratri thali. Unlimited servings of your favourite aloo ki subji, paneer ki subji, samak ke chawal, kuttu ki poori, halwa, and so much more!
Address: across 4 outlets in Delhi NCR
Dates: 1st to 10th October
Price: Rs.475 for a thali per head
Timings: 12 Noon to 3:30PM, 7PM to 11PM
Home Delivery: No
10. Latitude at Vivanta by Taj, Gurgaon
Vivanta by Taj is doing a mouth-watering navratri thali which has Sitafal ki Sabzi, Aloo ki Dubki, Sabudane ki Khichdi and Singade ki Poori, along with desserts, lassi and so much more. You also have the option of ordering from their ala carte menu where dishes are priced 250 onwards.
Address: Latitude, Lobby Level, Vivanta by Taj – Gurgaon, NCR
Contact: 0124-6671234
Dates: 1st to 10th October 2016
Price: Thali at Rs.1500++ per person
Timings: 12:30PM to 3PM, 7PM to 11PM
Home Delivery: No
11. Tamra at Shangri-la
With a navratra special menu both in their buffet and ala carte menu, Shangri-la offers you a lavish treat this Navratri with their delicious fare. Live theater kitchen serving appetizers, main course served in the buffet, dishes on a rotational basis- get Paneer Sago Tikki, Sweet Potato Chaat, Dahi Wali Arbi, Kiwi Badam Ki Phirni and so much more at Tamra. Fancy a navratra thali? They have that too! A navratri thali at 1100++ per head.
Address: 
Shangri-La's Eros Hotel, 19, Ashoka Road, Connaught Place, New Delhi
Contact: 011 4119 1010
Dates: 1st October to 11th October 2016
Timings: 12-3:30PM, 7PM-11:30PM
Price: 1100++ per head for the navrati thali
Home Delivery: No
12. Punjab Grill
The place that's known across for its North Indian fare is doing a delicious Navratri menu in its Pacific Mall and Ambience Mall outlets. Khatta Meetha Kaddu, Rajgira ki Poor, Banana Walnut Lassi- get fancy this Navratri with Punjab Grill!
Address: Pacific Mall, Subhash Nagar and Ambience Mall, Gurgaon outlets only
Contact: 
Pacific Mall - 011 4311 3653, Ambience Mall - 0124 466 5478
Dates: 1st to 9th October 2016
Timings: 10AM to 10PM
Home Delivery: Yes
13. Shraman- The Ashok
Shraman, the renowned pure veg restaurant at The Ashok stands tall with its delicious food that's a hit among all Jains, Marwaris, vegetarians and lovers of delicious food. It's everyone's preferred choice during Navratri, because of the marvelous spread of Aloo ki subji, Kuttu ki poori, kheer, and the likes that do rounds. What's more- the prices are not at all steep.
Address: First Floor, 
The Ashok, 50-B, Kautilya Marg, Diplomatic Enclave, Chanakyapuri, New Delhi
Contact: 011 2467 2384
Dates: 1st to 10th October
Price: Rs.599++ for a thali
Timings: 11AM to 11PM
Home Delivery: No
14. Sagar Ratna
With multiple outlets spread across Delhi NCR and quality of food that we trust since decades, Sagar Ratna does a yummy Navratri menu. So hit your closest Sagar Ratna with someone who's craving South Indian, and you enjoy your navratri food by getting the best of both worlds!
Address: all outlets across Delhi NCR
Price: Rs.280++ and Rs.320++ for 2 different types of thalis respectively
Dates: 1st to 10th October 2016
Timings: varies from each outlet
Home Delivery: Yes
15. Veg Gulati
You don't need any introduction or validation for Veg Gulati. Delicious finger-licking good navratri menu comprising of aloo tikki, dahi pakodi, paneer, and so much more, available both in their ala carte and thali.
Address: 
8, Pandara Road Market, New Delhi
Contact: 011 2338 8830
Price: Rs.575++
Dates: 1st to 10th October
Timings: 12 Noon to 12 Midnight
Home Delivery: Yes
Connect with me on:
Twitter: @sahibagursahane
Instagram: 
@thetastingfork
Facebook: 

www.facebook.com/thetastingfork
Snapchat: @thetastingfork
Roposo: www.roposo.com/@thetastingfork