The pandemic is not subsiding and winter is on its way with viral fever, cough, and cold. As a parent, it is natural for you to worry about your child's health. A good immune system is the only shield that can protect your kid from viral and seasonal diseases. Food, when consumed in the right way, is the best immune booster. With the goodness of spices like pepper, cumin, garlic, etc, rasam is one humble dish that helps improve immunity. Here are 15 rasam recipes to boost immunity and aid digestion in kids and adults.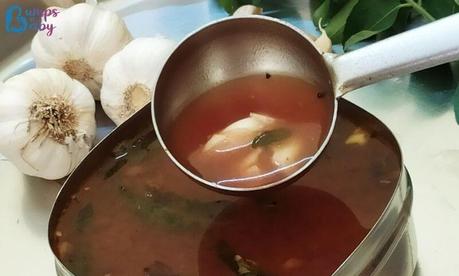 Rasam is a thin watery consistency curry prepared on a regular basis for lunch/dinner in most of the houses in South India. Rasam can be used as a soup as well. While the soup is consumed at the beginning of a meal, rasam is taken after the main course followed by curd/ buttermilk as it aids in digestion too. Some take it as a curry along with rice or even as an appetizer.
Rasam as an Immunity Booster
Rasam uses most of the ingredients from your masala box. Pepper, jeera, garlic, asafetida, turmeric, coriander seeds, and curry leaves are all best for boosting your immunity.
A bowl of warm rasam is the best antidote for the common cold, cough, indigestion, lack of appetite, and tastelessness in the mouth due to fever. Rasam is also a home remedy for sore throat, chest congestion, constipation, and fever.
When can I feed my baby rasam?
Rasam is one of the best flavourful dishes you can give to your baby. Most of the Tamilians start feeding tomato rasam for lunch to babies at the age of 7 to 8 months of course reducing the spice level. As the baby gets introduced to new foods, constipation and gas formation are the main concern. Rasam helps to overcome constipation and gastric problems. It also helps reduce cold and cough and strengthens immunity.
You can give your baby rasam when he/she is down with fever by preparing it with less spice and oil. A combination of pepper and jeera works wonders. Each type of rasam, depending upon the main ingredient, helps heal different common ailments. We have rasam recipes for babies that are recommended when your baby/ kid is down with fever and also rasam recipes for reducing mucus and also constipation.
15 Rasam Recipes to Boost Immunity in Kids and Adults
Usually, rasam is prepared with lentils cooked water, tomato, and tamarind. But there are so many varieties of rasam you can prepare with vegetables and herbs. The main ingredient that goes into the rasam determines its predominant flavor and thus each type of rasam has a different flavor and healing property. There are even a few special fruit rasams like pineapple rasam, orange rasam, etc too.
You can use rasam powder when making rasam. Rasam powder adds extra flavor to the rasam. Add a half teaspoon in case you have. In my recipes, I have mentioned it as optional. Skip the rasam powder in case you do not have it or you can make instant rasam powder at home easily by following the steps in this link.
So now let us see a few rasam recipes to boost immunity in kids and adults.
1.Tomato Rasam Recipes to Boost Immunity
This is very easy to make rasam variety. You can make this rasam with only tomatoes or can add little tamarind with tomatoes. Recommended for babies from 7 months ( adjust the spice if feeding for the infant).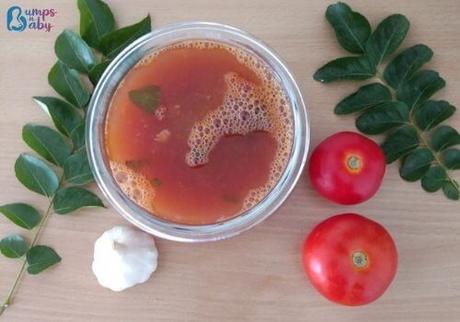 Ingredients
To coarsely powder or grind
For tempering
Method
Serve with rice or you can have this tomato rasam like soup.
2. Pepper Rasam for Relief from Cold and Cough
Pepper adds spice to the rasam and moreover, it acts as a medicine to our body. Most of the respiratory problems are cured when you substitute pepper instead of chili. When your baby is suffering from a cold prepare this simple pepper rasam and feed your baby with freshly prepared rice, topped with some ghee. It is best to mash the rice properly with hand and add lots of rasam. Feed it to the baby while it is still warm. It will help dissolve the mucus.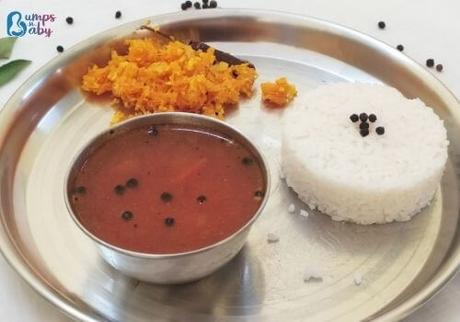 Ingredients
To coarsely grind
For tempering
Method
3. Garlic Rasam Recipe for Immunity and Better Digestion
Garlic plays a vital role in South Indian cooking. It is used in curries, chutneys, biriyanis, etc. Garlic not just adds flavor to the recipe, it has lots of medicinal properties too. It helps digestion, reduces cholesterol, and improves memory. Garlic also controls the risk of heart diseases. It also helps alleviate cold and flu. Garlic rasam recipes to boost immunity has that strong garlic flavor that helps reduce the bland taste you feel while down with fever.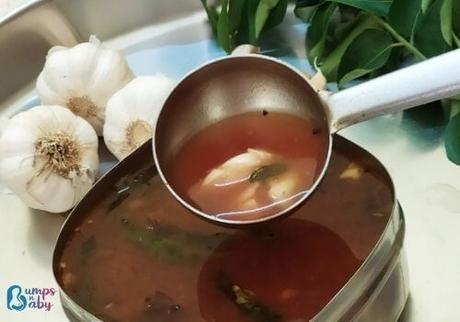 Ingredients
To coarsely grind or crush
For tempering
Method
4. Horsegram Rasam Recipe for Cold and Fever
Most of us think horse gram will help in only weight loss. Horse gram is a wonderful medicine for common cold and fever too. At our home, if any of us suffer from cold or fever I make this rasam. It is called kollu rasam or huruli saaru. We have this rasam with rice and drink as a soup too. Better to have curd, buttermilk, or milk after consuming horse gram to cool down the body.
There are two types of horse gram rasam recipes to boost immunity. One is using freshly ground horse gram to make rasam and the other is using cooked horse gram water only to make rasam. Here I am sharing the horse gram rasam recipe using freshly ground horse gram.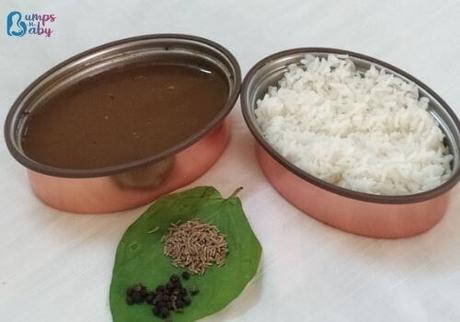 Ingredients
To grind
For tempering
Method
5. Dal Rasam or Parippu Rasam
This is one of the most commonly prepared rasam recipes to boost immunity. In our house, the dal cooked water while making sambar is saved for this rasam.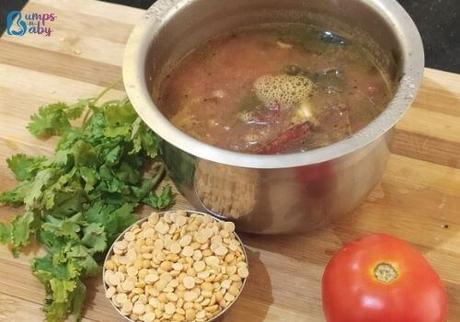 Ingredients
To grind coarsely
For tempering
Method
Serve with rice for your baby. You can have this rasam as a soup too. You can also use this rasam as a dip for idli and dosa. Can also be mixed with mashed boiled vegetables and served to the baby.
6. Tamarind Rasam Recipe for Constipation
Tamarind is an excellent ingredient used for ages in our cooking. It is a good laxative because it has a good amount of malic and tartaric acids in it. Rasam made with tamarind is thus a good remedy for constipation. It also helps reduce indigestion. This rasam also can cure nasal blocks and cold. The vegetables cooked in tamarind water will not lose the vitamins and minerals.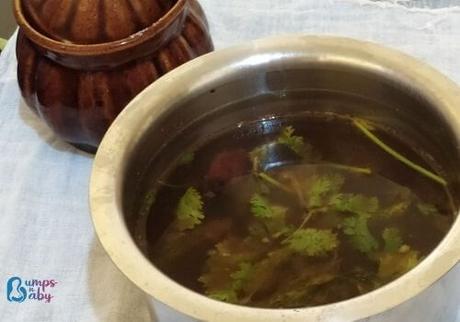 Ingredients
To Coarsely Grind
For tempering
Method
In a bowl soak the tamarind for ten minutes. Chop the tomato if adding.
Extract juice from tamarind and add 1 to 1 ½ cups of water.
Crush the jeera, garlic, coriander seeds, curry leaves, and pepper.
In a pan add oil/ghee followed by ingredients under for tempering, make sure mustard crackles.
Now add the tomato(if adding) and the tamarind water.
Add the crushed spices, salt, and turmeric mix well and close the pan with lid.
Boil for 5 to 8 minutes.
Add jaggery boil for another minute.
Turn off the stove and garnish with coriander leaves. Close the pan immediately.
So that is your simple tamarind rasam recipe to boost immunity and relieve constipation. Take it after a heavy meal or along with rice.
7. Thuthuvalai Rasam Recipe for Boosting Immunity Against Cold and Cough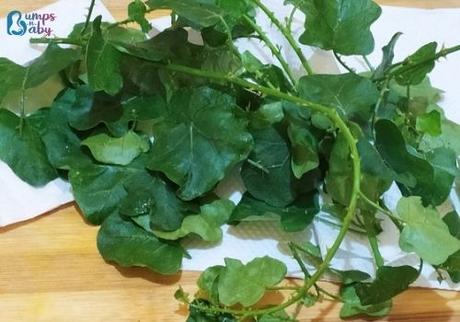 Solanum trilobatum or Thuthuvalai
as we call in Tamil is an effective herb for cold and cough. It acts as an excellent medicine for most of the respiratory issues. Thuthuvalai is commonly available in South India. In case you don't find this herb freshly in your region, dry powder of this herb is available online. Instead of fresh leaves, just mix one spoon of this powder to the recipe that I am sharing below.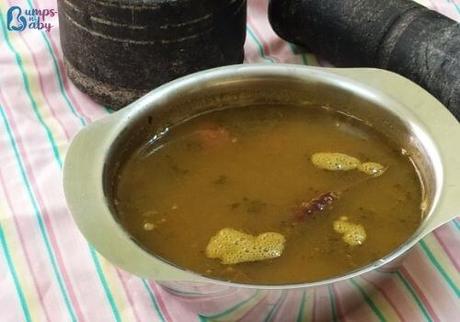 Ingredients
For Tempering
Method
8. Tulasi rasam recipe or holy basil leaves rasam recipe
Tulsi plant has many medicinal properties and is been used in Ayurveda for years. It cleans the stomach. Basil leaves are packed with vitamin E so it is very good for the skin. Tulsi also protects from heart diseases and also helps to recover from fever and cold. The below rasam is very simple to make and very effective for cold and fever.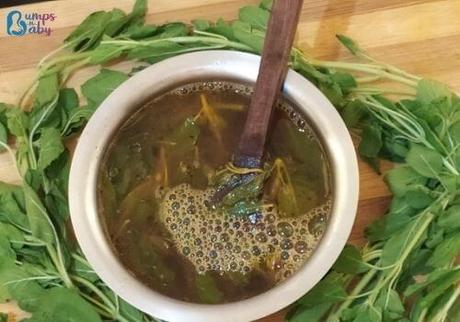 Ingredients
For Tempering
Method
If baby/kid is sick you can dip idly or dosa in this rasam and feed. It is good for cold, cough, and stomach issues.
9. Betel Leaves Rasam Recipes to Boost Immunity
Vetrilai / paan or Betel leaves are excellent for stomach related issues and digestion. You can add these leaves to steaming water when suffering from a cold or headache and inhale the steam. Betel leaves lower cholesterol. This also acts as a good home remedy for respiratory issues, predominately for chest congestion.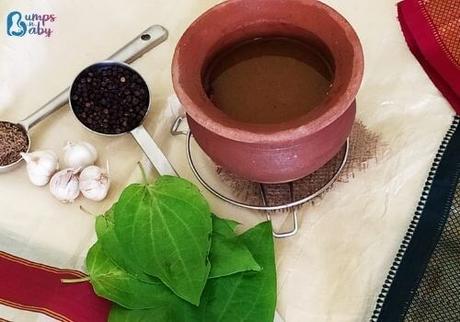 Please note not to add betel leaves than the mentioned quantity.
Ingredients
For Tempering
Method
Betel leaves rasam is ready. Please note not to use more betel leaves than mentioned.
10. Karpuravalli Rasam recipe
Ajwain leaves/ Karpuravalli/Panikoorka or Indian Borage functions as a good solution for stomach related issues and respiratory issues. It helps reduce constipation and also removes toxins from our body. We can grow this plan easily, need just a small pot with soil. I would say if you have a kid at home a karpooravalli plant is a must.
Due to its medicinal properties, karpooravalli rasam is undoubtedly one of the best rasam recipes to boost immunity in kids and adults.
Ingredients
For Tempering
Method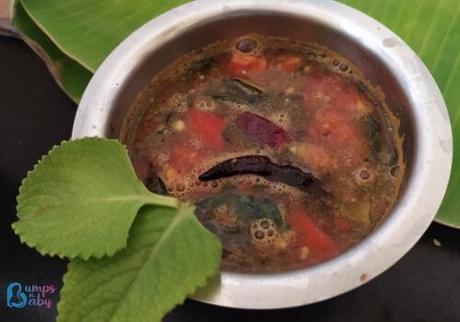 Strain this rasam and give to babies as a soup by diluting with hot water. Recovers cold and cough.
11. Mor Rasam Recipe / Buttermilk Rasam recipe
We make this mor rasam or tempered buttermilk when we continuously skip the curd/ buttermilk if its cold weather. Buttermilk cools the stomach. So it is good to have it when you are sick. Most of the home remedies or the medicines we consume for cold or cough produce heat in our bodies. Having buttermilk as buttermilk rasam cools the stomach and without increasing cold and cough.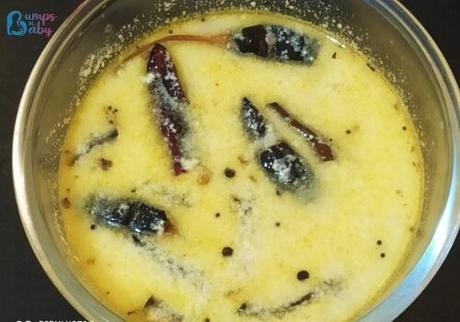 Ingredients
Method
12. Lemon Rasam or Elumichai Rasam Recipe For Immunity
Making lemon rasam for immunity is very simple. It is a perfect rasam to make when you are having lazy days. In lemon rasam, we don't use tomato or tamarind water. The lemon juice that we add at the end of the rasam recipe is what gives it the sour taste. Lemon is good in vitamin C and thus lemon rasam recipes for immunity boosting is good for both kids and adults. It helps reduce cough and cold and also aids digestion.
Ingredients
Method
13. Drumstick Rasam Recipe to Boost Immunity
Drumstick regulates sugar levels, helps increase hemoglobin levels, facilitates easy digestion , and boosts immunity. The drumstick rasam recipe for immunity is easy to make and contains the basic rasam ingredients plus drumstick.
Ingredients
For seasoning
Method
Tasty and healthy drumstick rasam recipe is ready. Serve with white rice or strain and give as a soup for kids.
14. Beetroot Rasam Recipe to Boost Immunity
Rasam made with beetroot tastes good and it can be consumed as soup as well. Beetroot is good to increase red blood cells count and also helps in decreasing the risk of obesity and diabetes. This makes it one of the tastest rasam recipes to boost immunity and strenght.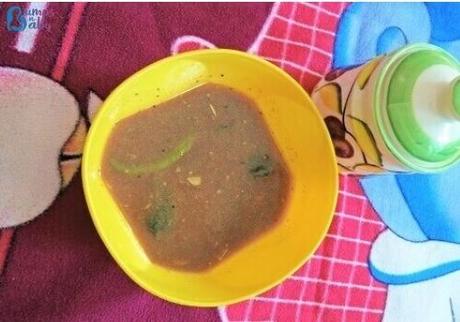 Ingredients
Beetroot - 1 small beetroot, chopped
Jaggery - 1tsp
Tamarind - 1 small lemon size
Turmeric powder - a pinch
Green chili - ½
Salt - to taste
To roast and grind
Ghee - 1 tsp
Fenugreek - ½ tsp
Coriander seeds - 2 tsp
Curry leaves - few
Red chili - 1 small or half of a big one
Grated coconut - 3 tsp
To temper
Ghee - 1 tsp
Curry leaves - few
Hing - little
Crushed garlic - 10 no's
Method
First cook the chopped beetroot. Let it cool down.
Soak the tamarind in 2 cups of hot water for 10 minutes.
Extract the juice from tamarind and add one more cup of water to the juice.
Roast the ingredients given under 'to roast', in the given order.
Ground the roasted masala with cooked beetroot adding little water.
Boil the tamarind water.
Add turmeric, green chili, jaggery, and salt. Boil for 3 more minutes.
Now add the ground paste and mix well. Switch off the stove.
In a pan add ghee. Once the ghee is hot, firstly add crushed garlic. Sautee for a minute.
Now add curry leaves and hing.
At last, add the tempering to the rasam.
Yummy beetroot rasam for increasing immunity is ready. Serve as a soup or as a curry for rice.
15. Nellikai Rasam or Gooseberry Rasam
One of my favorite rasam recipes to boost immunity is gooseberry rasam. Gooseberry/Nellikai/ Amla is undoubtedly the best immune booster as it is an excellent source of Vitamin C. Nellikai has a natural tanginess and so tamarind can be avoided while making this rasam.
Ingredients
For Tempering
Method
Pressure cook toor dal adding a pinch of turmeric and a cup of water.
Mash the cooked dal and keep it aside.
Wash and deseed the gooseberry.

Grind the de-seeded gooseberry into a paste in a mixer jar along with green chili and ginger.

Next, grind coarsely peppercorns and cumin seeds.
Now heat ghee in a pan and add mustard seeds. Let the mustard sputter.
Then add red chili, curry leaves, powdered pepper-cumin, and asafoetida.
Add chopped tomatoes and saute for a minute. Then add water and boil till the tomato is cooked well.

Now add the gooseberry paste and add turmeric. Add required salt and 1 cup of water.

Keep the flame in low and allow the rasam to boil for 5 mins

Finally, garnish the rasam with coriander leaves and switch off the flame.

Healthy gooseberry rasam is ready.
So these are the rasam recipes to boost immunity that I usually make at my home. It is important to increase our kids' immunity and improving one's body's immune response through natural ingredients is the best way. Rasam makes the best of the Indian foods that you can use for boosting your immunity in a natural way. Do try these rasam recipes to boost immunity and give your feedback as comments.