This post may include affiliate links, including Amazon Associate links. I may earn money if you click on one at no extra cost to you.
Snowshoeing in Canada is one winter activity you don't want to miss. These snowshoeing trails in the Canadian Rockies offer you more than scenery and adventure.
If you are looking for epic snowshoeing in Canada, the Canadian Rockies is where you'll find the best trails. The Rockies are vast and full of winter adventures for every level of snowshoer. From interesting lodge hikes to backcountry paths and guided moonlit trails, there is so much to discover. A visit in winter is never dull.
Tips for Snowshoeing in the Canadian Rockies
Make sure to wear appropriate gear when snowshoeing in Canada. If you're not sure what you should be wearing, check out this guide on winter hiking gear.
Snowshoes are not easy to carry around, especially if you are travelling a distance. Consider hiring them from one of the local stores near you. There are plenty to choose from, and if you aren't a seasoned snowshoer, hiring your snowshoes will ensure you have the right size and type for the trail you'll be
Once you've fallen in love with snowshoeing (which I know you will), why not get yourself your own. Check out this guide of the best snowshoes out there and how to pick the right one for you.
Always make sure to check whether you're snowshoeing in an avalanche area. If you are, please check the current conditions beforehand. If the weather conditions are not good, then please choose another trail. I can't stress this enough.
Wherever you plan on snowshoeing in Canada, make sure that you pack all the necessities. If you're not sure what to take, check out this day hike packing list for ideas.
If you are snowshoeing in an area that does not have well-marked trails, always take a GPS device. You can even take a GPS enabled watch. Just for good measure, always keep a map and compass handy.
Best Snowshoeing in Banff National Park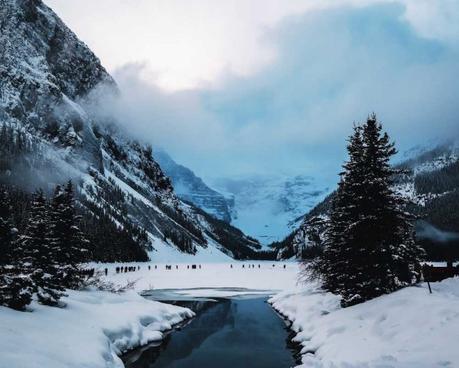 Related Reading: Snowshoeing in Whistler, Canada: The 9 Best Trails
Snowshoeing on the Icefields Parkway
Related Reading: Things To Do in Jasper: The Top Attractions Not to be Missed
Snowshoeing in Jasper National Park
Related Reading: Things to Do in Yoho National Park: Why You Should Visit this Canadian Gem
Snowshoeing in Kananaskis Country
Related Reading: Georgian Bay Islands NP: why you need to visit this part of Canada
Snowshoeing in Waterton National Park
Related Reading: Yoho-Iceline Basecamp Hiking Tour
Snowshoeing in Yoho National Park
Snowshoeing in Canada is the perfect way to spend your time this winter. The Rocky Mountains never fail to leave you in awe.