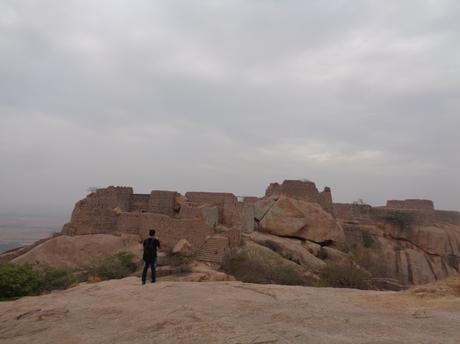 Place
: Madakasira Fort Trek
Distance
: 150kms x 2 = 300kms
Directions
: Bangalore > Dobbaspete > Madhugiri > Madakasira
Krew
: Gowrish (Gori) > Karthik (Sp)
Bikes
: Pulsar   
Previous Visit
: Ratnagiri Fort Trek.
Budget:
Rs 500/head
IN LESS THAN 50 WORDS:
An amazing fort trek to this ancient and pretty well heard of place amongst people of previous generation. Today's trekkies hardly know this place. It was an unexpected fun filled exploring kinda trek. The fort is well preserved and belongs to the Vijayanagara dynasty. This fort is situated in Andhra Pradesh. This was the third trip for the month of January 2017 and all new places. Felt just great!
INTRO & PLAN:
It was 4 days since our wonderful visit to RatnagiriFort & Medigeshi. I knew January was the time we began conquering Andhra. So as 26th of Jan was a holiday on account of republic day, I decided to get Madakasira in the bag as well. Gowrish was the only on the confirmed list.
TIME: 13:00 (25/1/2017)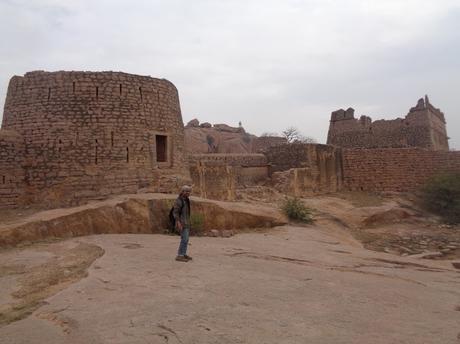 ASSEMBLE & LEAVE:
Oh yeah woke up at 04:00, did a few push-ups & sit-ups, had a sip of coffee & was all set to go! Woke up Gorisha and asked him to leave a little early as we wanted to avoid the morning traffic. Gow reached my place at 6:30 on his new beast Desert Storm. But it would be advisable if we left his bike back at my place and went to Madakasira on my bike.  
TIME: 07:00
RIDE 1: (Bangalore – Dobbaspete – Madhugiri – Madakasira Fort)
This was 150kms ride on good road but with lot of speed breakers. As we departed Bangalore we could see a lot of geared up bikers (serial sets on body kind off ;P) all set to ride out as well. We cracked up within and continued at a good pace. The air was real cold and surprisingly none of the hillocks was visible due to the fog. We pulled over at our regular hotel for some tasty breakfast.
TIME: 07:30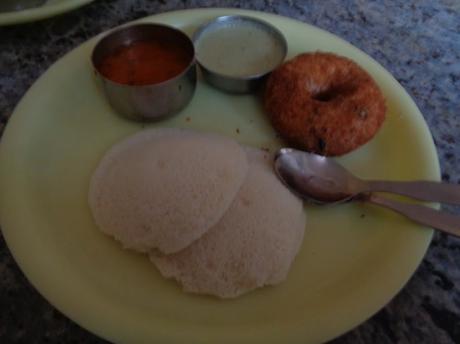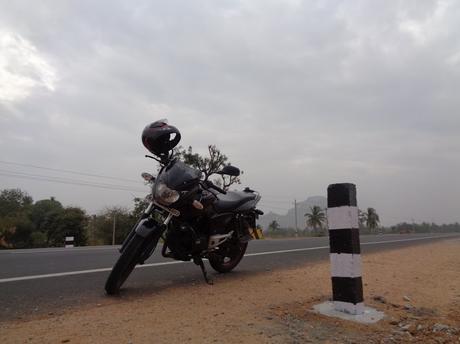 After some yummy breakfast, we rode into Dobbaspete and took the road towards Madhugiri. The roads were freshly laid but the amount of speed breakers was little too much. But nevertheless we had enough topics to chat about, so chatting away our time enjoying the cool morning breeze we reached Koratgere in about 30mins. After which we proceeded further I could spot Channarayanadurga but Madhugiri was covered in a veil of mist and only her outline was visible. This made her look even more scary and dark. Once we were out of Madhugiri we pulled over for our first break with Madakasira just 35kms away.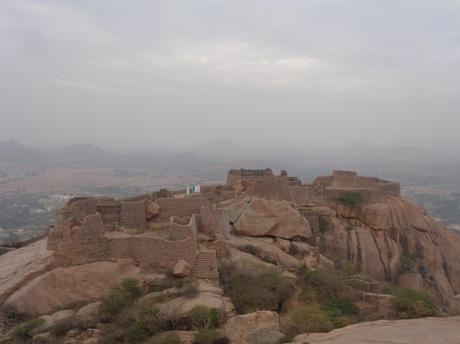 We stretched out a little had some chocolates and carried on further. Once we spotted Medegishi we knew Madakasira was just around the corner. We crossed the Karnataka-AP border and as we proceeded towards Madakasira we spotted the hillock and it was bigger than I expected.  Asking the locals in Telugu we rode through narrow lanes in between houses and found the starting of the trial. We parked our bikes and requested an old lady to keep our helmets until we trek back down from the hill.
TIME: 10:30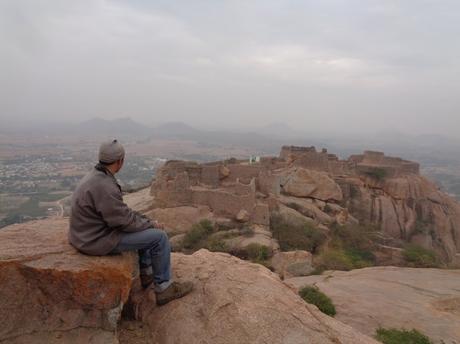 MADAKASIRA FORT TREK:
It took us about an hour to ascend the fort. The weather was pleasant and light drizzle made it peaceful but scary as well in few situations. The whole could be divided into three stages
i)

    
Initial Climb
ii)

  
The Brown Fortress
iii)
The Bell Stretch
So, try keeping up with me on this one. Here goes: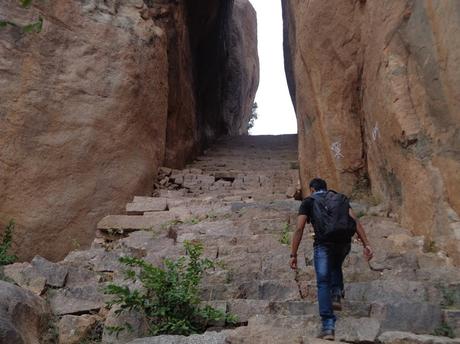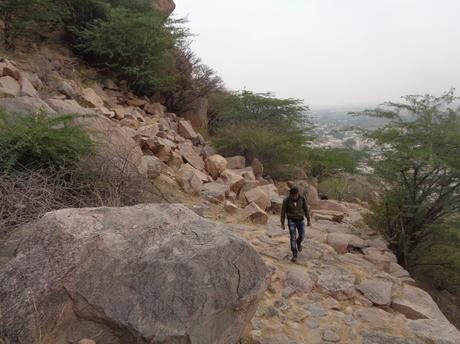 i)  Initial Climb:
The initial climb in on stairs and this took a pretty good toll on our knees (hate stairs). But the stairs alongside a fort wall and made us feel like the invading soldiers. There were lots of trees and shrubs which made the climb peaceful. As we ascended we found lots of gateways and the real beauty of the fort climb began to reveal. There were 2-3 gateways through which we had to walk and as we ascended the town below began to move farther away.  Finally after crossing the initial climb we had entered the curvy fort on top.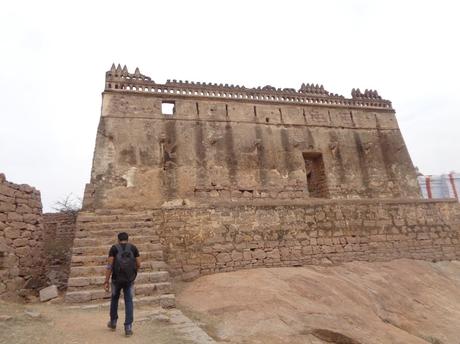 ii) The Brown Fortress:
This I must say is pretty much the core of the trek. For a fort on top of a hill it is pretty huge per se. And it is pretty well preserved. We enjoyed the exploration the fort offered us. There were so many misleading directions and alternate path ways.  There is a temple in the middle of the fort otherwise it was more or less like a maze designed to confuse the invading enemies. Trust me it did a pretty good number on us as well. We also got a view of the end point of the trek from the fort wall and it was at some distance.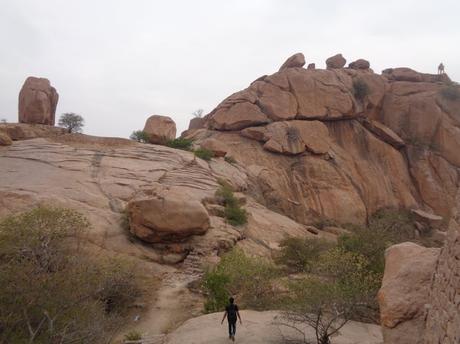 iii) The Bell Stretch:
This was the last stretch of the climb up Madakasira. As we left he fort hill what stood before was another hillock pretty crude compared to the previous two stages. We knew it would be tricky to get to the top. We began to ascend the crude part of the climb. The steps had begun to fade and I felt better and more comfortable. But the dark clouds hovering the skies and told us clear that it would shower any moment. This stretch has two places where it gets pretty tricky and we found it joyful to use some of our rock climbing stuff finally hehe. After getting past the two nice spots we reached what seemed like a dark cave and as we made it past the cave we could see the final end of the trek.
TIME: 12:00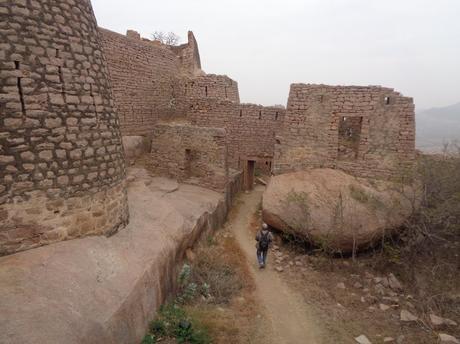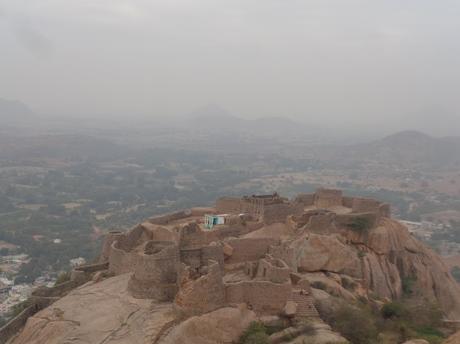 TOP
:
We rang the bell loud thrice and sat in the Mantapa enjoying the cool drizzle flooded breeze. It was just an awe experience. And as we sat in calmness and stillness we realised that the light drizzle had converted into a shower wetting the rocks. We relaxed on top of the hill for a good 45mins munching on some chocolates and sipping on some water.
TIME: 12:45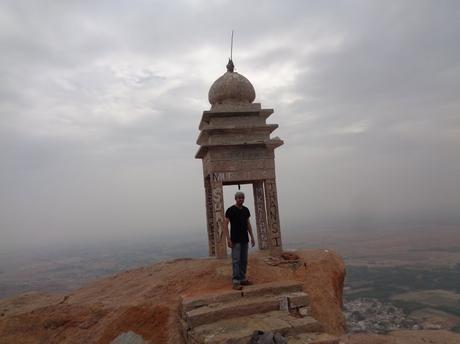 TREK DOWN:
Well, the trek down took us only 30mins but it had few intense moments. As we left the showers had picked up pace and the surface felt slippery. Few kids were making their way uphill yelling at the top of their voices to drive their fellow friends. The first of the tricky spots we got down with ease the second one was pretty steep and I volunteered to go first. And as I began, I slipped down and slid down but could hold my feet firm and hands pushed against the rock. Then Gow followed the same fate but I was down to prevent him from falling off. After this we took a breather and continued down in full pace taking few pits stops now and then to relax.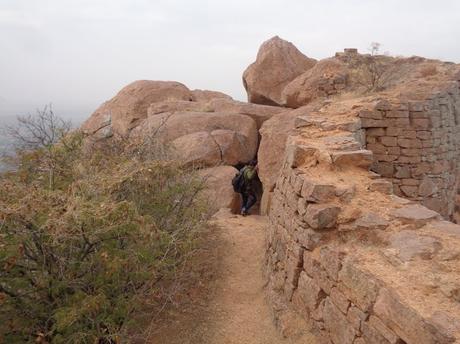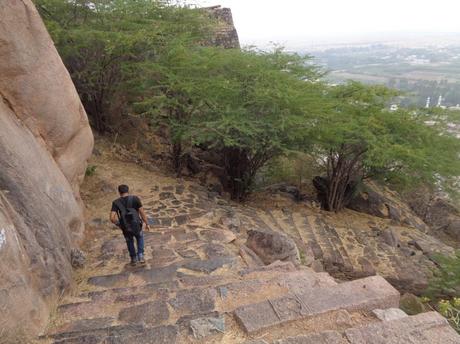 It was not long before we began to wonder if we could get back to the same lane where we had parked our bike hehe. (We also had plan of action in case we missed out. Gow covers every lane of the town from left to right and I would come from the opposite side hehe!) Anyway we straightaway found our bike and took back our helmets from the old lady thanking her for looking after it. It was finally time to say Sayanora to Madakasira.
TIME: 13:00
RIDE 2: (Madakasira – Kottu Stop – Madhugiri – Dobbaspete – Chandu Dhaba – Bangalore)
This was a 150kms ride back home. So, to start things off we cruised at a slow pace looking out for any juice shops on road side. We had spotted one on our way to Madakasira itself (pro-active approach always better than reactive approach :P) and we pulled over at that very same place and purchased the needed. After which we came across this beautiful lake and we decided it was a good place to chill out on the boulders beside the lake. We sat for about an hour drifting in the drizzle and enjoying the magnificent lake that stood before us.
TIME: 14:00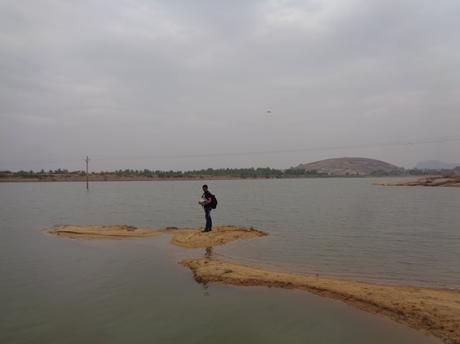 After a good 1 hour sitting we decided to have lunch at Chandu Dhaba. As we left the lake it was a pleasant ride till Madhugiri. After which the drizzle turned into showers and the roads turned wet. We enjoyed the rain ride and reminded us both of the Melukote trip in 2015. As we reached Doabbaspete we turned up the throttle and cruised into Chandu Dhaba at Nelamangala for some second round and yummy lunch.
TIME: 15:30
We spent about an hour belting some good lunch at the dhaba. Once we were done we had some pan and left the place. We took the NICE road from Tumkur road and cruised peacefully on the butter smooth link to reach back my home. Gow took out his Desert Storm and headed back towards his home.
TIME: 17:30
CONCLUSION:
"Amazing Amazing trek and to be frank we were a little overwhelmed as our expectations were little less. Getting Gow back on track and exploring this new fort hill felt f'n awesome!! It was a ruthless beginning to 2017. Three new places to start off., Hell F'n Yeah \m/"
Until next time, Cia \m/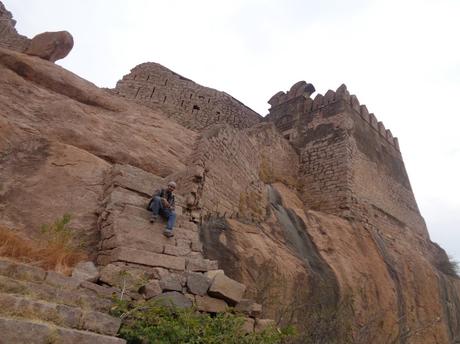 MAPS:
ALL PHOTOS: