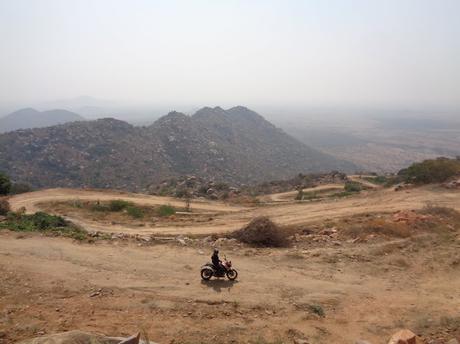 Place
: Penukonda Fort Ride
Distance
: 175kms x 2 = 350kms
Directions
: Bangalore > Devanahalli > Chikballapura >Bagepalli > Penukonda
Krew
: Arun (Aaku bhai) > Karthik (Sp)
Bikes
: KTM Duke > Pulsar   
Previous Visit
: Nijagal betta trek.
Budget:
Rs 600/head
IN LESS THAN 50 WORDS:
This was an amazing opening for the fresh year of 2017. Penukonda is pretty famous among the one up generation but not among today's tourers. The ruined fort on top of the hill and the off-roading ascension of the hillock took us by surprise and made us feel awestruck about the place.
INTRO & PLAN:
It had been over a month since our last chapter to Nijagal Betta trek. I was in Haryana for about 20 days. So, as soon as I returned back, made a few phone calls and asked everybody to assemble the BDA Laxmi :P (which off late had become our regular adda). The whole of Saturday noon (14thJan) and evening we spent catching up on each other's stories. Finally it was decided that only Arun & me were to head out.
TIME: 22:30 (14/1/2017)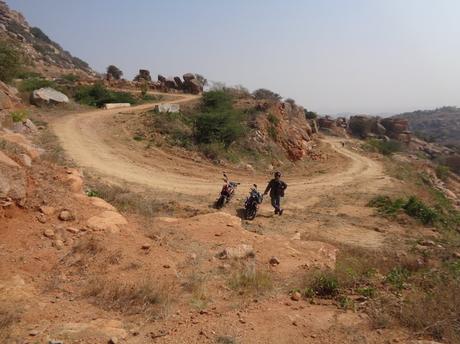 ASSEMBLE & LEAVE:
Oh yeah woke up at 04:00 Sunday, did a few push-ups & sit-ups, had a sip of coffee & was all set to go! Head still gui gui, woke Arun up and we decided to meet at the NICE bridge near PES. Once I met Arun we discussed one last time about the place and finally narrowing in on Penukonda we left Bangalore.
TIME: 07:00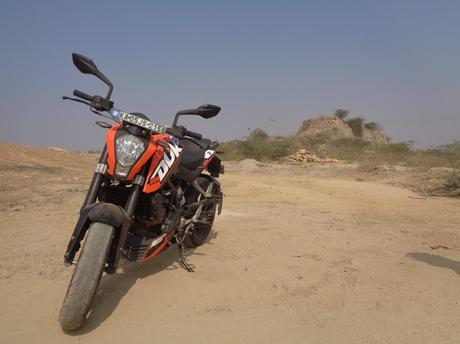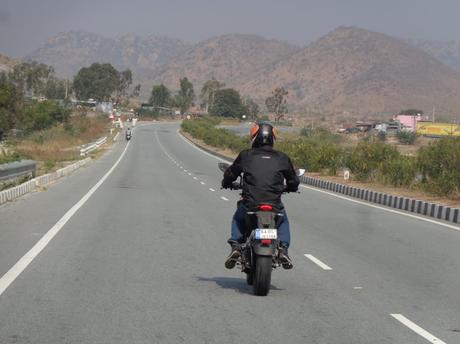 RIDE 1: (Bangalore – Devanahalli – Chikkbalapura – Bagepalli - Penukonda)
This was a 160-175km ride on Airport Road. First things first, we cruised at a very smooth pace on the ORR and made our way to Hebbal without any worries. Once on the Airport road, we encountered a lot of traffic. We knew it would thin down once we crossed the airport deviation. Continuing further it virtually became nil once we crossed the Nandi hills deviation. We looked at each other and thought – "Babies day out" :P.   We pulled over for some yummy breakfast at the same hotel we had pulled over on the Gandikota trip.
TIME: 08:30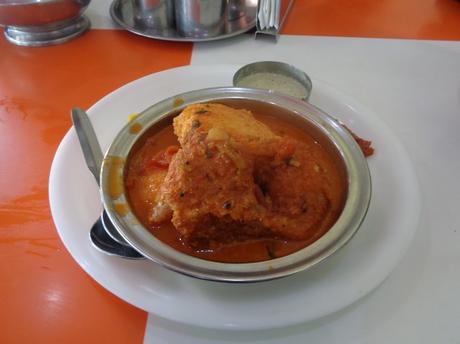 After some good breakfast, we took off. The roads widened out still and the sun was all set high and up in the sky. The lands on both the left and the right began to lose greenery and turn desertish – a sign of approaching Andhra. The scenery became a little uplifting and both of us were comfortably cruising at a decent pace.
As we passed by Lepakshi we gave thumbs up remembering out trip a few years back. After riding for about an hour after breakfast we asked the locals for direction and rode into the fort town of Penukonda.
TIME: 10:30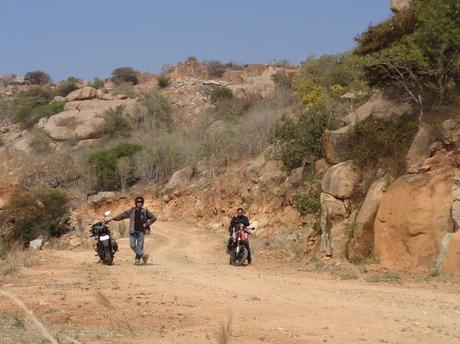 PENUKONDA FORT RIDE:
To be honest we were totally lost in the town hehe. We had no clue how to ascend the hillock and trust me it wasn't a small one. We asked few locals for directions to the fort and we got a replying saying the whole of the town was the fort. Looked at Arun and decided to explore the place. Finally we visited the palace which was closed unfortunately and then a few temples here and there.
Just when my hopes were dwindling down, a person told us the one could ride up the hillock to the ruined fort. This kinda left me in mixed feelings, okay there was a path but ride, I wanted to freaking trek, I thought to myself.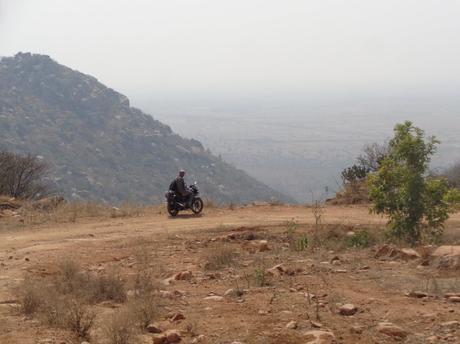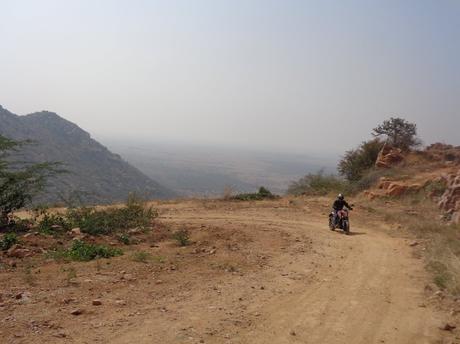 We rode another 5-6kms on small country roads to reach the starting point of the ascension. What stood before us is something that pleased us both and took Arun to the next level of happiness. It was a pure muddy path with lot of twists and turns that ran uphill. Reminded us, of the old Kemmangundi route in Chikmagalur. And in this terrain we were sure KTM would have a lot of fun.
The ride began cautiously without any risks being taken. As we ascended the view of the surroundings began to lift us up and the hairpin curves on the muddy terrain began. This was tricky and fun at the same time. We did stop at many places as we knew this part would be the best section of the entire day. We fooled around, sat on rocks, explored the place and finally ascended the hillock.
TIME: 11:30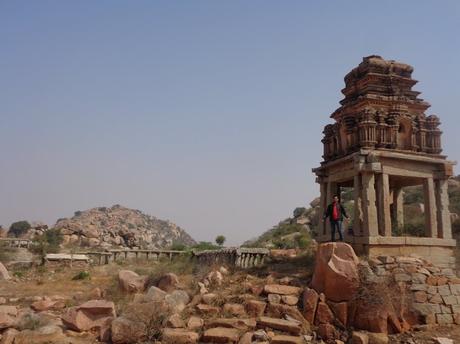 THE RUINED FORT ON TOP:
We parked our bikes on top and were taken back by the ruins that lay before us. It had this ancient tinge in the right amount to amaze us just enough. We jumped around the fort walls and began to explore.
There was a small kalyani (pond) on top and the temple was pretty old huh! We sat in the sit out of the temple and started having some water and biscuits. Then we cracked about a few dance moves (and even performed some haha!). After having a fun filled session on top, we decided it was time to head back down. We were really excited about the ride back down too as we knew it was the only part we would remembering in years to come.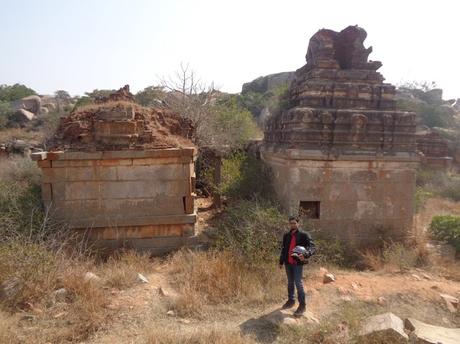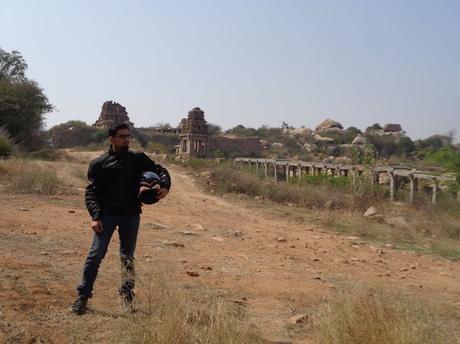 The ride down was again fun-filled and we stopped at many places to click some photographs. Riding down we met a family who were walking up the hill. We were amazed and Arun showed them some photographs of the top temple for them to decide if it is worth pursuing the strenuous task. We reached back the town of Penukonda and were all set to meet Madho :P.
TIME: 13:00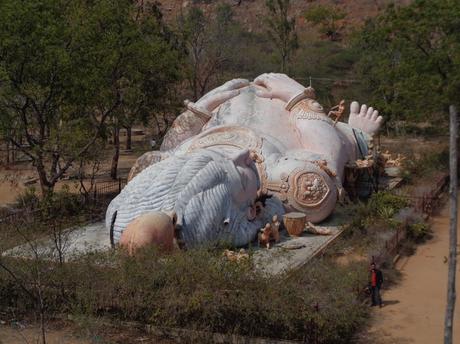 KUMBHAKARNA STATUE:
Riding another 5-6kms away from Penukonda we spotted the might statue of Kumbhakarana asleep. It was actually very well constructed but all we could think off was our friend Madho who happened to look and act in the same way as the mighty demon.  After having spent a good 15-30mins we decided to ride back to Bangalore.
TIME: 13:30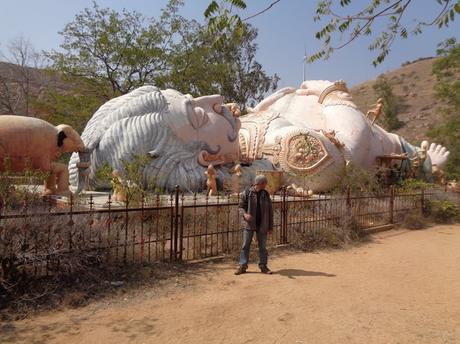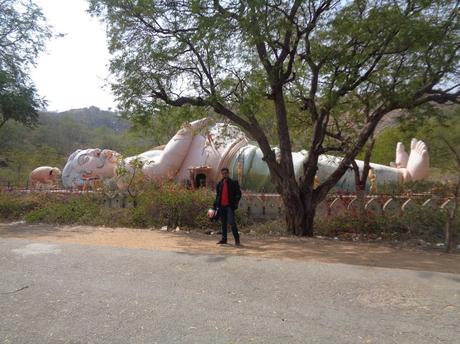 RIDE 2: (Penukonda – Bagepalli – Chikbalapur – Devenahalli – Bangalore)
This was a simple ride back, but had to keep in mind the events on the same road on Sunday of the Dandiganahalli Dam trip :P.  Riding at a good pace, one behind the other we cruised along at a decent pace. Before we entered back Karnataka we decided to belt some good lunch in an Andhra restraint itself.
TIME: 14:30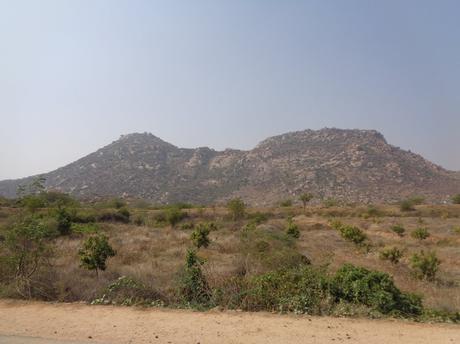 After a pretty heavy lunch we started riding back at about 15:00. But the traffic was at ease and we could cruise along decently to reach Devenahalli. From here too we started looking out for cops and cruised along just under the slowed speed limit to reach back the ORR. Then we switched to turtle's pace as we knew and had been caught previously for over speeding. But guess what? No police that day hehe! So, thanked each other for making it for the day and departed to our respective homes.
TIME: 17:00
CONCLUSION:
"Great way to kick start things off for the year 2017. A new place, A new ride, and the pure energy still flowing.Grrrr….!! "
Until next time, Cia \m/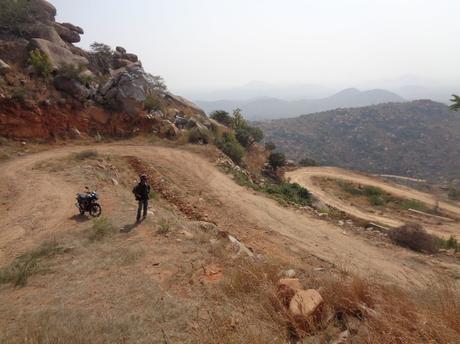 MAPS:
ALL PHOTOS: