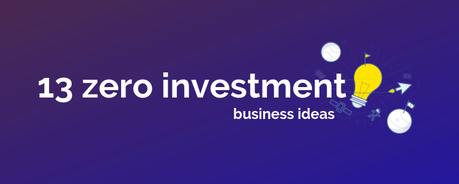 Everyone wants to be financially strong and wants to do their own businesses. But not everyone has enough money to invest in business. So here we provide some of the zero investment business ideas which will help you to start your business without investment.
 1) start your own blogging-
It is a small scale business idea without any investment. You can start your own blogs related to travel, health, food, fashion etc. all you need is to deliver attractive content to people reading your blogs. It requires your blogging ID and once the visitors start reading your entertainment blogs, you can earn money.
2) start online tutoring-
you just need to make a youtube channel and start providing your knowledge to students. As the number of visitors increases, YouTube will pay you. It is a business without investment which is increasing at a high speed in India.
3) career counseling-
career counseling is another without investment business where you need to give advice and knowledge to other people like students. You just need to have correct knowledge and provide your opinion and advise that help the students to make some decisions.
4) yoga instructor-
with the busy schedule people forget to take care of themselves. Become a yoga instructor and start a youtube channel and provide some awareness related to health. If you are expert in yoga you can teach people about yoga and exercise and you can earn good amount of money.
5) make up tutorials-
it is a another without investment business where you can provide your knowledge related to makeup to girls or women who like to do makeup. It is a small scale business idea without investment which will help you to earn some cash.
Read: 13 Small business ideas for beginners in India
6) online tour guide-
it is considered as one of the best business ideas without investment in which you need to tell people which is the best place to visit. You can provide your guidance to people as every person search a lot before visiting a place. So you can earn money with this without investment business.
7) babysitting-
this is a zero investment business where you just need to spend some time taking care of babies and kids. Babysitter just needs to take care of small kids and you can play with kids also which is fun. You can earn good amount without any investment.
8) translation agency-
a person who is expert in some foreign language can start up his translation agency online. As the numbers of international exchange are increasing so the opportunity for translator is also in demand. So it is one of the businesses without investment you can look upon.
9) vehicle review business-
if you are expert in automobiles and have proper and accurate knowledge about recently launched vehicles, then you may start vehicle review business and that too without investment. It is one of the small scale business ideas without investment.
10) online photography business-
if you love photography, then it will be the best small scale business without investment. You just need to have a good camera and create facebook and instagram page where you should post your pictures. As soon as visitors visit your page you can  establish business orders from them.
11) sewing classes-
this is an opportunity for housewives. They can start this business without investment. You just need to have a sewing machine. Women who know sewing can provide sewing classes who want to learn about sewing. It is a small scale business idea without investment.
12) start dance/music classes-
youngsters who love singing and dancing can start their own class or any academy of providing music or dance classes either online or offline.  In this way you can start earning a good amount without any investment and is a small scale business idea too.
13) business startup instructions-
people who have experience in some specific industry or business can look upon this option and it is very popular franchisee business in india without investment. You just need to have proper resources and knowledge that you would provide to other people.
Conclusion-
there are numerous business ideas without investment and some of those have been discussed. Hope that these will help you.