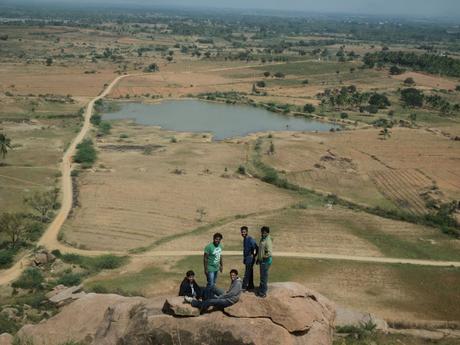 Place:
Bhasmangi Fort Trek.
Distance:
150 x 2 = 300kms.
Directions:
Bengaluru – Tumkur – Sira - Bhasmangi
Participants:
Dileep (Koof) > Chaitanya (Endu) > Ashok (Momz) > Datta (Dattu) > Madhu (k.) > Karthik (Sp).
Bikes:
Thunderbird > Pulsar > Pulsar

  
Previous visit:
AvallabettaHilltop
IN LESS THAN 50 WORDS:
This was the first chapter of the year 2016. Looked promising! This place was long time been in our bucket list. And we weren't sure the exact details of the place. It also saw 6 number of people mostly from college, so a very good catching up trip! As far as the trek, we ignored the partial stone steps and took the thorny & boulder route just the spice things up.
INTRO & PLAN:
As far as the plan goes, after returning from Haryana after a month feeling pretty much betrayed I needed my old school gang and needed a big time break. So, called in everybody I could and finally narrowed it down to Dilip, Endu, Ashok, Dattu & Madu.
TIME: 22:00 (23/1/2016)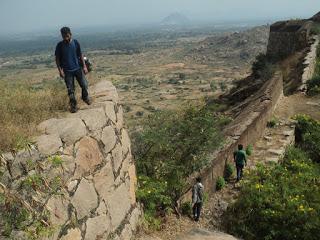 ASSEMBLE & LEAVE:
Yeah I was up at 05:00, did a push ups & bicep curls and was all set to go. The meet up was scheduled at two places. First I had to pick up Madhu and then we went and waited for Endu & Dilip at the Nagarbhavi junction. After which we headed further to meet the other two at Mahalakshmi Layout on the ORR. After all 6 of us met we decided to leave Bangalore.
TIME: 07:30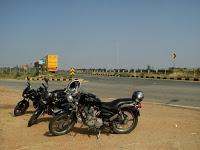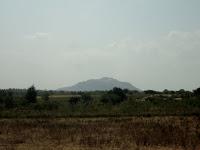 RIDE 1: (Bangalore- Nelamangala – Tumkur – Sira - Bhasmangi)
This was a 125kms ride, mostly on NH-4, tumkur highway. I chose this route as riding would be comfortable. As we departed Bangalore, as it was a Sunday, the traffic was dense. But we made it out of town. As we hit the highway, it was smooth cruising until dobbaspete for some tasty breakfast at our regular hotel.
TIME: 08:15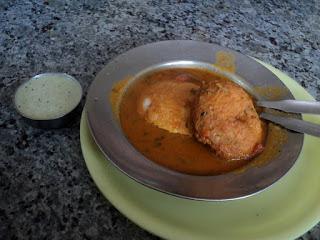 After the breakfast, we call stood outside the hotel with some hot tea. Catching up, yes we had to from a lot of sides. And with the deadly combo of Endu & Momz, entertainment was something in excess. But yeah, I told others it was my first time visiting the place as well and told others to accept the chapter is it moulds itself. 
Knowing friends well, they replied likewise, "yeah in case we remember today:P"we burst into laughter and hit back the road again. So, the roads were wide and clean, riding beside each other Endu & Dilip got a doubt whether the SOS phone works or is it just a dummy. Time for some testing?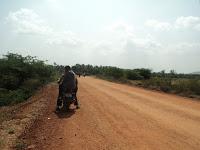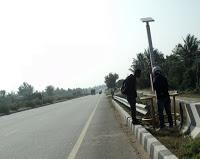 Haha, so these two got off, called and started swearing as they couldn't hear anything from the other side. Just then, Dattu and me who were a little ahead saw a highway patrol with all the lights rushing towards us. We signalled Dilip and Endu to get the hell out from there. We got out just in time.
After cruising past Tumkur, we entered Sira, and pulled over for some hot tea again. Asking the locals for directions we went off the highway and into the country roads. 
The roads were narrow but in good conditions. But as we rode on the roads gradually turned muddy and finally it was pure muddy roads that we rode on as we entered the Andhra Pradesh. We could spot the hillock afar, we asked again for directions and grabbed some bottles and reached the base of the hill.
TIME 11:45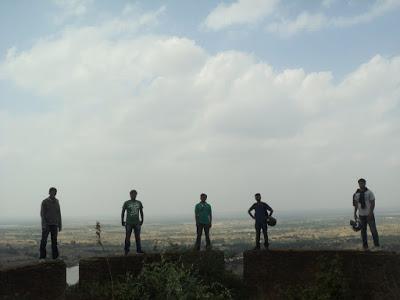 BHASMANGI FORT TREK:
This had to be the most haphazard and random path trek we had done till date. Took us 2hours to reach the top, with 3-4sittings in between. Once we asked the locals whether we could climb straight up the boulder filled path. They said, "one can but you guys can't" That pissed us off even more. So, we ignored all others and just started ascending the hillock.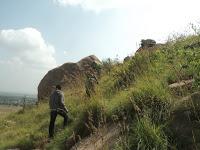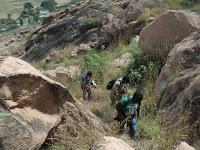 The trek up the hill was actually pretty nice and decent.We had a simple rule, keep ascending until you reach flat land. But the path was filled with thorny bushes that began to scratch on our hands pretty bad. With all the juice in the bag, we had to find a spot to crash in. We found a neat outpost which overlooked the town and a beautiful lake.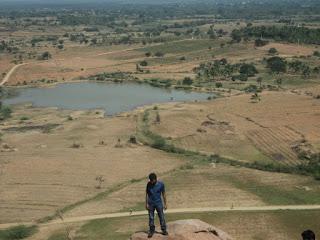 Here , I decided to head up and find a nice place to crash in. Dattu too accompanied me and we found a super cool boulder shelter. So, went back called in others as well. Once others who were fooling around arrived, it was double teaching time for all others by Momz & Endu. Stories & jokes kept flowing as the juice went on rounds around the circle. After which, Dattu headed further up to find the second spot to crash.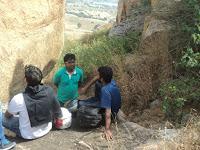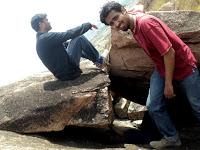 As the sun was up, and it had hit noon, it was getting difficult to trek by the minute. We reached the second base to crash in for another round. After which we reached a long fort wall, getting past it was tricky once we made it across, we could see the top.
But we found an alternate path which lead to a huge boulder. So climbed up this boulder and had a final sitting enjoying the breeze and over-looking the entire town and lakes below. We spent 30mins here sitting and speaking about college stories, and yes Momz theory of independence and other things as usual came up, cracking us up real good.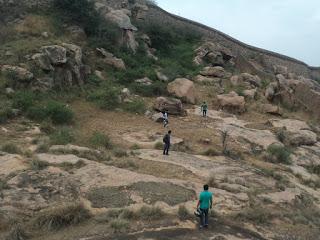 Also, we played some music and danced on top of the boulder. Then we realized it was already getting late and our tummies were crying in hunger. So, climbing down the boulder we headed towards the final fort wall, the path was filled with small water bodies. Going beyond it we reached the top.
TIME: 13:30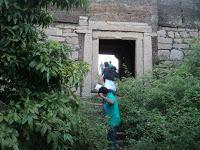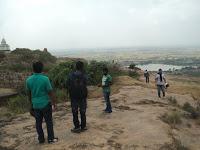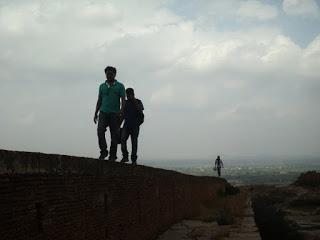 TOP:
At the top, we just played around. We climbed on the fort wall and started walking on it. It was pretty dangerous as the side was a steep fall. After making it to the outpost, we tried to spot our bikes. Then we went and explored all the buildings which laid in ruins on top. After about 20-30mins of exploration, we found a neat outpost and we crashed. We had very good sleep. But as I woke up, first thing I could see as I opened my eyes was ground which was about 3000-4000 below. I pulled myself back and realised I was on top of the hill hehe. Then, took out and hand written map and after taking other's call, we decided to head back as it was already late.
TIME: 14:30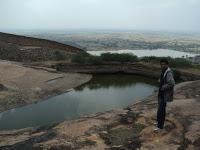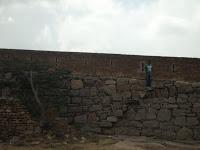 CLIMB DOWN:
The climb down was a smooth one. We took the normal path down, as we were feeling pretty dehydrated under the hot sun.As we made it to the down, we found an old couple sitting outside their hut, they offered us some cold water. It was heavenly buttook in limited amounts and continued further towards the parking space. There we found a water tank as well, let our head down and ran the cold water to cool ourselves. After which we left Bhasmangi. Next top FOOOOOD!
TIME: 15:00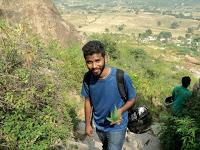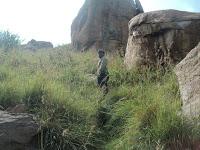 RIDE 2: (Bhasmangi – Sira – Tumkur – Bangalore)
The ride back was about 125kms on the same route. As we left the town, we waved AP bye, promising more trips into the state. After which as we zoomed ahead all of a sudden a group of bees flew across the road, but one of them bit Madhu on the hand and it swelled up crazy fast and he was in deep pain. Removed the sting and washed it with water. After I rode and we reached back the highway at Sira. Ramming ahead, we searched for dhabas but in vain, there were hardly few. Few kilometers before Tumkur, few pulled over at a small dhaba for some well-deserved lunch.
TIME:16:45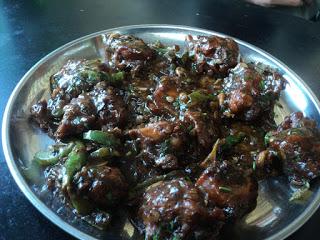 The lunch at this what we thought okay dhaba was just amazing. Probably we were hungry too, but the service and taste was very good. We belted some heavy lunch as the temperatures began to dip fast. When we got out of the dhaba, the air had turned real cold and we pulled out our caps and rode ahead.
TIME: 18:30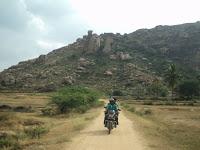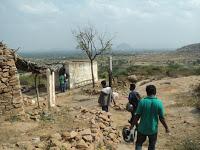 The final ride back was a severe one. With the temperatures dropped, the traffic on the roads got real dense. We rode at decent pace until Bangalore, after which we struggled and moved along at snail's pace to drop each other off and finally reach back our respective homes.
TIME:21:15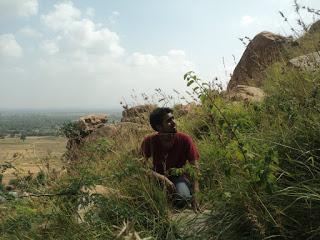 PICASA ALBUM: