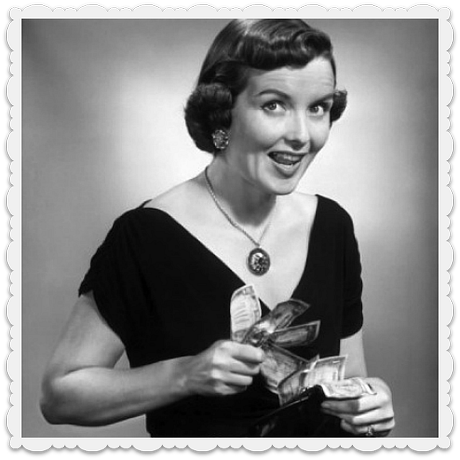 Recently, my girlfriends and I were exchanging stories of epic deals we'd scored. Gal pal #1 couldn't believe her good fortune when she scored a pair of marked-down Jimmy Choo boots for an additional 20% off (complements of the flirtatious male sales rep).Gal pal #2 could hardly contain herself when she recounted her latest makeup purchases via a buy one, get one free sale.
When it was my turn, I began bragging about all the free samples I'd snagged at my local drugstore. Both of my girlfriends unanimously agreed that while they fall into the 'savvy saver' bucket, I undoubtedly fall into the 'tightwad' club. Me? A tightwad!?!? While I most certainly love saving money (who doesn't?) – am I really a cheapskate?
I decided I needed to go to a trusted expert and source (Mr. Webster) to wrap my brain around the true connotation of this eight-letter word.
The dictionary's definition of a tightwad: a close-fisted or stingy person. A hoarder of money or possessions. Also referred to as miser, hoarder, penny-pincher, or cheapskate.
Hmmm. While most would agree I'm the complete opposite of stingy (I'm told sharing is one of my redeeming attributes), I do tend to "hoard" cosmetics, bath & body goodies, accessories and a number of other beauty-related "possessions." And I often use the term "penny-pincher" when it comes to my shopping approach. If you're keeping count, that's three components of Mr. Webster's description. (I wonder if there's such a thing as a partial tightwad – or perhaps a sorta-kinda tightwad?)
Indeed, in an oh-so-enlightening moment, I have concluded that while I might not be a full-blown tightwad, I fall somewhere between a savvy saver and a tightwad, or as I like to call it a savvywad.
Wondering where you fall on the tightwad scale? If you're guilty of more than half of these offenses, then you just might be a tightwad:
Read on…
For the complete article including self-tanning techniques and product images go to 12 Signs You're A (Shameless) Tightwad On Beauty Products on GalTime.com! Crows' Feet, Cupcakes, and Cellulite has joined GalTime's Editorial Beauty Expert panel and is a regular contributor! 

What do you think, readers? Is there a big difference between a savvy shopper and a total tightwad? Know of any over-the-top tightwad stories? Share 'em in the comments section below!