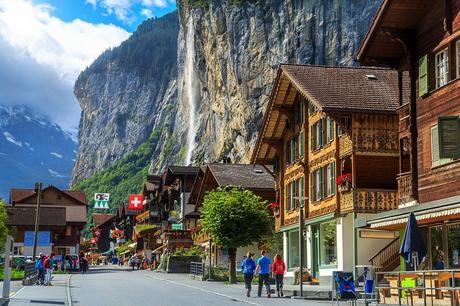 It's no secret that beautiful Switzerland is filled with a lot of charm. It seems to have a storybook landscape and many travelers have a sense of awe when they visit this country.
As individuals explore each destination; they often find that they are gorgeous and simply don't compare to anything that they have ever seen before.
Here are 12 of the most beautiful places in Switzerland that you should visit if you get the chance.
The Most Beautiful Places in Switzerland
Below you will a list of the best places in Switzerland to include on your itinerary. The list includes a range of beautiful sights from the most beautiful cities in Switzerland to most beautiful lakes, mountains and castles. Whilst we love to scout out destinations that might still be unheard of, you will also find a few selections of pretty popular tourist places in Switzerland on the list as well.
Jungfraujoch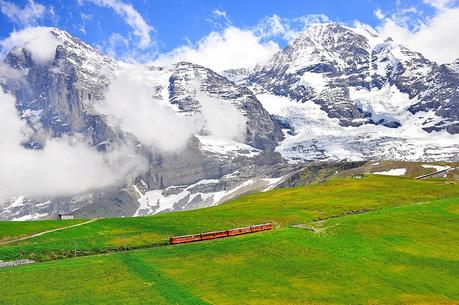 Known as "The Top of Europe", Jungfraujoch is considered to be one of the 'must see' places in Switzerland. It starts with a train journey up to Jungfraujoch where visitors can look out at the scenery all around them (thanks to the scientific observatory and observation terrace that are located 3,454 above the ground).
Europe's longest glacier, the Great Aletsch Glacier, is located below and has been named a UNESCO World Heritage Site. Visitors can also walk along the Eiger Trail or Panorama Way. After more activities? Why not take a gondola ride to see the Lauterbrunnen Valley.
Lauterbrunnen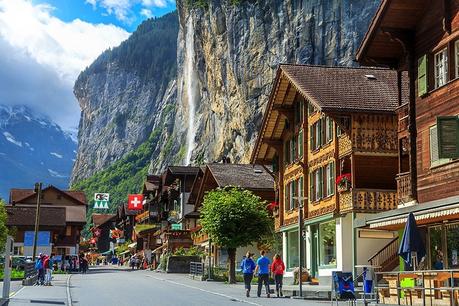 Lauterbrunnen is one of the most beautiful villages in Switzerland! Situated in the Swiss Alps, this village is set in one of the most impressive trough valleys in the Alps. Surrounding the village you find dramatic rocky cliffs, together with the famous 300 meter-high Staubbach Falls.
If the unique setting of this village is not enough for you, you can also visit the viewing platforms located close by, to see the sensational glacial waters of Trümmelbach Falls as they rush through the mountain crevices. Or maybe you simply want to challenge yourself and scout out all 72 waterfalls in the Lauterbrunnen Valley!
Last but not least, don't forget to grab a cable car from Stechelberg village to Schilthorn mountain, for views over the glorious Bernese Alps!
Interlaken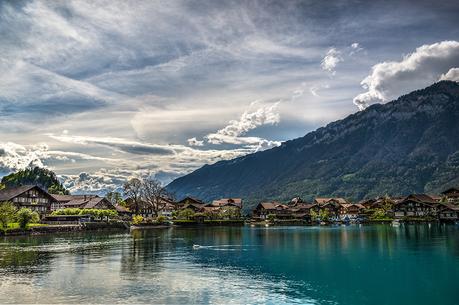 Located between Lake Brienz and Lake Thun is Interlaken. This resort town is absolutely stunning with acres upon acres of open space, flower gardens and the peaks of Eiger, Jungfrau and Monch towering over the town.
Visitors can enjoy the area's many cafes or go kayaking, hiking or abseiling dependent on the time of year. There are over 45 different modes of transport including cable cars and railways. During the winter months, visitors flock to the area to take advantage of the skiing and snowboarding opportunities. During the warmer months, paragliding is popular. No matter what time of year it is, Interlaken is definitely one of the 'must visit' places in Switzerland!
Lucerne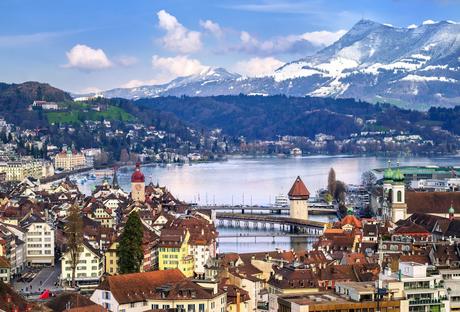 Lucerne is one of the top places in Switzerland! This medieval town of sorts is surrounded by mountains and is peppered with historic buildings and covered bridges. Cars aren't allowed here so tourists can easily walk around as pedestrians truly have the right of way.
As one of the top historical places in Switzerland, this town is most famous for its landmarks of the Chapel Bridge and the Lion Monument. For those that want a spectacular view of the area, including Lake Lucerne, they can ride up Mt. Pilatus by cableway.
Bern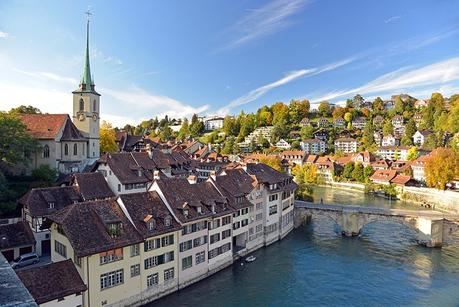 The capital of Switzerland, Bern, is a UNESCO World Heritage Site and perhaps the most beautiful city in Switzerland. This old town is medieval, which is apparent in it's architecture. The tallest cathedral in Switzerland is located here as well. There are also 16th century towers and cobbled streets. A popular attraction is the medieval clock tower, Zytglogge, that has moving puppets.
In addition to all of this, a variety of impressive museums and galleries are located here. This city is a great place to go for those that want to see massive collections of Swiss art as well as sculptures. Of these museums include the Bern Museum of Art and Zentrum Paul Klee.
For those looking for something else to do while here, they must check out the markets. Located in parliament square, Bundesplatz, where visitors can buy all sorts of unique items to take back home with them all while getting an intriguing view of the Bundeshaus parliament building.
Lake Geneva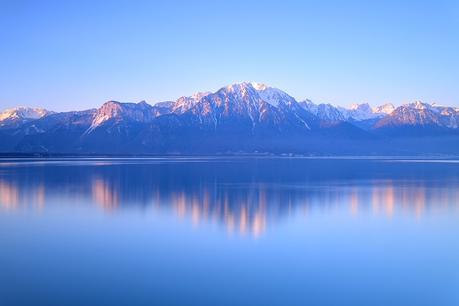 Lake Geneva is regarded as one of the most famous places in Switzerland and as a result is typically one of the most visited places in Switzerland. This body of water is the largest Alpine lake in Europe.
One of the most famous attractions of the lake is the Jet d'Eau This fountain shoots water 150 meters high. Those who visit the lake can also take advantage of all the things to do in the city of Geneva including visiting the Grand Theatre and the Opera House.
Lake Geneva is one of the most beautiful lakes in Switzerland due to the majestic Swiss Alps that lies as backdrop to this lake.
The Matterhorn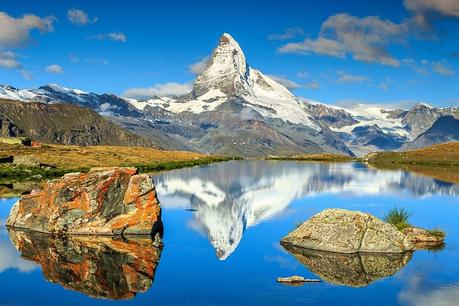 The Matterhorn is one of the most iconic symbols in Switzerland. The peak of it is one of the Alps highest points. The Matterhorn borders Italy and has a height of 4,478 meters. The steep faces of it are each pointed in four different directions like compass.
At the foot of the Matterhorn is the village of Zermatt. It's known for it's chalets and horse-drawn carriage rides. Motorized vehicles are not allowed in the village so that the peacefulness of it can be preserved. This is a popular destination for travelers year round.
Chateau de Chillon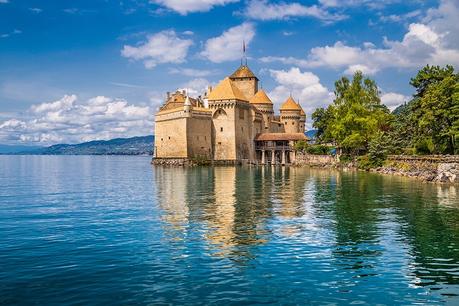 Located close to Montreux is the Chateau de Chillon, known as the Chillon Castle. The castle has a lot of history as it was a stronghold for the Dukes and Counts of Savoy back in the 12th century. It features 3 courtyards and 25 buildings. There are underground rooms, murals and impressive paintings.
When visiting Lake Geneva, many tourists stop at Chateau de Chillon as well.
Mürren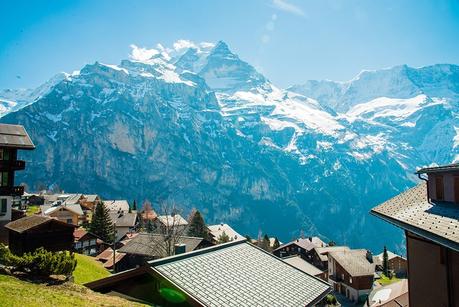 Mürren is a cosy Swiss mountain village located at the foot of the Schilthorn peak. This village is one of the most beautiful towns in Switzerland, so much so that you can see it featured in a James Bond film. The Piz Gloria revolving restaurant that is featured in the film, no contains the Bond World 007 exhibit and also offers incredible views over Eiger, Mönch and Jungfrau, right to Mont Blanc and into the Black Forest!
St. Moritz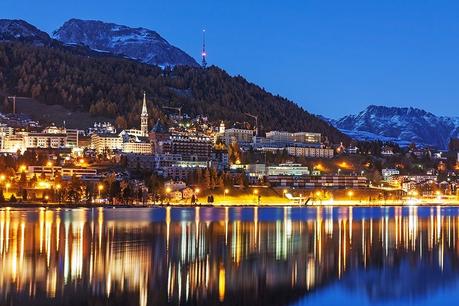 With it's jagged peaks, impressive glaciers, beautiful lakes and lush forests, St. Moritz is one of the top mountain destinations in the world. In fact, two winter Olympics have been hosted here.
There are two parts to this town: St. Moritz Bad and St. Moritz Dorf. The former, sits on the valley floor and has more affordable accommodations. St. Moritz Dorf overlooks the lake.
This is popular destination throughout the year and during the winter, visitors can enjoy everything from bobsledding to skating. A popular activity is tobogganing on Cresta Run. During the summer visitors can enjoy glacier skiing, watersports and hiking.
Ticino & Lake Lugano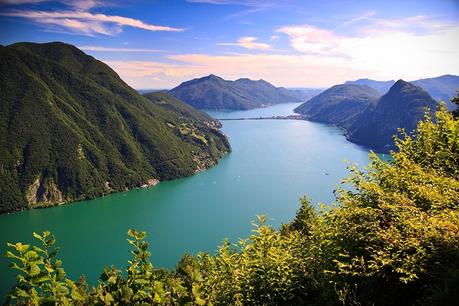 This is the only canton that officially speaks Italian in Switzerland. It's not surprising as Ticino is located on the Swiss/Italian border. The area is well-known for the food as it has a Mediterranean flare with its palms, figs and citrus tastes.
Those who come here will often rent a boat to see Lake Lugano. This allows them to get a panoramic view of Monte San Salvatore with its snow-capped peaks. Definitely one of the most scenic places in Switzerland!
Gruyeres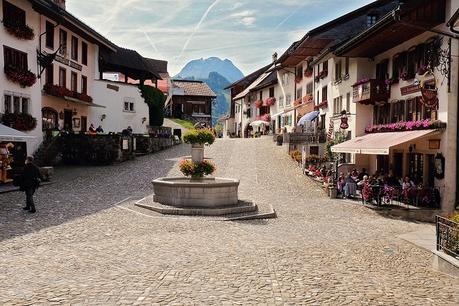 Maybe the most beautiful town in Switzerland? This town has a lot of medieval character. It's located above the river Saane, which makes for some impressive views.
A popular attraction is the 13th century structure, St. Germain Castle, that has been turned into a museum. Visitors can go here to learn more about the culture and history of the town. It also features a lot of artwork that relates to the once popular film "Alien". Another interesting place to go is The Tibet Museum. Visitors can view Buddhist sculptures as well as some Himalayan ritual objects.
Gruyeres is one of the top popular places in Switzerland due to its connection to the well known Gruyere cheese. So make sure to enjoy a cheese fondue for lunch to get in to the atmosphere of all things cheesy.
We all know that Switzerland is an incredible country to visit. Even though it might be one of your more costly holidays, this country truly has a diverse range of incredible destinations that will surely leave a long lasting impression on your memory bank. Switzerland always has and always will be one of the top destinations to travel to!
Over to You:
We are curious to know which destination you would place as the most romantic place in Switzerland?
Which other amazing places in Switzerland would you add to our list?
Save this Post for Future References: