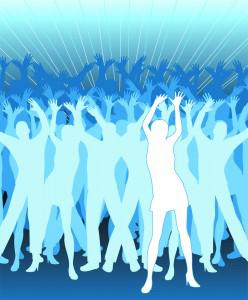 When I progressed another year over 40 this past week I reposted my favorite article about Helen Mirren (66) being voted 'Body of the Year," beating out celebs like Jennifer Lopez and Pippa Middleton. I titled the post "40 and getting better all the time". This title and the birthday wishes sent by all my 40 and fabulous twitter friends, brought up posed and interesting question. Is 40 the new 20?
Men and Women in this age group live full and active similar to in their 20s.  We are still doing things that once were reserved for younger people.  My fabulous Twitter friend John D. Boyle (@BrandFlair) suggested that I create a list explaining why 40 is the new 20 so here it is.
1. Marriage
People in their 40s are now getting married for the first time in their 40s.  It is no longer a check box on societies list of things to do in our 20s.
2.  Children
People are having children in their 40's. Thanks to modern medicine, our biological alarm clocks don't chime the alert at 29 anymore. There is no longer anything unusual about a 40 something having their first child and people no longer assume it's a grandchild.
3. Retirement
Thanks to our economy and recent recession, many of our 401ks look like 201ks. As a result we are thinking about the longevity of our careers and sometimes starting a new one. We know retirement is many years away and have to plan for it like we are 20.
4. Dating Ritual
We now date like 20-somethings. The over 40 crowd are joining dating sites like never before. I'm in the online dating industry and have seen a rise in that age bracket steadily over the past 8 years.
5. Behavioral Consequences
As a result of our dating behavior we are the fastest rising group of people contracting STD. Not proud of that one but sounds like a 20 something to me.
6.  Dating "Freshmen"
Once a social shocker, we now date people in their 20s and no one even raises an eyebrow.  This was more acceptable in the past for men in their 40s but now it's not unheard of for a woman the same age to date a 20 something. In fact, many men in their 20s are very interested in dating women over 40. The first time someone that age showed interest in me I was appalled and insulted. I have children that age so people in their 20s are children to me. Now, I just politely decline and smile and think, hey, I still got it!
7. Leading Ladies
Hollywood once only used women over 40 to play matronly roles but that no longer holds true. The sexy leading lady is often over 40 and still drawing crowds at the box office. Jennifer Anniston and Haley Berry are anything but old-maids? Men have always had a slight advantage in Hollywood but now women are enjoying longer careers in entertainment too.
8. Old School
The economy is forcing many people in their 40s into going back to college to start new careers or fluffing up that résumé after being let go due to downsizing.
9. First Homestead
40 somethings are not only getting married and becoming parents for the first time but believe it or not many are also are buying a home for the first time.
10. Stage Diving
We are still rocking like 20 year olds. Sheryl Crow, over 40 and is still looking great and rocking her fans. According to John D. Boyle, he and his dad band (The Daddyz) are back together and jamming hard. When he has a gig near me I'm going! Oh yes, we are still cool! My twenty-something daughter told me so last week and I choose to believe her.
11. Back to the Nest
Another side effect to the down economy is that many 40 somethings are having to move back home with mom and dad or borrow money from them like a 20 somethings. Not me yet, but I was close a time or two.
12. Party On Wayne
We still party like it's 1999…um…1989.  42-year-old blogger AmericanCurvyGirl and I still go out club hopping on occasion. We laugh, drink, and dance the night away just like we did in our 20's. This just wasn't done in the days of our parents.
With all the changes in modern living 40 somethings are a lot like 20 somethings from decades past. I declare it and @BrandFlair agrees. 40 is the new 20!
From my 12Most.com Article original post Elizabeth Maness
If  you are single and over 40 try my site for modern love ContemporaryDates.com With all the great features you can meet and greet other hip 40's or date freshman if that's your thing.