Sitting together for a Christmas day meal is a worldwide tradition, but what is served during the festive season differs from country to country. Europe has an extensive history with this particular holiday and each country has diverse ways of preparing and enjoying traditional Christmas dishes.
We've fallen in love with the holiday season in Europe, and part of the reason is because of the thrilling Christmas markets and the divine traditional Christmas foods they sell there. Out of all of the best things to do in Europe at this time of year, we think that visiting Christmas markets tops the list.
As a matter of fact, we enjoy European Christmas markets so much that we've spent the last three Decembers on the Continent!
We've discovered a list of scrumptious European Christmas food traditions along the way, and it's all here in this article.
Cozy up for the festive season and indulge in some of the most delicious Christmas food and drinks from Europe with your family and friends. Get ready to enjoy the flavors and traditions of assorted European cultures through festive food with our favorite Christmas food list.
1. Lebkuchen
Lebkuchen is a spicy, sweet biscuit that has all the makings of all the most delightful food for Christmas. These decadent biscuits come to us from Germany and are one of the most popular Christmas foods in the country.
Traditionally topped with chocolate, sugar icing or glazed, lebkuchen remind us of gingerbread. They are perfect for people with a not-too-sweet tooth; you'll be in heaven from the first bite. Plus, if you enjoy nuts, you can add some on top for the perfect holiday treat.
2. Panettone
Our taste buds feel the essence of an Italian Christmas whenever we enjoy a panettone. It makes for one of the best European Christmas desserts.
When it comes to sweet food on Christmas day, you can't go wrong with these lovely baked goods. Panettone Christmas cake is hugely popular in Italy, and it originates from Milan.
This treat begins with a tasty bread batter that contains sweet fruits, raisins, pine nuts, citron, and anise. Finally, it's baked in the oven until golden. You'll have people praising your holiday food list this festive season when you add this to your dessert menu.
3. Mince pies
Synonymous with Christmas in Great Britain, mince pies are a healthy treat with just the right amount of a sugary kick making each mince pie a satisfying Christmastime snack. The name can be misleading, as this baked dessert has a pleasant raisin-fruit filling and no meat.
When it comes to Christmas food names, this one has quite a fascinating heritage. The name comes from the 13th century when crusaders returned from the Middle East with a recipe for pies with mince, spices, and fruit. Remove meat from the equation and we have one of the most common Christmas foods in Britain.
ⓘ
TIP: Despite its ever-growing popularity in America, Eggnog
originated in England
. Wash down your mince pies with a cup of Eggnog and you be doing Christmas in a truly traditional British fashion.
4. Lussekatter
ⓘ
TIP: To really enjoy an extravagant European Christmas experience, knock back your Lussekatter with a mug of Swiss hot chocolate.
Celebrating Christmas in Sweden is surreal, with twinkling festive lights, magical bells ringing, the dreamy, snowy mountain tops. And of course, one of the most sought-after Swedish Christmas foods, Lussekatter.
A Lussekatter is a mouth-watering saffron bun, baked in the shape of an "S". They melt in the mouth, except for the traditional decoration of small, sweet raisins.
Traditionally, Lussekatter (Lucia saffron buns) are eaten on December 13th, which is Lucia's day (the patron Saint of Light). The celebrations are one of the highlights of the Swedish calendar and the Saint Lucia procession is truly magical, so do try and see one if you can.
5. Vanocni Cukrovi
When it comes to Christmas cookies in the Czech Republic, you're in for something truly special. Vanocni Cukrovi is afresh and sweet treat that you can look forward to after savoring a traditional Christmas Eve dinner.
This scrumptious pudding is made from two iced shortbread biscuits that have jam in the middle. Getting creative with how you prepare these is half the fun, with the option to cut out charming Christmas-themed shapes into the cookies to further brighten up the dinner table.
This is one of the most traditional Christmas food items in Europe, and we look forward to them every year. Vanocni Cukrovi biscuits are shared among the local neighborhoods and families during the festive season in Sweden.
6. Pretzels
You'll find pretzels scattered around the whole of Europe during the holiday season.
There are a million and one different ways to prepare these popular bread snacks. Including adding chocolate coatings or custard fillings. Pretzels make a deliciously warm lunch, work well as a snack between meals, and can be a tantalizing dessert as well.
ⓘ
TIP: There is quite a fine art to making Stollen. The best way to really revel in the flavors and embrace the culture of this fine Christmas food is to travel to Germany and purchase it from a Christmas market.
7. Stollen Christmas Cake
When it comes to tasting German Christmas food, one cannot miss the chance to enjoy Stollen. This simple yet delicious cake has grown in popularity and is a celebrated pudding throughout Europe.
Topped with a layer of coated icing or powdered sugar, this yeast-layer cake is made of nuts, spices, and dried or candied fruit. Talk about sugar, spice, and everything nice. This is one of the best European Christmas foods to share with friends. In Germany, this is a most-loved Christmas food tradition.
ⓘ
TIP: Roasting chestnuts activates their sweetness, which is why this has become a tradition in Europe during the winter months.
The book Classic German Baking discusses the fine art of preparing some of Germany's delicious sweet treats. It also covers some great options for the festive season, including Stollen.
8. Roasted chestnuts
Roasted chestnuts are a traditional Christmas food throughout Europe. These are easily prepared, making them one of the most fantastic European holiday traditions to enjoy at home.
Chestnuts are arguably one of the most widely known foods associated with European Christmases. They are beloved by all those who grew up on the continent. Sit around the fire and share in this nutty pleasure as you soak in the festive atmosphere. You can even roast these over an open fire as you warm up with loved ones.
This snack will be a favorite among everyone and has become a traditional Christmas food in other places, like Asia and America.
9. Turron
Another on our list of Christmas foods in Europe is Turron. This decadently sweet dessert will have family knocking down the doors during the holiday season. Originally made in Spain, it captures the over-the-top flamboyance of the Spanish culture in a delicious nougat.
This Spanish treat has been heart-warmingly prepared during Christmas time since centuries past. It is one of the best Spanish holiday food traditions. Its popularity has even spread throughout Southern Europe and can be enjoyed within those countries as well.
10. Mulled wine
In Europe, Gluhwein is the most popular and tantalizingly delicious drink. This hot drink goes down smoothly and warms the entire body. It's made from red wine that has been sugared, spiced and then simmered.
It can be strong, so take it easy so you can still remember the holiday season.
11. Bombardino
Italian Christmas feasts are not complete unless coupled with one of the most popular hot drinks in the country. Indulge in Italian culture and have a cup of Bombardino, a decadent mixture of half eggnog and half brandy and topped with whipped cream.
Lick your lips and celebrate a culture that is especially well-known to those who holiday at Italian ski resorts in the winter season.
12. Wassail
The name of this hot Christmas beverage originates from old English, and today it is one of the best European Christmas recipes. It is simple to prepare, and absolutely delicious to drink. This hot festive drink is made with mulled apple cider, ginger, lemon, and spices.
Gather around with your family and friends for a large festive meal as you enjoy one of the most famous Brittish Christmas traditions.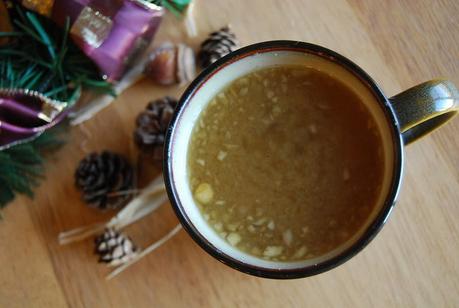 5 European traditional Christmas dinner staples
If you're looking for the best place to visit and experience an authentic European Christmas dinner, we're here to help. Here are some European countries that go all out to fill their bellies and treat their taste buds during Christmas.
1. Italian festive food
You can find a host of delicious Christmas foods at the beautiful, local markets. Some of the best Christmas dishes you can look for whilst here are:
Roast lamb
Pangiallo - mixed dried fruit, candied peel and honey that is baked and then covered with egg batter
Fritto Misto alla Romana - seasonal vegetables covered in a special mineral water and flour batter
Tortellini in brodo - pasta served with a liquid broth made from beef or chicken bones, and vegetables.
If you're wanting to get an authentic taste of freshly prepared baked goods in Italy during the holidays, visit the many buzzing Christmas markets. You can then spend time sampling the many different Italian Christmas staples. To embrace the festive season in Italy and make the most of your time, enjoy a Christmas dinner Tuscan cooking class.
2. Germany - a large festive meal
Germany is well known for providing the world with some of the best known traditional Christmas food.
Taste unforgettable European Christmas foods such as:
ⓘ
TIP: With so many mouth-watering offerings, consider going on a Christmas market tour in Budapest.
Roasted goose
German sausages
Red cabbage and potato dumplings
Stollen Christmas cake
Go on a Berlin Christmas market tour and be enchanted by the dazzling manner in which the festive season is celebrated in Germany. Visit the acclaimed Weihnachtsmarkt, as well as the Gendarmenmarkt and many more as you allow the Christmas spirit to infect you.
In Amsterdam, you can also take a day trip to one of the most popular Christmas markets in Europe on a guided small-group tour of the Dusseldorf Christmas Market.
3. Hungary Christmas food traditions
Hungary's capital city, Budapest, is the heart of many remarkable Christmas food traditions. Some of these include:
Chimney cake - dough that has been rolled in cinnamon, sugar and cocoa powder, then cooked in a spiral formation that stands upright.
Goulash soup - meat and vegetable soup prepared with paprika and rich spices
Roasted chicken
Spiral strudel - layered pastry with a sweet filling
ⓘ
TIP: Be sure to make the most of your festive season by sampling some of the delicious Christmas dishes at the Champs-Elysées Christmas Market. You can also get your fill of the most amazing French Christmas foods on a sensational gourmet Christmas food tour in Paris
Budapest is the real gem in Hungary that has pioneered the Christmas food tradition for the whole country. The most iconic market in all of Hungary is the Budapest Christmas Fair and Winter Festival. This is where the city basks in the novelty of the festive season and shares in some of the most noteworthy treats.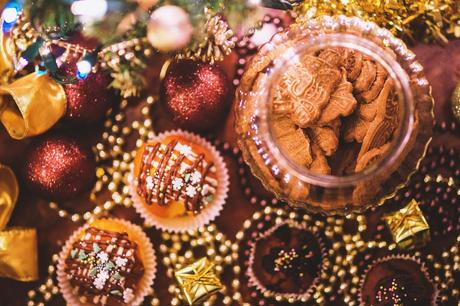 4. Christmas food in Switzerland
To us, Switzerland seems to be one of the most iconic destinations to be in during the festive season. Okay, it may be partly because it's such a snowy destination, but this country has a magical amount of holiday foods and markets. Switzerland's traditional Christmas foods include:
Fondue bourguignon - beef meat cubes that have fondued in boiling oil
Anise cookies - traditional biscuits made of anise extract, egg, baking powder, and sugar
Amaretti - biscuits made with ground almonds, butter, eggs, caster sugar, and amaretto liquor
Basler läckerli - a traditional hard spice biscuit made with honey, hazelnuts, almonds, Kirsch, and candied peel and a sugar glaze coating.
You can enjoy all of the best European Christmas foods at the Zuerich, St Gallen, and Montreux Nöehl Christmas markets.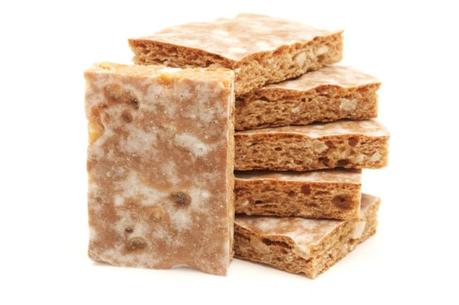 5. French holiday food traditions
With an incredible amount of French holiday food traditions, you will find something to suit everyone's taste, whether inclined toward sweet or savory. The French know how to make some of the most marvelous food during the festive season and have a passion for food.
Some of the most traditional meals enjoyed during the holidays are:
Bûche de Noël, the Christmas log cake
Roasted turkey with chestnut stuffing
Caviar
13 desserts (a range of traditional French desserts, there is something for every preference)
Last words on Christmas festive food in Europe
European Christmas foods are not only delightfully delectable but also preserve the rich history and culture that is rooted within the continent. There have been many combinations of religions and backgrounds that have lead to the traditions of Christmas in Europe.
We have a passion for good food, and Europe is the proud originator of some of the world's most amazing Christmas dishes. Along with the snow that drapes the landscapes, the carols that hang in the air and the loving gifts shared, European Christmas food is another unique thrill.
There's no shortage of warm and filling food and drinks while visiting Europe over the festive period. We hope our Christmas food guide will help you enjoy tasting new treats over the exciting Christmas season.
Sign up below