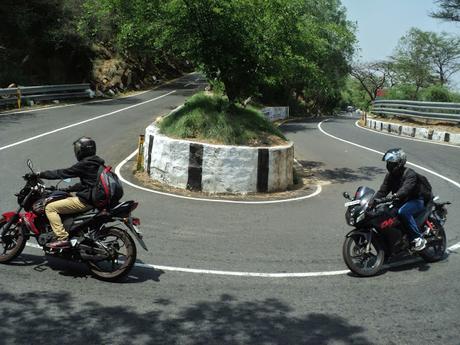 Place: Yelagiri Ride.
Distance:
160 x 2 = 320kms.
Directions:
Bengaluru – Hosur – Krishnagiri - Elagiri
Particiapants:
Abhishek > Nitin > Gowrish (Gorisha) > Karthik (Sp).
Bikes:
Karizma > FX > Pulsar NS > Pulsar.  
Previous visit:
Siddarabetta– Awaken the aghori!
IN LESS THAN 50 WORDS:
This chapter was another release chapter. It saw riding under on the very broad highways under the merciless sun. Riding up the hill in the cool Niligiri trees covered hill was a pure bliss. And ending the ride in rain was something else altogether. This chapter would also be a start of a reckless May,2015.  Yes,  watch out!
INTRO & PLAN:
After spending about 2 months at Ranchi I finally returned back to Bangalore. I was eagerly looking for a release, and this  chapter turned out to be the start. It had been more than 3 years since we had ridden in Tamil Nadu. Gauti called me up letting me know he was in town, so initially ride to Ooty was planned. But due to certain fall backs we narrowed the place to Yelagiri. Gauti's friends Nitin & Abhishek were also up for the ride. And I pulled over Gowrish. (March & April 2015 saw no chapters)
TIME: 22:00 (1/5/2015)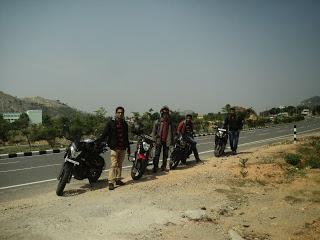 ASSEMBLE & LEAVE:
Yeah I was up at 05:00, did a few push ups & situps, had a cup of coffee and was all set to go. The meet up was scheduled at the end of electronic city flyover. So I left my home, picked up Gorish from Bommnhali and we rode towards the EC flyover end to find others already waiting for us. After a formal introduction of all the krew, we decided to head out of town.
TIME: 07:30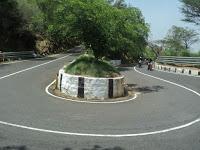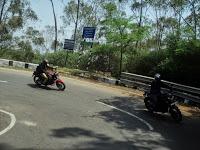 RIDE 1: (Bangalore– Hosur – Krishnagiri - Elagiri)
This was 160kms ride. It was burning hot, and wide roads made us feel dizzy.  As we left Bangalore the weather started slowly turning hot. All the 4 bikes, rode one behind the other in a beautiful formation. The roads to Krishnagiri are broad and wide, filled with beautiful scenery on both sides of the road. As we reached Krishnagiri we pulled over at a very nice hotel for some tasty breakfast.
TIME: 08:45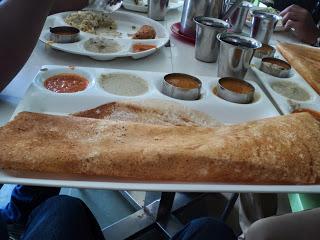 Over the breakfast we got to know more about each other and the jokes kept coming out on the table as we munched on through. Once done with the breakfast, I told others I vaguely remember the turn we had taken last time (Yelagiri, 2012). So we reduced our riding speed trying to spot suitable boards which would lead us to the place. We pulled over at a couple of places to rest and catch up with each other.  Finally about 1.5hours latter we spotted the deviation with clear boards and made it to the foothills.
TIME: 10:45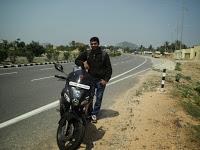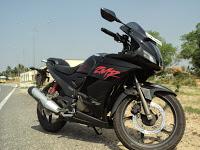 YELAGIRI RIDE:
The temperature of the air dropped as we started ascending the hill. The roads to the top were excellent and well maintained. The ride to the top consists of 14 hair-pin bends. As we rode the beauty of the nature kept increasing and the view off the road started becoming nice. Each curve was executed with joy . Riding behind each other in a straight line throughout the ascent felt great. The last part of the ascent was filled with Nilgiri trees allowing few streams of light to pass through. The air had turned cold by the time we reached the top.
TIME:11:15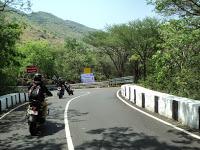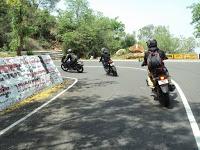 TOP: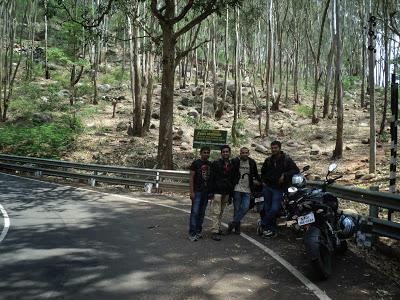 We spent about 2hours on the top. Mostly not at the actual place. Okay, we reached the top parked our bikes near the lake. We walked beside the lake to find quite a large number of people as it was a Saturday.  We found a nice outpost overlooking the lake and sat in a circle and went on speaking. After sometime we decided to leave grab something to drink and crash at the Nilgiri place which looked more peaceful and people-free. So we did, parking our bikes on the road, we climbed up the steep muddy terrain filled with thorns to find a neat place with boulders to relax. We spent about an hour here and then decided to head back as our tummies were growling.
TIME:13:30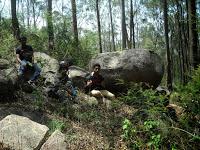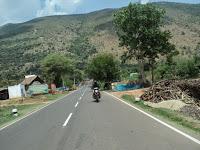 RIDE 2: (Yelagiri – Krishagiri – Hosur –Bangalore ):
This was 160kms drilling ride back.  The ride back down from the hilltop was a smooth one. We switched off our bikes and allowed it to take us peacefully to the base. Once at the base we could feel the heat off the road. As we reached back the highway to Krishangiri it became adman tiring. As we rode on the broad highway, heat waves kept blowing against us the made riding painful. we could hardly keep our eyes open. Somehow as we approached Krishnagiri we pulled over at a decent hotel for some lunch.
TIME: 15:00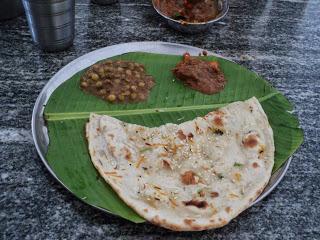 After a nice lunch, we left the hotel and proceeded to Krishangiri. We still had another 100kms to go, so wasting no time we continued riding inspite of the rapid energy drain. We pulled over at a water pump to replenish our thirst and soul. We rode one behind the other, Gow and me together making fun of other vehicles so as to keep us awake (okay, atleast me, as I was riding!) At the outskirts of Hosur we pulled over for some hot tea. Then as we cruised past Hosur the weather turned dull and down came the drizzle. This my folks, felt like bliss. We were so relieved. Riding in this drizzle made a perfect end to this chapter.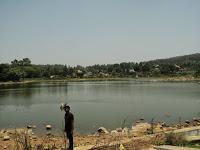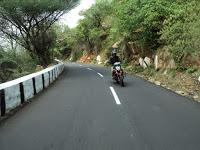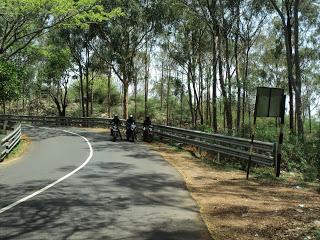 We entered back Karnataka and the temperatures dropped and we rode with joy to reach the EC flyover. Gow, Nitin & Abhishek continued further towards the city, where as Gauti and myself took the NICE road to PESIT. As we entered the NICE road the clouds burst open for a short while and turned back in to drizzle. But we were pretty much on "tortoise mode" we kept a constant 50km/h and rode beside reach other come may rain or sun. The smell of rain off the heated roads is something still really fresh in my mind (wait or is it in my nose, or wait!) Anyway, we reached PESIT and split to reach our respective destinations.
TIME: 19:00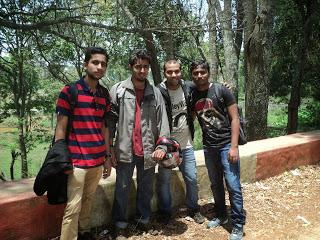 PICASA ALBUM: