Yesterday was the 10th anniversary of Mean Girls. The film that got us through our student days is TEN YEARS OLD (yet I've not aged a day)  - how did that happen? And why am I still saying 'fetch' and pinning 'You go Glen Coco' embroidery patterns to my Pinterest boards? Surely I should have grown out of it by now?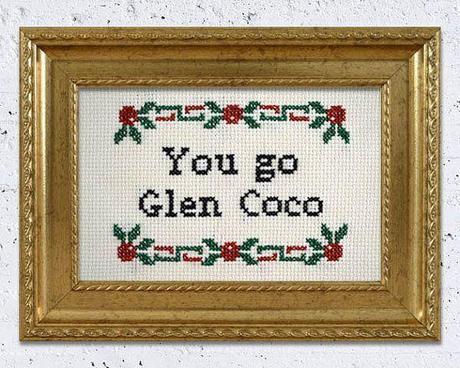 If you've never seen the film, never worn pink on a Wednesday, and never dragged your girlfriends in front of the TV to learn the Jingle Bell Rock dance, it's about time you did! At the very least, here's a clip for you to start your Mean Girls journey (and be fully equipped for next Christmas):
I kinda always wanted to be a 'Plastic' (lets face it, they are the prettiest, coolest, best-dressed girls in school) but I knew that in real life I wouldn't have been, so I kinda also hated them a bit. Argh, it's an emotional rollercoaster, that film! I'm going to compare it to Clueless, because both are pretty important teen-girl-films for me and I don't think I can choose between them, but I especially like how horrible these girls are! Cher is a nice girl – spoilt, yes, but nice. It would be a breeze to be her friend in comparison to Regina George…
It's the film that produced the next generation of Hollywood royalty; Rachel McAdams, Amanda Seyfried and Lizzy Caplan. I don't need to mention Li-Lo, because everyone knows it's her film really. And Tina Fey stealing the entire show. Her, and the line "Oh my god, Danny Devito! I love your work!" which cracks me up every time.
In the run up to this milestone there have been all kinds of rumours about a 'Mean Girls: Reunion' film – how amazing would that be?! – but so far there are no such plans for a new movie. The 10th anniversary took place yesterday and I wore pink to celebrate but my jingle-bell rock companions are at the other end of the country and the other side of the world right now, so I didn't get the gang together for a girls night in. Maybe for the 20th anniversary…
By the way, did you know that there's a National Mean Girls Day? It's October 3rd. Love ya!
Related
Categories: Events & Entertainment, Lifestyle, my favourite things | Tags: 10th anniversary, amanda seyfried, film, glen coco, lindsey lohan, lizzy caplan, mean girls, reunion | Permalink.

Cassiefairy blogs about everything she does & anything that inspires her; popular culture, film, art, fashion, recipes, craft and design.