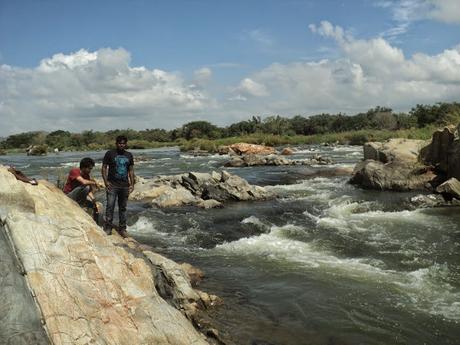 Place:
Mahadevapura
Distance:
135 x 2 = 270kms.
Directions:
Bengaluru – Bidadi – Ramnagar – Maddur – Mandya - Mahadevpura
Particiapants:
Gautham (Gauti) > Madhu (Barca) >Karthik (Sp).
Bikes:
FZ > Unicorn > Pulsar.  
Previous visit:
Vanivilas Sagara Dam.
IN LESS THAN 50 WORDS:  
the 4

th

trip of Nov,2014. Was I high? You bet I was. Felt freaking great and was pumped.  This was decent 3 person, 3 bike ride. It had to be a classic for sure. Riding solo on each of the bikes and relaxing in an amazing place. On top of all that excellent food and riding back in the rain made this trip a memorable one. Even though it consists of a lot of turns, the place kind off dragged be by intuition to itself.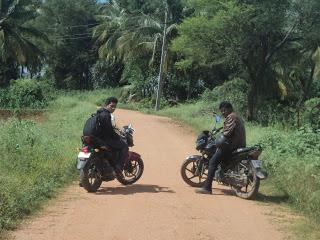 INTRO & PLAN:
Gauti had a bought a new bike and wanted to take it out for a spin. So on the Friday afternoon made a few phone calls and texts and finally decided to go to Mahadevpura. Madhu & Gauti were on the confirmed list. We wanted to make the most out the pre-winter season i.e, November – our birth month.
TIME: 22:00 (14/11/2014)
ASSEMBLE & LEAVE:
Yeah I was up at 05:00, did a few push ups & situps, had a cup of coffee and was all set to go. The meet up was scheduled at our bakery. So at about 06:30 all three of met up at bakery. The air was cold, after having some hot tea we left Bangalore.
TIME: 07:00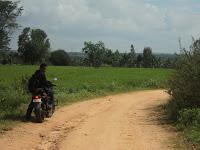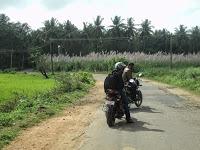 RIDE 1: (Bangalore – Tumkur – Bidadi – Ramnagara – Mandya - Mahadevapura)
This was approximately 150kms ride, distributed over highway, country and mud roads. We started off one behind the other in neat fashion on the butter smooth Mysore road (SH-17). As we approached Bidadi, our tummies began to growl and so we pulled over for some yummy breakfast.
TIME: 07:30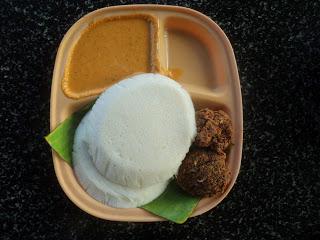 After some yummy breakfast, rode at a very smooth pace to cruise past Channpatna, Maddur & Mandya. Once we cruised past Mandya, we pulled over for some tea. Once we were off the highway greenery flooded both sides of the road making riding a bliss. We were forced to stop a few places, so as to seep into the ambience. In 30mins or so we reached the Mahadevpura Bridge and a few minutes from there ( a lot of turns by the way) we reached the anicut.
TIME: 10:45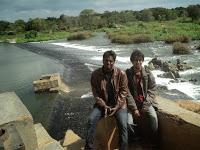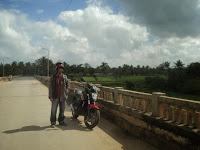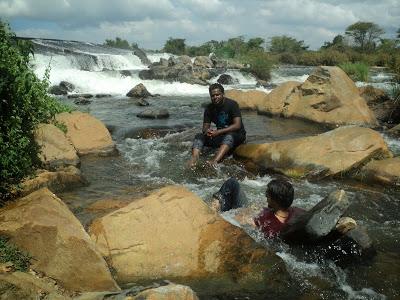 MAHADEVPURA:
We were pleased that we were the only ones at the place. We took a long stroll (with Madhu obviously fussing about it :P) in between the canal and the river to explore the beautiful place. We could spot a variety of birds and the water looked crystal clear. After about an hour of exploring the place we headed back near the anicut and found a neat spot to dip into the river.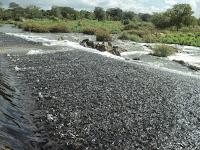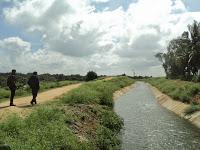 We actually found a very nice arrange of stones which was like a seat on we could just lay back and relax while the water gushes into you with all might.
The river raged as it flowed downstream so finding a nice spot is okay, but a safe spot is even more important. After having spent nearly an hour we decided to get out of the water and dry up in the sun which was blazing away. After having mildly dried up we bid adieu to the wonderfulplace.
TIME:13:00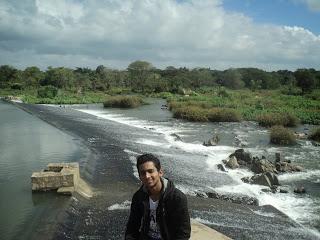 RIDE 2 ( Mahadevpura – Mandya - Ramnagara – Bangalore)
The ride back was a smooth one. We did stop in between the green fields to take a stroll here and there. Actually speaking we wanted to get as much as fresh air as possible before entering the smoky towns. As we reached the highway we pulled over at what would become our regular lunch stop in this region of the map.
TIME: 14:00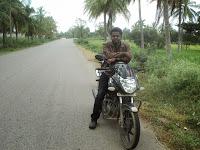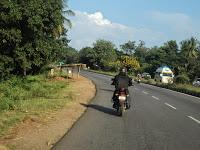 After a superb lunch, probably a little heavy too, we left the Dhaba afloat. We rode back at a at a constant buzzing pace one behind the other (The ride with 3 on 3 is just a perfect recipe for a good road trip, take it from me!) We rode non-stop until Ramnagara where we pulled over for some milkshakes.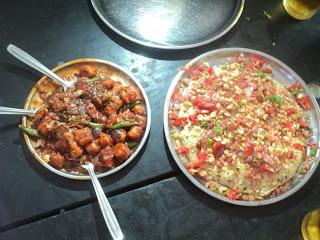 As we left Ramnagara, the skies turned balck and down came the rains. Now this had to be the perfect ending for such a wonderful trip. We packed our phones into our bags. And then began our favorite ride – the ride in the rain. We enjoyed it keeping a decent pace as we pulled over at bakery to enjoy some hot tea in the cold weather. After the tea, we thanked each other for the wonderful day and headed our own ways.
TIME: 18:45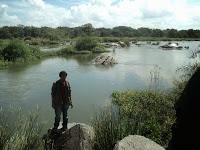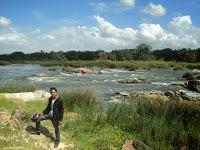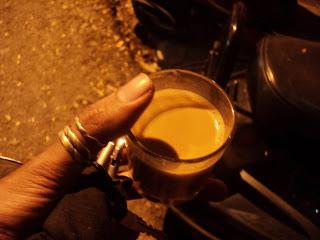 PICASA ALBUM: