NEWS COPY – WITH PICTURES – By Lydia Willgress
A 100-year-old man died – as his family gathered round to sing Happy Birthday to him.
Sidney Doel had invited loved ones including some of his 14 great grandchildren to lunch to celebrate reaching the century milestone.
But before the meal at his care home they realised WW2 hero Sidney was unwell and they quickly crowded round his bed.
The family all sang a rendition of Happy Birthday to him – as he slipped away.
His death was so sudden that he didn't even get to read his special card from the Queen, who sent him her best wishes.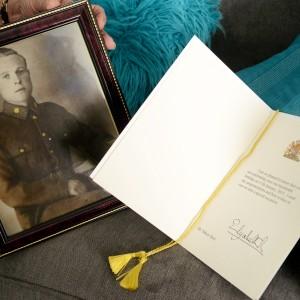 Sidney's son, Eric Doel, 56, said: "We got there at about 10am and he died just after 12pm.
"The last thing that goes when they are dying is their hearing, so we actually all sang Happy Birthday. It was the nicest way for dad to go."
Shirley Kemp, one of four daughters, said: "He didn't even get to see his card from the Queen.
"We tried our hardest to show it to him. But he was slowly passing away and never got to see it properly. He would have loved it though."
Some of Shirley's favorite memories of her father were of him taking her swimming and to the cinema.
She said: "He was absolutely brilliant with me and my children and used to take us swimming. He was such a good man.
"He was a wonderful husband, a great dad and a great grandfather. He was just a content man."
She also described him as the "perfect gentleman" who had a "wicked sense of humour".
"He had a wicked sense of humor but he didn't like anything crude," she said.
"He was very old-fashioned and it wasn't until he got older that he started to laugh at dirty jokes."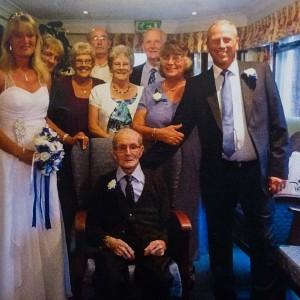 Sidney was born in Plymouth on January 11, 1915, and lived with his father Charlie Doel, a Royal Marine, mother Edith Doel, and five siblings.
When he was 18 he joined the regular Army and served for 13 years, reaching the rank of corporal, before going on to serve in the Territorial Army.
His aptitude and courage during the Second World War won him four medals – the 1939-1945 Star, the Africa Star, the War Medal 1939-1945 and the Defence Medal.
Brave Sidney was even part of the team that prepared to invade Normandy on D-Day – only stopping after his glider crashed, leaving him seriously injured and another young comrade dead.
Following the accident he became an army cook and a small arms instructor – as well as a champion boxer. His favorite place was Malta, which he would return to.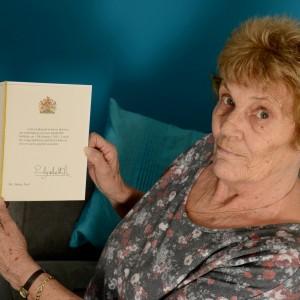 After leaving the forces he got a job with British Rail in London, before moving down to Plymouth with the company.
Sidney met his future wife Kathleen Dorice Widger outside a pub in Exeter when he stopped to ask her for the time. The couple were wed in 1936.
Their marriage lasted 65 years and they had five children – Kathleen, Lillian, Shirley, Janet and Eric – 13 grandchildren and 14 great-grandchildren.
Sadly Sidney's wife died 12 years ago in the same care home at the age of 84.
After her death Sidney lived with Shirley before being moved into the home in 2006.
Shirley said: "When he retired from the railway he used his bike to cycle to Plymstock to do some gardening. He loved it.
"He also absolutely loved the Hoe in Plymouth and used to cycle there so when we visited him at the home we used to take him up there."
His funeral will take place at 11.30am on Friday, January 23, at Efford Crematorium. It will be followed by a reception at Stonehouse Creek Leisure and Social Club.
ENDS