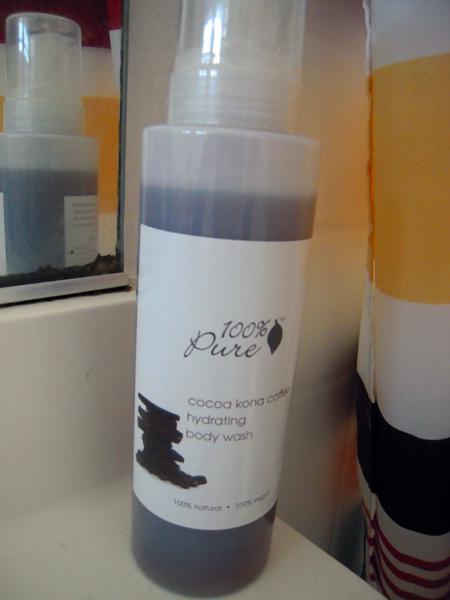 100% Pure Cocoa Kona Coffee Body Wash – Review
Today's review is a little different from my other ones – it's a vlog! This past weekend I decided to record a short 50 second video showing you how the liquid consistency and foam/lather actually looks with the 100% Pure Body Wash. (And only today do I have the nerve to post it! No talking in this one since I didn't want to wake up the hubby. :) This is a unique case in where I feel it's better to SHOW you rather than just tell you because of the questions surrounding this product. I got Cocoa Kona Coffee (naturally), but all of the body washes are the same, sans the scent. I have also tried the body wash in Honey Almond and Coconut.
Lots of reviews on this product state that it's a liquid. 100% Pure even says that because it's not formulated with "water, gums, thickeners, or emulsifiers – or any other cheap fillers", the consistency is thin. Still, lots of consumers are curious to what that actually means. When they say it's a thin liquid, is it really a thin liquid?
Yes. Yes it is.
You'll notice it when I shake the bottle. The pump is a foam dispenser, so it comes out as such. It foams well right on your skin (again, video demonstrates this) and works best with a bath pouf. It doesn't foam as intensely as a soap bar does, or a body wash with a lot of surfectants and foaming agents, but there's enough lather to show you that you're getting clean.
It smells great. Fantastic, even. The cocoa coffee scent is permeating and seeps into your skin. The body wash rinses well and leaves your skin feeling squeaky clean, hydrated, and lightly scented, never dry or overly stripped. They work best when paired with the body scrub for maximum softness and scent. I use this along with my 100% Pure Cocoa Kona Coffee Body Scrub or any other natural coffee body scrub to enhance the fragrance, and it does last well beyond the shower and after you've dried off. Top it off with a generous amount of the Cocoa Kona Coffee body cream to smell like a mocha cappuccino all day.
The 100% Pure body washes come in a generous 17 ounces (see how big the bottle is?!) and only sets you back $15.00. The amount used up in my bottle was from 3 uses. I pump from 6-8 times on my bath pouf per wash. Sounds like a lot, but I do love my lather and besides, there's so much product that I can afford to use a lot.
I like the body wash a lot, but my personal preference is using soap bars to get clean. Always have. Still, this one's nice – just wished it had a bit more lather. For the ingredients, price, scent and functionality though, you can't beat the 100% Pure Hydrating Body Washes!
Ingredients: Organic Aloe Barbadensis Leaf Extract (Aloe Juice)1, Organic Rosa Centifolia Flower Water (Rose Hydrosol)2, Organic Lavendula Angustifolia Aqua (Lavender Hydrosol)3, Cocos Nucifera (Saponified Coconut) Oil, Theobroma Cacao Seed Butte r(Cacao Oil), Extracts of Theobroma Cacao (Chocolate Extract), Theobroma Cacao (Pure Chocolate Absolute),, Corylus Americana Seed (Hazelnut), Garcinia Mangosteen Peel (Mangosteen), Organic Camelia Sinensis Leaf (Green Tea)4, Calendula Officinalis Flower (Calendula), Opuntia Tuna Fruit (Prickly Pear), Punica Granatum (Pomegranate), Euterpe Oleracea Fruit (Acai Berry), Lycium Barbarum Fruit (Goji Berry), Morinda Citrifolia Fruit (Noni), Aristotelia Chilensis (Maqui Berry), Sambucus Canadensis (Elderberry), Rubus Fruticosus Fruit (Blackberry), Organic Rubus Idaeus Fruit (Raspberry)5, Citrus Grandis (Grapefruit) Seed and Lonicera Caprifolium (Japanese Honeysuckle), Hyaluronic Acid
1 certified organic by SGS Organic
2 certified organic by Ceres GmbH
3 certified organic by Lacon GmbH
4 certified organic by Oregon Tilth
5 certified organic by USDA
Certified Organic?:  Some ingredients are certified organic.
Average Price: $15.00 for 17 oz
Additional Notes: Liquid consistency. Works especially well with corresponding body scrub. Foams best with a bath pouf. Fairly strong scent,but fades upon washing so it shouldn't assault sensitive noses.
Buy at: 100% Pure
Rating:





I bought this product with my own money, and was not paid by the company to give this review.