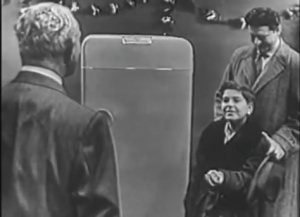 Goedeker's has been around for quite a while. Ben Goedeker opened Goedeker's Radio and Television Repair in St. Louis in 1951, and we have been offering quality appliances for the home ever since. However, it is hard to imagine just how much time has passed until you take a look at how TV commercials for the brands and appliances we sell have changed over the years.
Hotpoint Kitchen Range with Deep Fryer
Hotpoint (a GE brand in the US) offered this range and oven combination unit in the 1950′s. Apparently the built-in deep fryer was a big selling point, as it was featured in more than one of their commercials for the unit.
With today's health concerns, I doubt we will see a major brand introduce a range with built in fryer again anytime soon.
Original Maytag Repairman Commercial
The Maytag repairman has been the brand's stalwart spokesman for decades. In this, his first appearance, he is actually working on a Maytag. Seems counterproductive to feature one of your own broken appliances on a commercial, doesn't it?
Just wait for the surprise ending!
Westinghouse Laundromat Live Washing Machine Test
This was a live broadcast washing machine test conducted by Westinghouse. They put their new Laundromat model up against major center post agitator brands. The Laundromat was a predecessor of the modern front-load washer.
1952 GE Refrigerator
This refrigerator showcases the GE innovation of a "Two in One" refrigerator and freezer – each section having their own door! Also, check out the new sliding shelves and butter conditioner. We take even the simplest top freezer refrigerator for granted today, as all of these features are now standard.
Frigidaire Refrigerator
Boy oh boy! This Frigidaire commercial features a young boy who has been saving up to buy his mother a Frigidaire refrigerator for Christmas. Imagine, a fridge large enough you only have to go shopping once a week!
1956 Westinghouse Refrigerator
This refrigerator from Westinghouse was called the "Stoop Saver" because the refrigerated foods were up top and the freezer down below. Many of our most popular models these days are bottom-freezer refrigerators.
Check out the in-door crisper. Perhaps it is a predecessor of the door-in-door refrigerators we have today.
Philco Dual Washer Dryer
This dual-brand commercial from Philco and Clorox features a washer-dryer combination unit that can hold up to 3 weeks worth of bleach in its reservoir.
Frigidaire Oven Range From 1950
This wife's not-too-subtle suggestion method may still be practiced, and dual oven ranges and time bake are common features in modern appliances. But smoking on TV – or while shopping at the department store? That was a different time indeed!
Hotpoint Dual Wash Dishwasher with Mary Tyler Moore
This 1950′s dishwasher commercial from Hotpoint features Mary Tyler Moore, the introduction of rinsing agents for spotless drying, and a dual detergent dispenser.
1970′s Microwave Commercial
Jumping forward in time, this early microwave commercial from Ward's features a money saving rebate offer – only Only $499, after $100 rebate! In today's dollars, that would be just a bit over $2,000 after rebate.
Money-saving rebates are still available today, but thankfully microwaves are a lot less expensive.