If you have a hankering for crafts, there are many items around the home that can be used for your creations. So before you head for the trash can, check out these items that should be kept by any craft lover.
1. Coffee Cans – These huge metal cans can have tons of uses in the crafting world. And best of all, they already come with an amazing coffee smell already built in. Simply take off the label to get an instant craft material.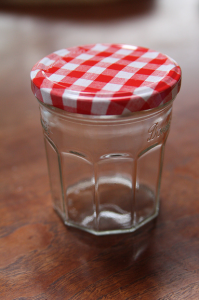 2. Jars
– Similar to the above, they once contained something useful, and now the container it came in can be used for crafting fun. Everything from jelly jars to mayonnaise jars can be used to make all sorts of crafts from other containers to even a candle holder.
Which brings us to:
3. Candles – Old candles can have up to three parts to salvage: the wax, the wick, and the container it came in. Even if you have practically burnt your candle to the nub, you can still use the wax in your crafting, the wick for other candles, and the container for loads of other projects.
4. Magazines – If that magazine you just read contains amazing photography, keep it. These photos can be used to make all sorts of collages and other crafts. Text can also be used in craft projects.
5. Clothes – Unless the clothes are too dirty to salvage, hang onto those old clothes for crafts. Pieces of cloth can be used to make everything from purses to collages. One great idea is to take all of those old baby clothes and use it to make a quilt for that child.
6. Towels and Sheets – Much like the above, if the sheets or towels are clean enough to salvage them, do so. They can be used as pot liners and even for clean up after crafts. A popular craft is using them to make bedding for pets.
7. Cardboard – If you have an item that came in a cardboard box, don't throw it out. There are many cardboard crafts out there which include using cardboard as a base, as a box for something else, and even cardboard dolls for the kids.
8. Jeans – If you've got old jeans that aren't the right size or just not in style anymore, keep them for crafting purposes. They can be used to make aprons, skirts, pouches, rugs, and even the pockets can be used to make organizers.
9. Tissue Boxes – Once the tissues are gone, the crafting fun can begin. Whether a perfect square or rectangle, tissue boxes can be uses in many craft projects that can involve everything from storage to fancy tissue boxes. There are even craft ideas that can turn a tissue box into a homemade ukulele.
10. CD's – With iPods and such all the rage, CD's are going the way of vinyl. However, you don't have to throw out your old CD's. They can be used to make all sorts of crafts from napkin holders to rearview mirror decorations.
Brianna Davis keeps up the site Bachelor of Arts. Her site helps students find the right college to get a degree in the arts.