I recently wrote about things in Northern Ireland which are actually Polish. But does it work the opposite? What is there here in Poland that is exclusively Northern Irish? And I don't mean British, UK-ish. Great Britain-ish or Irish. I mean strictly Northern Irish. Having lived here for a few years and visited the country over 20 times, here are the Northern Irish things I was able to find on the streets of Poland.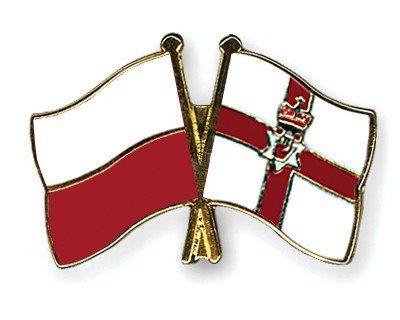 10 Things in Poland That Are Actually Northern Irish
1.Belfast Beer
Back in 2007 while drinking in a bar in Warszawa's Old Town, one of my friends brought me a bottle of "Belfast Beer". I thought it was a joke, a wind up, a geg! But low and behold, it was a bottle of a dark stout, which was made in Poland. Yes, this is just called Belfast Beer yet it is not even available in Belfast!!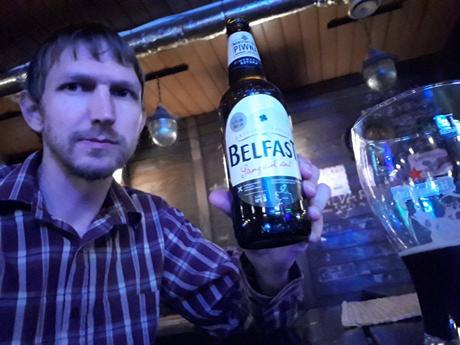 Belfast Beer: Made in Poland
A Polish company called Jabłonowo just liked the idea of a beer similar to an Irish stout, and so they gave it a Northern Irish name. What's even weirder is that the map on the bottle is actually of the Republic of Ireland and not Northern Ireland! I really like Belfast beer and have drank it a few times.
Vote for which brewery to send me to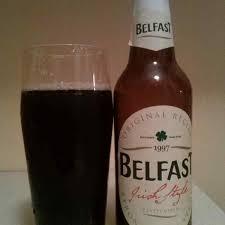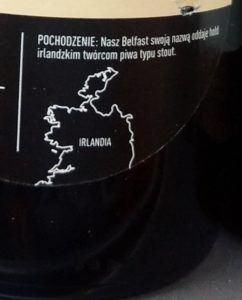 2.Belfast Pub, Jelenia Góra
Some people who read my blog think that I am well travelled within Poland, but this is simply a myth. It is not true. As of February 2019, I have only visited 73 places / settlements in Poland, and there are thousands!!! One city I haven't been to yet is Jelenia Góra. But I should really visit as here is the only pub in Poland with a Northern Irish name – Belfast Pub!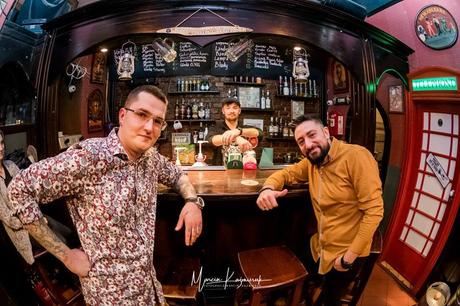 Belfast Pub, Jelenia Góra
Keep the beers chilled, I'll be in sometime soon.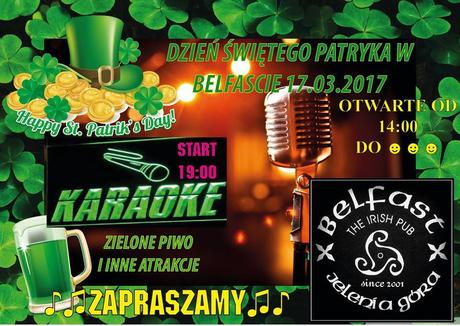 Belfast Pub, Jelenia Góra
Belfast Pub Jelenia Gora
Plac Ratuszowy 11, 58-500 Jelenia Góra
3.Bushmills and Black Bush
Okay so the links between Northern Ireland and Poland are surely assisted by alcohol, this is now three out of three so far!! Yes, the best whiskey available in Poland is Northern Irish. It is NOT Jameson's, Johnnie Walker or Jack Daniel's, NO. It is Bushmills Original and Black Bush. A damn fine whiskey, made in Northern Ireland and available in most Irish pubs in Poland as well as selected other bars.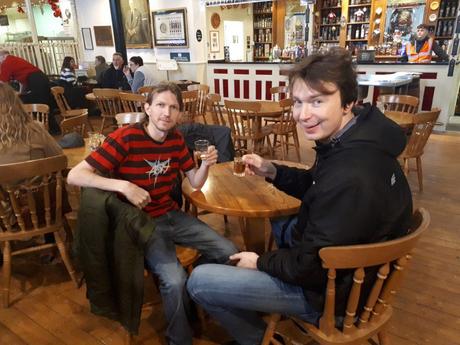 Whiskey in the Jar Oh!, Bushmills: Showing my Polish friends the sights of Northern Ireland.
Both Black Bush and Bushmills Original whiskeys are widely available in supermarkets and off-licences in Poland as well as in bars and restaurants – I found them in the most peculiar of places from Starogard Gdański to Zamość. Bushmills also happens to be the oldest whiskey distillery in the world. I took my Polish friends to the Bushmills Whiskey Distillery on their tour to Northern Ireland in 2017 and they loved it. What was even crazier was that recently I walked into my local Biedronka to find Bushmills on offer for 54 zlotych. That's even cheaper than it is in Northern Ireland, no kidding, see below!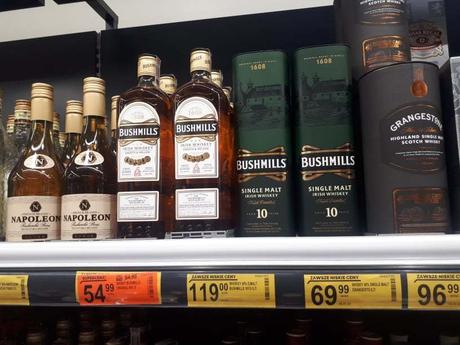 Bushmills on the shelves of my local Biedronka
4.Comber Earlies at Polka Restaurant
Polish celebrity chef Magda Gessler is famous for her stylish, upmarket restaurants all over Poland. These branded restaurants are present in most of the big cities, usually under the name of Polka. I've eaten at a few of them.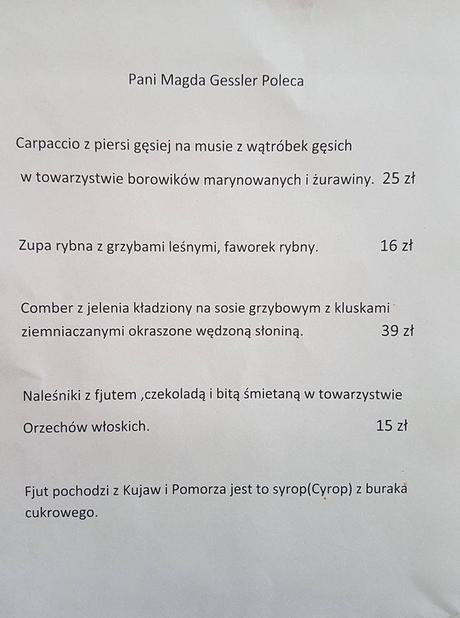 Comber earlies at Magda Gessler's Polka Restaurant
Imagine my surprise when gazing at the menu to discover that they weren't using the finest Polish potatoes for one of their dishes, but instead they use Comber earlies. Comber earlies are produced on farms in Comber in Northern Ireland and are the ONLY potatoes in Europe to be granted PGI protected status. Comber is also the home town of my Mum and a lovely place. At 39 zlotych though, I haven't tried this dish yet…a bag of Comber spuds is about a quarter of that price back in Comber.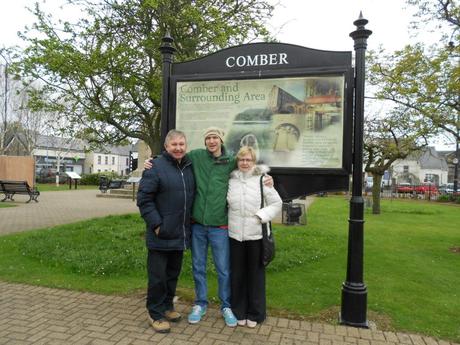 Comber, Northern Ireland home of famous protected potatoes.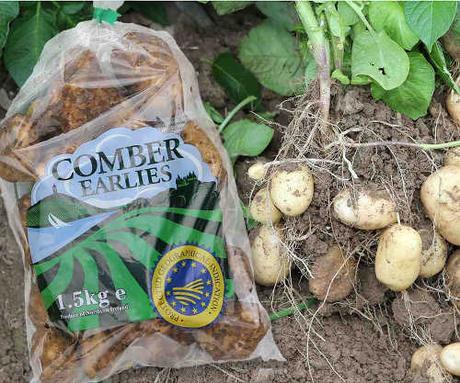 Comber Earlies
5.St. Patrick's Church, Warszawa (Kościół św. Patryka w Warszawie)
I haven't yet been but on Rechniewskiego Street in Warsaw, Poland there is a church called St. Patrick's Church. St. Patrick, the patron saint of Ireland came from Wales but is buried, appropriately in the town of Downpatrick in Northern Ireland. I have been to St. Patrick's Church in Northern Ireland, but not yet the Warszawa one, known locally as Kościół św. Patryka w Warszawie. Irish (both Northern and Republic) and Polish have always had good links to one another and there is a good relationship between what are two of the world's most religiously devout nations. I have celebrated St. Patrick's Day (17th March) a few times in Poland. 
Links about Saint Patrick in Poland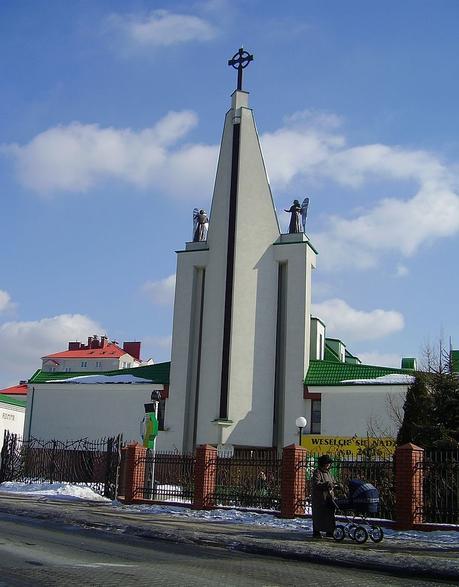 St. Patrick's Church, Warszawa (Kościół św. Patryka w Warszawie)
6.Every penalty spot
Okay well realistically this applies to every country as we invented it, but since Poland had two penalty shoot-outs at Euro 2016, so it seems appropriate to mention it. Every penalty spot on Polish football pitches is there because of Northern Ireland. The only reason we have a penalty kick in football is because of Northern Ireland. William McCrum, from Milford in Northern Ireland invented the penalty kick back in 1890. He deemed it unfair that a player could be fouled so close to the opponents goal (with a chance to score) but awarded only a free-kick. His idea was a one off chance for that team, from 12 yards against the goalkeeper, now known as the penalty kick.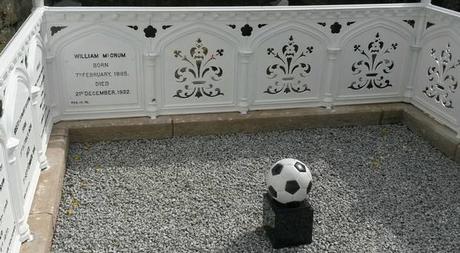 Who invented the penalty kick? William McCrum from Northern Ireland.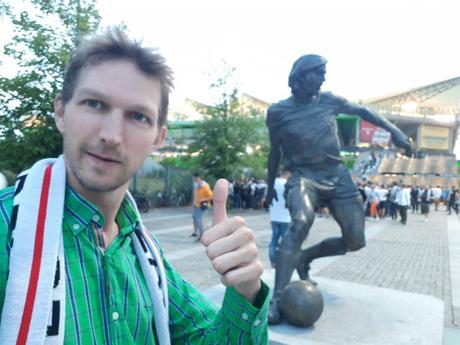 Kazik Deyna statue at Legia Warszawa
At the time, the English Football Association dictated the global rules and thought it would never work, and was a bad idea! As English gentleman they deemed it unthinkable that a player would foul another player! 130 years later and the penalty kick is very much a big part of football, even in the last week, two VAR awarded penalties were crucial in deciding Manchester United and FC Porto's fate.
7.William Cowan's Grave
Belfast army man William Cowan is buried in Rakowicki Cemetery in Kraków, Małopolskie, Poland. His exact grave location can be found at this plot number – Coll. grave 1. B. 10-11. William Cowan died on 16th October 1944. Cowan was attached to 34 Sqdn SAAF. He was working in the crew of Lt. JA Lithgow DFC SAAF.KIA against the Germans when Liberator KH152 F was shot down on 16 Oct. 1944 by Luftwaffe Night Fighters over Krakow while en-route to drop supplies to the Polish Underground Home Army Forces in Warsaw.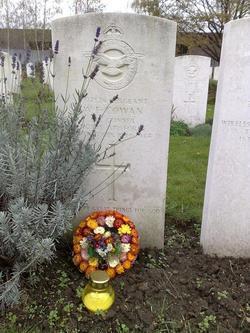 William Cowan's Grave in Krakow
8.Valley Spire Cheddar Cheese
This was a crazy one. Imagine my shock in 2018 when I walked to the cheese/dairy/nabiał section of a Polish-based German supermarket (Lidl) to find I had bought a Northern Irish product by accident. But weirdly, I didn't even notice it until I was at home making some cheese on toast when I thought it tasted delicious and reminded me of home. Then I became shocked that the front writing was in English and on the back was Polish. I was intrigued.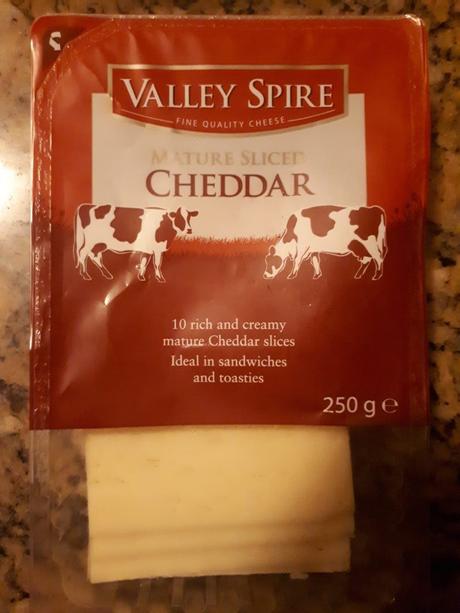 Valley Spire Northern Irish Cheddar
It was crazy seeing Dale Farm, Cookstown and County Tyrone written on a cheese that I had presumed to be fully Polish. Yes, I still buy and eat this regularly…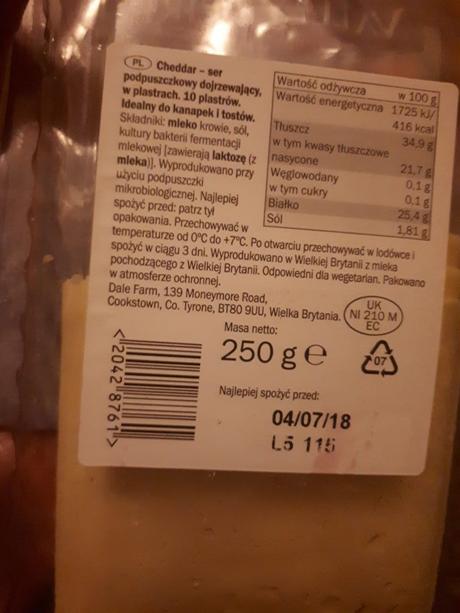 Valley Spire Northern Irish Cheddar
9.Trevor Corry's Legacy
Surprisingly, there was once a Northern Irishman (from Newry) who lived in Poland and was Baron to the throne when Poland was a Kingdom. That man was Trevor Corry, whose legacy lives on. Corry spent most of his life living in  Gdańsk (then called Danzig). He was a knight, a Sir and the Baron of Poland. Corry was one of only two people from the British Isles to receive such an honour and accolade. Corry had the right to wear the White Eagle from the Royal Arms of Poland on his Coat of Arms. He spent many years working at the British Consul in Gdańsk. He was named Baron of the Kingdom of Poland by former King Stanisław II Augustus in 1773, and died at Pirytz in Pomerania 1 Sep. 1781 (approximate date of date – year is disputed). His legacy lives on, in many ways, literature, references and he is mentioned in many political and official documents.
Sir Trevor Corry in Polish
Sir Trevor Corry in English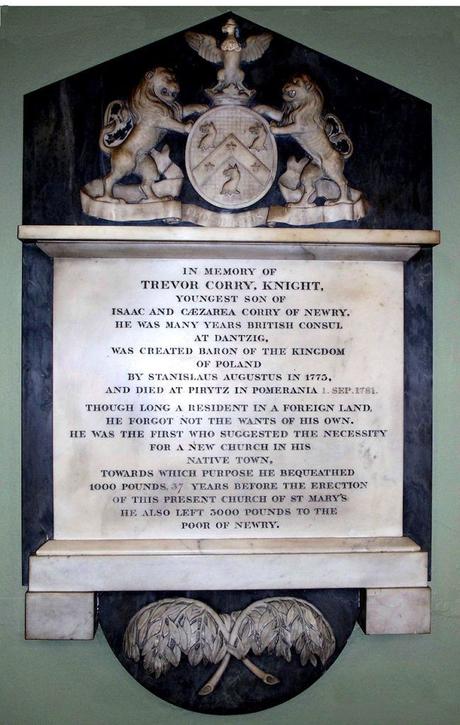 Sir Trevor Corry's Memorial in Newry
10.Zostawcie Titanica – Lady Pank
There is a song by a Polish band called Lady Pank all about the Titanic, Northern Ireland's most famous ship. Yes, the ship designed and made by the Northern Irish, controlled by the Germans, captained by an Englishman and sunk by an iceberg off the coast of the USA. Lady Pank have a song called Zostawcie Titanica (Leave the Titanic).
Other Songs / Could be Northern Irish
I'll also mention a few other Polish songs with Irish references where it is unclear if it is Northern Ireland being mentioned. My favourite of these is "I love you like Ireland" (Kocham cie jak Irlandie). "I love you like Ireland" (Kocham cie jak Irlandie) is a title of a 1990 song by the Polish band Kobranocka, which is a dreamy ballad and we are uncertain whether the author means Northern Ireland or the Republic of Ireland, so we count it as both ;-). Lines include "before happiness, there was fear. With the hope you'll take it from me. I take this pain through Włocławek (a Polish city which I also visited), loving you like Ireland".
There are two other Polish pop songs with Irish references, lesser-known Kowalski sings about the Green Island in his song "Irlandie Zielona": "for her tender whispers and white arms, I would give up my dull life". Also there is a song called Ajrish (which really means Irish) by Częstochowa band T. Love includes lyrics such as "Truly, my love is called Irish". 
Now for a red herring/false friend…
1.Cillian Sheridan, Ulsterman in Poland (but not a Northern Irishman!)
Let's not get into the politics of Northern Ireland, Ireland, the Free State, the Occupied 6, the Province, the Republic of Ireland or the North of Ireland, but there was a famous Ulsterman living in Poland for a few years, working as a professional footballer.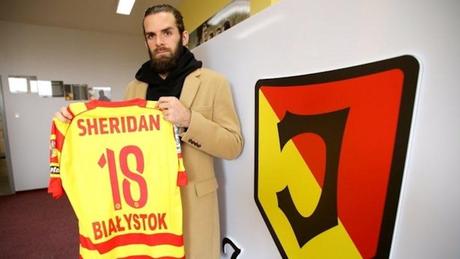 Cillian Sheridan an Ulsterman who worked in Poland
Footballer Cillian Sheridan is from Ulster, having been born in Bailieborough in County Cavan. spent two seasons plying his trade with Jagiellonia Białystok in the Polish top division (the Ekstraklasa). Not only that, but Cillian has won 3 international caps for the Republic of Ireland and scored 17 goals in 52 games for Jagiellonia Białystok, helping them to finish 3rd and then 2nd in the League, a club high.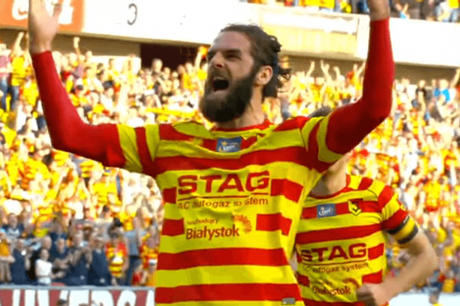 Cillian Sheridan played for Jagiellonia Białystok
…and finally these days since you're reading my blog, there's also me!
I'm Jonny Blair. I'm Northern Irish and I live in Poland! I first visited the country in March 2005 to watch Poland v. Northern Ireland World Cup qualifier. From then on, I made a lot of Polish friends on my travels and visited the country a few times before finally moving here in 2016. 

Northern Irishman in Poland / Połnocny Irlandczyk w Polsce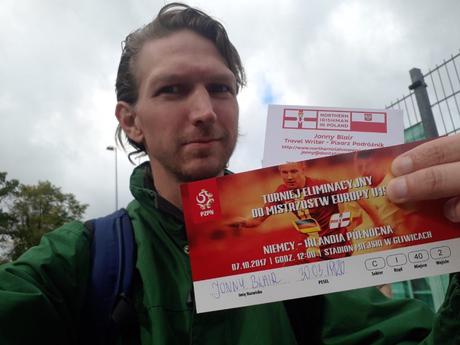 Northern Irishman in Poland Again!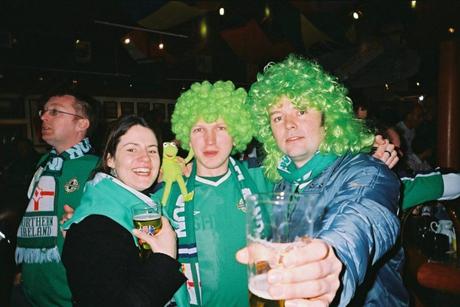 Northern Irishman in Poland in 2005.
So that's my list of Northern Irish things in Poland. I Googled for Northern Irish in Poland, Belfast in Poland, Ulster in Poland etc. and couldn't find many other websites in Poland dedicated to both countries, most of them were from Polish people in Northern Ireland. #ulsterczyk is my hashtag for this site. However, I am sure I have missed some Northern Irish things here on this list, please get in touch if you know any I missed.
Are William Cowan and Trevor Corry definitely the most famous Northern Irish people who have a presence in Poland?
Are you Northern Irish living in Poland?
I love interacting and meeting new people – get in touch and come and join my journey on social media:
– E-mail me jonnyscottblair (at) hotmail (dot) com or jonny (at) northernirishmaninpoland (dot) com
– Like Northern Irishman in Poland on Facebook
– Subscribe to Northern Irishman in Poland videos on YouTube
– StumbleUpon Northern Irishman in Poland
– Follow Northern Irishman in Poland on Instagram
– Follow Northern Irishman in Poland on Twitter
– Follow Northern Irishman in Poland on GooglePlus