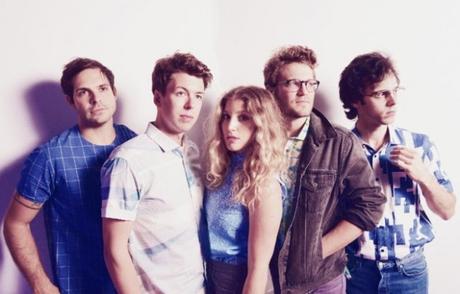 Ra Ra Riot has been a long time favorite of ours, especially after their particularly epic turn at On The Mountain Season 2. With their newest release, "Water", however, they upped their game and blew our minds. It's a track that's bound to get stuck in your head for days on end, but it's so effortlessly catchy and buoyant that it's completely welcome. We asked the band to make us a playlist of some of the tracks they listened to while recording their newest album The Light In You (out 2/9 on Barsuk Records) and they came back with 10 songs that show just where they were coming from when creating the pop jam we're currently obsessed with.
Playlist
U2 – So Cruel
Rostam and I have always shared a love of U2, but Achtung Baby in particular was a frequent reference point for the two songs we wrote together for this record.  It was the first tape cassette my brother ever got, and it had a big impact on my musical identity
Michael Jackson – Billie Jean
I should probably not invite people to compare my voice to Michael's!  But I'm immensely proud of my vocal performances on this record, and there's no doubt he's always been inspiration for me in the way I perform, and Rostam, in the way he treated the vocals on the songs we did together.  Aside from vox and production stuff, the guitar in this song is understated but still important, and that had an effect on how the guitar part was shaped for "Water".
Thundercat – Oh Sheit It's X
I found out about Thundercat right before "Apocalypse" came out, which was super lucky. I had time to become obsessed with his first record, and then the second one came out shortly after, and it's all I listened to on the bus while we were touring "Beta Love".  Also, on a night off in Lake Tahoe, a few of us got lost in the woods and it was our anthem while we tried to find our way back.  I'll always associate this song with the wilderness
Mac Demarco – Blue Boy
I've had this song on a lot in the last year and a half.  Never lose your sense of humor, especially while you're making music! That's what I hear when I listen to this song and most of this record.
Kate Bush – Deeper Understanding
Can't be a RRR playlist without a little KB! Love this song, and speaking of keeping a sense of humor!  What can I say, she's great.  There are no words necessary.
Sky Ferreira – I Blame Myself
The vocals on this record are awesome. I always love Ariel Rechtshaid's production, and Sky's voice is super powerful but still vulnerable and beautiful.
Grimes – Genesis
Grimes is awesome, and this song is really fun, especially since during a writing session for NYL, Milo programmed a synth to sound almost exactly like the one playing the main riff in this song. Basically we unwittingly started writing this song over again and we were all super excited about it because it's so good!  Alas, Grimes had already written it, and when we realized it we felt pretty dumb! 
Frank Ocean – Thinkin Bout You
Everyone knows this song, but it will always make me think of the drive between Pittsburgh and Cleveland.  When I was flying out to LA for the premiere of "Water", the cockpit window in the plane cracked and we had to make an emergency landing in Pittsburgh.  I couldn't miss the premiere so I had to rent a car and drive in the middle of the night to Cleveland.  My adrenaline probably kept me alive that night, but I listened to channel ORANGE twice in a row to prevent myself from crashing.
Nick Jonas – Jealous
Don't hate me! Jk idc I love this song.  Our former drummer, Gabriel Duquette, texted me when this song came out — something to the effect of "Why the hell didn't you write this song!" Guess he could tell how much I'd love it.
Beyonce – XO
B got some flack for the intro to this song, but for some reason it's something that really affects me.  The Challenger explosion happened when I was pretty young, but I still think there is something beautiful about abandoning everything in search for relevance cosmically and creatively. To look up and wonder is just about the most human thing you can ever do. It's terrifying and inspiring at the same time. That's kind of what NYL is about, especially "Absolutely". 🙏🚀🌅