InCompany by Attire Club is Attire Club's own print journal. The magazine appears once per season and features 100 pages or more of articles, photographs and everything else that is related to the fashion world and of course to Attire Club.
The magazine makes a great addition to any library, coffee table, night stand or suitcase. It is highly collectible, but also a great read for traveling. The timeless content of the journal makes it not just a throw-away read, but something one can always come back to and revisit.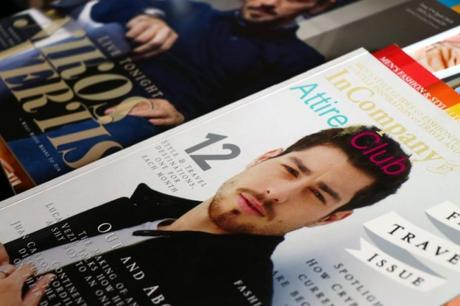 The magazine can be ordered online, but it can also be found in 5-star hotels, as well as in fashion boutiques across the world. Because we want everyone to be able to be inspired by it, it is also available to be flipped-through online, but hard copies are a more complex and handy experience.
In order to have a clearer picture of why our magazine is worth a read, you can discover 10 reasons why InCompany by Attire Club is worth reading in this article.
Our main goal at InCompany by Attire Club is to focus on fashion culture. In our opinion, fashion culture means going beyond just the trends of the day and discovering every facet of fashion: its history, philosophy and everything else. Moreover, we also focus on what we call "metafashion", which describes all the things you do before and after dressing up; in other words, it's the life you lead in your clothes.
We are also creating our own style portfolios, where we create or customize clothes and accessories and talk about more than just the fad du jour.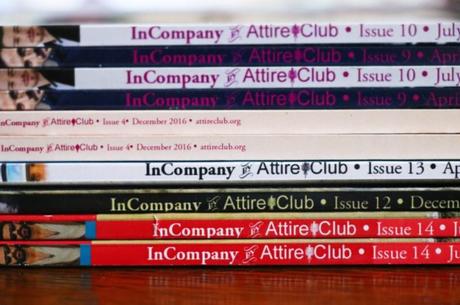 When discussing with both readers and brands, we have discovered that most people are bored of magazines that are simple catalogs of products. Not only is it a bit annoying to buy catalogs, but they can also get quite boring if you are looking for more than just to discover products. In this sense, InCompany by Attire Club makes sure that every edition is carefully crafted with articles you'll remember, interviews, cultural and philosophical insights and so much more. Do we feature brands? Yes, surely, what would be the fashion world without brands, but they are just a part of the magazine and are always tastefully included.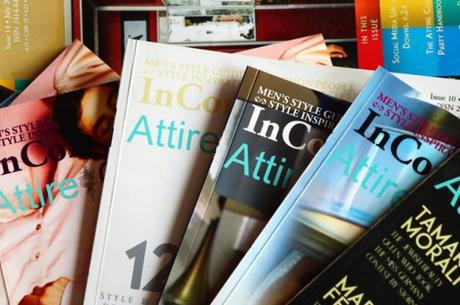 Every issue of InCompany by Attire Club brings a series of articles that are unlike everything else you'll read in other magazines. We write our own articles and focus on things you won't see in other places. Ultimately, what sense would it make to simply write about things one can get everywhere else?
At InCompany by Attire Club, we like to go deep. Thus, in each magazine, we feature insightful articles on the world of fashion, its history, its culture, but also on society, cinema and philosophy. We also concentrate on the latest developments in fashion and technology. These articles can give the reader not just great insight into the world around him, but also a perspective on how things connect and intertwine in the world.
InCompany by Attire Club is dedicated to bringing a full experience; as we feature a wide variety of articles and features, ranging from style guides and interviews to travel features and scrapbook collections.
Our concept is based on men's style, fashion and lifestyle. Yet, we find that our readers are quite balanced, with about 60% being male and 40% being female. The magazine is enjoyed by both men and women because it has a clear, distinct male perspective. While most men's magazines simply copy women's magazines and make the pink graphics blue and replace eye shadow photos with razor photos, we focus on providing information that upscale men really care about and enjoy, in a format they care about and enjoy.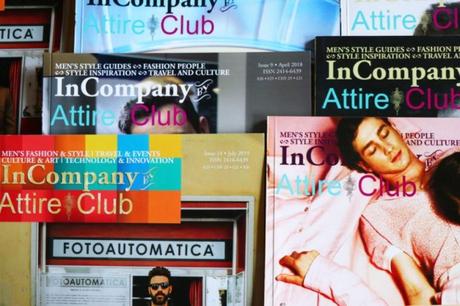 Whether in words or visual, InCompany by Attire Club focuses on telling stories to those who open it. In this sense, not only are the articles and pictorials highly narrative, but there is a red thread that goes through each issue, as a theme that combines the stories, both visually and textually.
In the magazine, readers can discover a balance between photographs we have taken (about 60% or more) and images created by other great artists. The result is a great visual story, where the eye truly does travel.
At Attire Club, we are always open to the feedback of those who visit our website, read the magazine or use our other services and products. It's essential to us to discover how others perceive what we do, so we are always open to receiving feedback per e-mail, on our social media or even in the post!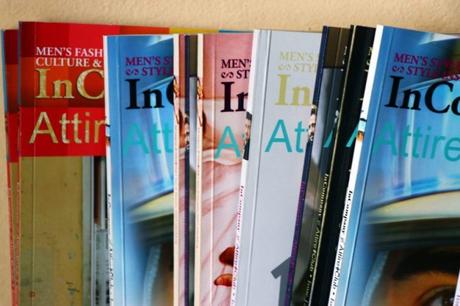 In a world where everything from phones to cities is smart, it only makes sense that the InCompany by Attire Club magazine is smart as well. Carefully thought-through with expertise, the magazine is connected to the world around. In this sense, one can go to our website from the magazine with one tap, listen to music while they read the articles or discover the people and brands featured in each issue with the help of QR codes.
InCompany by Attire Club is ultimately a complex experience and the ultimate resource for complete style guides, fashion inspiration and cultural insights that bring out the best in who you are.
Fraquoh and Franchomme
Further reading:
Discover the Summer 2019 issue of InCompany by Attire Club Fashion and technology in InCompany by Attire Club #InCompanybyAttireClub
P.S. We want to hear from you! What do you think of the InCompany by Attire Club magazine? What would you like to see more of in the magazine? What other features would you like to discover? Share your feedback, questions or thoughts in the comments below! For more articles on style, fashion tips and cultural insights, you can subscribe to Attire Club via e-mail or follow us on Facebook, Twitter or Instagram!