Buying a new cellphone is like buying new heart. Our cellphones decide our popularity and style. Buying a new cellphone for style doesn't mean taking a costly ones. It means taking cool stylish cellphone with all the latest technology at low cost.
In market you will find many good brands having many hand sets with a variety of features and latest technology but my personal favorite and my choice is ASUS ZENFONE 2.It is a fully packed cellphone with latest technology but at an affordable price. Here are features of Zenfone 2 and also 10 reasons to consider when you are buying good cellphone.



1. Brand:The first and the main thing which we consider to buy any product is its brand and company. From this only we came to know whether we can trust that product or not. No one will be there who don't know Asus brand. Asus is a public company which deals with computer hardware electronics. Nowadays Asus is very famous for his cellphone and laptops. So all the products are very well and anyone can those blindly.
2. Design: The second thing we consider to buy any cellphone is its design and look. In everything we buy looks matter. ZenFone 2 has incredibly-slim 3.9mm edges. The iconic ASUS concentric-circle design adorns both the front and rear key, giving a beautiful, tactile effect. This effect is achieved through precision machining that produces circles with a mere 0.13mm pitch, giving ZenFone 2 a premium look and feel. Snapping selfies, adjusting the volume and retracing your steps now feels completely natural, regardless of whether you are right- or left-handed. The elegant new shape feels secure and extremely comfortable to hold.
3. Display: How does it feel to catch a 4 inch android cellphone? Feeling like we are in 18 century. So display of cell maters for buying any cool cellphone. ZenFone 2 is a 5.5-inch smartphone with a body that's as small as that of a traditional 5-inch device. This incredible engineering achievement was made possible by reducing the bezel width to the bare minimum, giving ZenFone 2 a remarkable 72% screen-to-body ratio.
4. Software: In this century we can't use android 4.1 as it will not support most of the application and many other things. So taking proper look at the software while buying any cellphone is must. Asus Zenfone 2 comes with android L OS i.e android lollipop ie android 5.1
5. Performance: If your cellphone is android 5.1 and still does not perform well, that means RAM, ROM Etc, is of no use. ZenFone 2 is powered by a 64-bit 2.3GHz Super Quad-Core Intel® Atom™ Z3580 processor, and is the world's first smartphone with 4GB of dual-channel DDR3 RAM. Featuring LTE Category 4+ for download speeds up to 250Mbit/s, and a 60ms touch response time, ZenFone 2 gives you power beyond your imagination.
6. Camera: It's a generation of taking selfies .We can live without eating for 1 week but we can't live without taking at least 1 selfie every day. ZenFone 2's 13MP PixelMaster camera with its f/2.0-aperture lens captures stunning, high-resolution photos with zero shutter lag. The industry-leading Low Light mode employs pixel-merging technology to capture up to 400%-brighter photos at night or in low-light scenes, without the need for a flash. Backlight (Super HDR) mode lets you see clearly through daytime shadow and Super Resolution mode helps you to capture detailed images at resolutions of up to 52MP!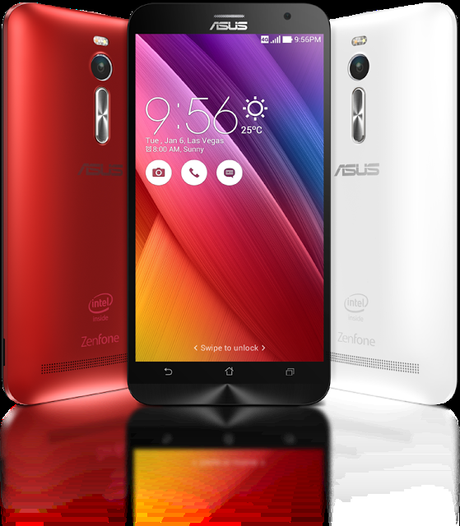 7. Battery: Taking a cellphone with good software is not enough. Battery performance is most necessary. A fully charged cellphone working only for some minutes is not a sign of good one. ZenFone 2 high-capacity 3000mAh battery offers and delivers the power you need for a powerful and long lasting using experience, from sunrise to sunset — and beyond. Power up your entertainment, and enjoy life on the go. Not only does it have a big capacity, ZenFone 2 also comes with the exclusive ASUS BoostMaster Technology that can charge your ZenFone 2 at double the speed. With BoostMaster, your battery is juiced up to 60% in no more than 39 minutes! Less time waiting, more time doing.
8. Accessories: We need cool and awesome accessories for cellphone we are using to improve in your style. Zenfone has created a whole range of smart accessories for ZenFone 2, every one as unique and beautiful as ZenFone 2 itself. So you can choose your companion and flaunt your style!
9. Other features: Other than all these thing Asus have one amazing feature known as ZenUI. ASUS ZenUI has more than 1,000 features that improve upon the standard Android interface. You'll enjoy a simpler and smarter experience, with a stylish new layout that expands white space for a cleaner design, placing the information you need front and center. The brand-new ZenUI is brighter, smarter, simpler and even more beautiful. It knows what you need, expresses your thoughts and feelings, and connects you wherever you go.
10. Cost: We can get 80% of above feature in some other brand too but there prize are sky high. Cellphone cost is one of the most important thing to be noted. If we have money we can buy any cellphone. But don't waste your money on sky high cellphone having no good features.
Asus Zenfone 2 is just for INR 19,999 and available on various online stores. So what you are waiting for?? Buy your own cool and stylish Zenfone 2 now.