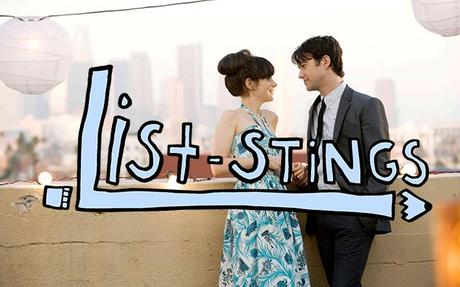 Every subculture needs to get down every once in a while, and indie kids have it rough. Unfortunately, ironic detachment doesn't lend itself especially well to physical intimacy. So, in the interest of helping some nice people get their rocks off, we've compiled an indie kid sexytime playlist. So peel off your skinny jeans and unwrap your numerous scarves — it's about to get steamy in here.
1. Hot Body Rub – Ariel Pink's Haunted Graffiti
Start your sexytimes off with this mostly instrumental track from Ariel Pink. Fall into the hypnotic groove of wailing saxophones, while Pink creepily begs for you to get into his hot tub. That's what foreplay sounds like.
2. You Can Come Over – Shannon and the Clams
Nothing is hotter than desperation, and "You Can Come Over" is chock full of it. Shannon Shaw turns what seems like an innocent invitation into a sweaty, pleading garage rock track. Toss this one on right before clumsily wrestling with your partner's bra clasp.
3. Meet Me in the Bathroom – The Strokes
This is here in case you need a peppy song about having sex in a disgusting public location. Because who doesn't need that every once in a while? Bonus points go to Julian Casablancas for sounding incredibly world-weary.
4. German Love – STRFKR
While this song may not have the sexiest beat or most sensual guitar, about ninety percent of the lyrics are just the repeated line "I will give it to you." Granted, lead singer Joshua Hodges is referring to German love, which doesn't sound particularly sexy (does it somehow involve pretzels and/or mustard?), but his persistence is enough to make it on the list.
5. Hey – The Pixies
This may be the least obvious choice on this list, but it earns its way here through a slinky-ass guitar line, a handful of grunts, and a pervasive air of cryptic sexual menace.
6. Baby's Arms – Kurt Vile
Kurt Vile is here for those times when you really need to feel like you're not having sex purely out of meaningless boredom (you are a character in a French New Wave film, right?). Let his lush guitar lines wrap themselves around you like the titular arms, and get lost for a while.
7. Skin – Grimes
Grimes makes sexy music. No two ways about it. Whether it's her syncopated beats, softly cooing voice, or suggestive lyrics, you know it's time to get down to business. Businessman/woman style.
8. Summer Cum – Avi Buffalo
If for some reason you're in the mood to relive the awkwardness of teenage experimentation, this is the track for you. Avi Zahner-Isenberg was seventeen when he wrote this track, so the sentiment is absolutely genuine. Uncomfortably, uncomfortably genuine.
9. Leisure Suite – Feist
Feist has always had a smoky, sensual voice, but here she turns it up to eleven. The whole song is essentially about having sex in a fancy hotel room. Use it to set the mood when you need to pretend your room isn't just filled with IKEA furniture and piles of clothes.
10. Ignition (Remix) – R. Kelly
Did you honestly think you would make it through an entire sexytime playlist, even one for indie kids, without seeing some R. Kelly? Fool! Of course he's on this list. The man's sexual aplomb transcends genre. So go ahead and give him that doot doot, just like the man says.