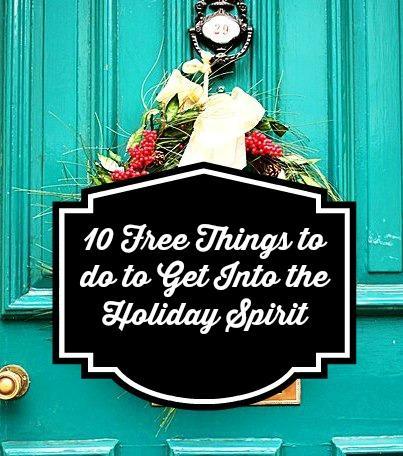 Get into the spirit of the holidays without spending a dime (other than gas money to get places). Here are TK free things to do to get into the holiday spirit (some are Portland-centric, but I bet there are similar things in your fair city):
1. Go See the Big Christmas Tree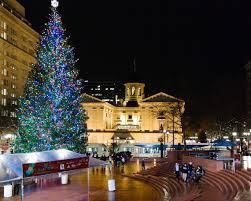 You know, the big one. In the town square. Wherever that is for you. For me, it's the middle of the city, and it's lovely. I can enjoy the scenery as I drive past, or I can enjoy it for longer, if I happen to be downtown past dark (which, as cool as I am, let's not mince words here, does not happen very often).
2. See Gingerbread Palaces
In Portland, step into the Benson Hotel and see this year's amazing, enormous, gingerbread palace: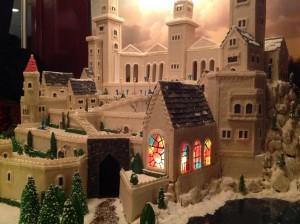 I love this tradition. One, as a local, I never go to the hotels here, so it's fun to step in and be surrounded by wood-paneled swanky hotel lobby. Two, it's decorated so nicely, and three, holy smokes what a gingerbread house! My past attempts at glueing graham crackers together with powdered sugar and water pale in comparison to actual gingerbread palace with a church that has stained glass windows! See if there are gingerbread house competitions in your area.
3. See Crazy Light Displays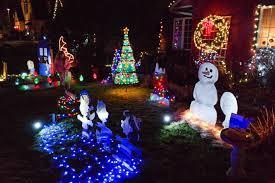 There's a place in Portland… a neighborhood, really… with some odd rules in their homeowners' association. If you buy a house on Peacock Lane, you must go all out in your Christmas lights. No, really. The best way to enjoy this little stretch of Portland is to park outside the neighborhood and walk. Driving through is ridiculous (and there's another reason I won't be living on Peacock Lane).
4. Watch Elf
Nothing gets me into the holiday spirit than watching Elf. My tradition is to watch it over Thanksgiving weekend, and I've done that for five or so years now. It's sweet, it's silly, and even my dad got into it. He started by asking, "What are you watching?" but then got roped in, and by the end of the movie was chuckling. I even heard him say later that weekend, "must be a south pole elf." If you've never seen it, it's on Netflix. If you don't have Netflix, surely someone you know has a copy.
5. Take Pictures of Pretty Christmas Displays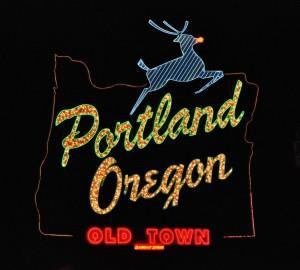 I have a fancy camera with a lot of fancy accessories, and I like to take it on photo adventures. It's really fun to head downtown and take pictures of lobbies. Hotels, restaurants, banks, even the streetlights, get into it with wreaths, evergreen boughs, lights, and twinkles. Our "Welcome to Portland" sign becomes Rudolph this time of year.
6. Write Emails to People You Miss
Stamps are expensive, but emails aren't. Get fancy with your fonts and backgrounds on Word, then PDF that and send a non-traditional Christmas letter. Talk about your year. The highs, the lows, anything in between. Or send one-off emails. "Dear Grandma, I love you oh so much. Happy Christmas."
7. Find Christmas Bazaars
This might sound counter intuitive, since we're talking about free stuff, but I adore holiday bazaars, and have been to more than 100 in my life, and have probably spent money three of those times (not counting something warm to drink if the bazaar happened to be outside). They are SO FUN though, even if you don't buy anything. It's fun to see the entrepreneurial spirit alive and well in the holiday space. Plus, it's a place where people wear Christmas sweaters un-ironically, even in Portland, which makes my heart happy.
8. Watch the Lighted Boat Parade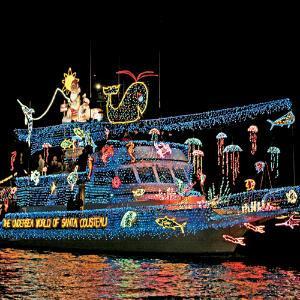 Do you live on a body of water? I always have. Growing up, we would get reservations at a fancy restaurant, and we'd get them early so we could have a window seat to watch the boats go by while learning how to 
behave
while eating seafood. We'd dress up, make it a thing, and it was always so fun. After my sister and I left home, my parents still made reservations for a while to watch the boats. Here in Portland, the water is more of an every-person thing, given that there's a river that cuts right through the middle of the city. That's great for those of us who don't want to go spend money in a fancy waterfront restaurant but still want to see boats with lights on them. There are all kinds of places to go watch the sparkly boats go by. My favorite happens to be
J.D.
and Kim's place, because it's inside, but you could bundle up and walk along the waterfront. Go tonight! Or Thursday! More info at
ChristmasShips.org
.
9. Attend Open Houses in Downtown Stores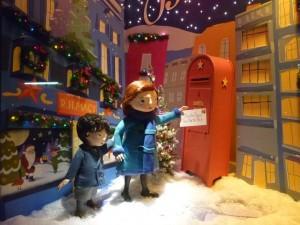 Growing up, my mom sometimes took us to Seattle to do holiday things because Seattle was so big and cosmopolitan compared to Olympia. One of our favorite things to do was walk around the outside of department stores and see the amazing displays. They were always so fun and different! This memory may explain why adult Kathleen still thinks of Seattle as a magical place around the holiday season.
10. Go for a Holiday Hike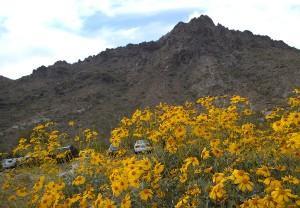 This one is new to me, because I am afraid of the cold, but last year at Thanksgiving, I was in Arizona. "Do you want to go on a hike?" asked Brent's dad, the morning of Thanksgiving. Sure! Paying in advance for all the things I was planning on eating later sounded like an odd, but awesome, thing to do. I thought it would be a great idea, and the path wouldn't be crowded since, after all, it was Thanksgiving. I was 100% wrong about that last part. It was a great idea, but we had to park so far away from the trailhead that we got an extra little hike in addition to climbing a little mountain! Exercise, it turns out, is 
the thing to do in Phoenix
on Thanksgiving. I'm guessing Christmas, too. It's a fun tradition: gets us out of the house, our blood pumping, and being outside when most of the country stays inside.
What do you do to get into the holiday spirit?