Marc Elrich is running to be Montgomery County's next executive to replace Ike Leggett. I have known Elrich since I moved to Maryland in 2000, as a friend, neighbor, and as a member of the Takoma Park City Council (where he served for 19 years) and then the Montgomery County Council (12 years). Elrich is the least ego-driven politician I have ever met. He is not enamored of seeing his name or face in lights or of power for its own sake, but rather gets out of bed every day in order to make a better world, especially for the underdogs. Elrich is also the least corrupted politician in Montgomery County, having consistently refused to take contributions from the politically dominant development industry. While he is able to meet respectfully with all players in county affairs, Elrich is the only member of the council who has consistently prioritized community needs over industry interests.
Further, Elrich is one of the most intelligent and informed public leaders we have. His encyclopedic knowledge of zoning, public education (he was a MCPS teacher for 17 years), and other arcana means he is as prepared to govern as anyone.  You can count on Marc Elrich to support anti-poverty programs, affordable housing, mass transit, quality of life, and the environment. Please join me in helping make Elrich our next county executive.
+++++
County Council At-Large
Talk about crowded fields! Local activist Paul Bessel has been collecting the names of declared and interested candidates for the four Montgomery Council At-Large seats in 2018. Here is a list he posted on Facebook last week: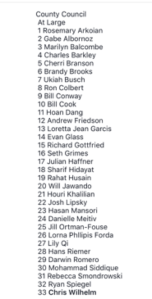 There are a few inaccuracies on this list*, but you get the idea: over 30 candidates plan to go for the glory, competing against only one incumbent (Hans Riemer).
In this field, Seth Grimes stands out. I have observed over the past 15 years as Grimes has evolved from a Takoma Park gadfly (when he quite rightly called out the city government for poor management) to a wise contributor on public affairs locally and beyond. As a member of the Takoma Park City Council, Grimes got to know well the people and processes of Rockville. His policy line is consistently progressive, from anti-poverty (he serves on the board of Shepherd's Table) to the environment. He is also one of three visionary founders and leaders of the Takoma Park Mobilization, formed in mid-November to counter the Trump agenda and now including over 1,000 activists. Like Elrich, Grimes is a smart and extremely well-informed student of local politics. Running for the council is a logical step for Grimes – his level of preparation and commitment to progressive values distinguishes him among the dozens of other candidates. I am proud to endorse Seth Grimes for county council.
+++++
I don't recognize most of the names on Bessel's list and encourage them to introduce themselves to me via an email to [email protected].
I have recently met some of the candidates in the context of progressive politics, such as the Politics 101 workshop sponsored by Our Revolution and Progressive Neighbors in May. This list includes (in alphabetical order): Julian Haffner, Danielle Meitiv, and Chris Wilhelm. I can see that these three are explicitly progressive, but I don't know any of them well enough yet to declare early support for them.
Rebecca Smondrowski currently serves on the school board and has a good reputation among progressives. I'm also eager to learn more about her.
Diana Conway has been an influential progressive activist, which makes me wonder why her husband, Bill Conway is running, instead of her. I wouldn't blame one spouse for the other spouse's opinions or work, but neither will I automatically give Bill credit for Diana's. Count this as another candidacy I'm intrigued about.
I know Cherri Branson's name from her brief tenure on the Council in 2013-14, when she took the place of Valerie Ervin as the District 5 rep, after the latter got bored with the job and quit. Unfortunately, what most struck me at the time was Branson's endorsement (along with Ervin) of the eminently unqualified and ethically challenged Chris Barclay to take the seat in 2014. I have heard good reviews of Branson's work on Leggett's staff since then and am open to learning more to overcome that first impression.
Evan Glass is a smart and nice guy. But he chose to run for D5 in 2014 as a Chamber of Commerce candidate, backed by all the big developers. There was also an arrogant tinge to his campaign that turned me off (he claimed that the transit center debacle woudn't have happened if only he had been on the council). Since that time, Glass has led the Silver Spring youth education organization Gandhi Brigade: noble work, indeed. As with Branson, my mind is open to being reintroduced to Glass this time around.
+++++
Candidates to oppose. . .
This blog has devoted considerable attention to Hans Riemer — I encourage you, Dear Reader, to search on his name in order to relive all the highlights. For those less hardy, here's the summary of Riemer's service to the county
began running for office before the paint was dry in his first Maryland domicile (following his move here from California in late 2005)
has used empty rhetoric to sound progressive, without actually leading on progressive policy
has championed relatively lightweight issues
has been less than forthright about his intentions and his record.
Riemer has never added up to much substantively. Yet, in 2010, he succeeded in deceiving experienced activists and naïve voters alike, with his pretty face, California cash (caché?), and ad nauseum repetition of the word "progressive." Now we have another chance to show Reimer the door; voters would be fools not to take it.
Will Jawando certainly loves campaigning, joining his fourth contest (the other three were losses) since 2014.** Other than being a candidate, though, Jawando seems never to have done anything much for the community or the county.  Jawando is a smart and engaging fellow. He just doesn't get that paid public service should be less a pursuit of personal glory, than the culmination of a previous do-good record – something earned, not acquired.
+++++
Public Financing
As I learn more about county council candidates, I will look favorably on those who opt-in to public financing and unfavorably on those who self-finance (in effect, seeking to purchase their seat) or who rely on $4,000 checks from special interests (including from the development industry or public-employee unions).
I learned today on the Seventh State Blog, that Conway and Riemer have qualified for public financing.
+++++
*The three from Bessel's list whom I know or believe are not running for At-Large are Ukaih Busch (who has said so publicly), Bill Cook (who has declared for the D1 seat), and Jill Ortman-Fouse (who seems to have opted to remain on the school board).
**Jawando has previously run for MD D20 state delegate (2014), Congress from MD D8 (against Jamie Raskin, 2016), and for appointment to the D20 house seat that opened when Will Smith was appointed to Raskin's seat in the state senate (2016).
©2017 Keith Berner
Advertisements