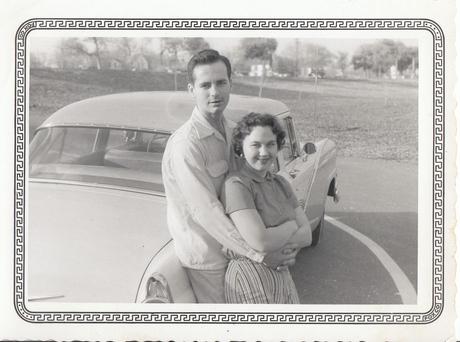 A little ditty…
Today would have been my parents' sixtieth anniversary.  That's 60 years, such an amazing landmark.  How does one spend 59 years with someone and face an anniversary alone after that?
As my regular readers know, Daddy passed away in March, so this is a hard one for Mama.  I hate it.
But, on the other hand, they had such an incredible life together, and to be thankful for that takes up all the energy I have for today.  I know my mother feels the same.  She will not be alone this evening.
I know people don't believe me, but I never saw an eye roll, never heard an unkind word, and never witnessed anything but pure love between them.  Every kindness and service was offered between them.  Their marriage worked like a well-oiled machine.
This couple were bouncy kids of the fifties, after all — the best time to be young and newly married in history, I think.  They were fresh-faced, innocent, principled, smart, extremely good looking, social, and happy…abundantly happy.  They managed their money well, put each other first, loved their kids, worked hard, and set a great example.
They had friends (Mama still does) — a weekly bridge club back in the day where about six couples got together for a neighborhood-shared board game and "threw the babies and the beans together."  Now, I don't mean they shared a boardgame  just in playing; I mean they actually shared the expense of the boardgame — all of them owned it together.  Funny, right?  That is how frugal and accountable the fifties were, and people forget that; personally, I think that is what made the fifties great.
All of these old couples continue even up until now — 60 years later — to meet in person twice a year for a weekend, no matter from where, to hug and share…and cry and reminisce over those who are gone now.  As young couples, they bonded and shared parenting secrets, baby stories, birthday parties, and laughed through hard times.  Their lives were enmeshed with couples like themselves.
As elderly friends, they share stories of retirement, pictures of great-grandbabies, and health problems, being an understanding shoulder because they, too, are now going through widowhood and arthritis and Alzheimer's together.
These were the picture-perfect kids of the fifties.  This lovely couple — my mom and dad — had it all.  They made it together.  They built it excitedly but carefully.  They were best friends.  They leaned on each other through losses, even of children, and disappointments.  They celebrated achievements as one and were loyal to the end.  They had 59 amazing years.  They didn't smile only for pictures but did it everyday, at each other and constantly.
This couple are what it means to have a lifetime romance — from age 18 to 78 — and I got the privilege of witnessing a lot of it.  They were golden.  They are the sole reason I still believe in the devotion, the commitment, the sanctity of marriage.
Man, were those two in love.