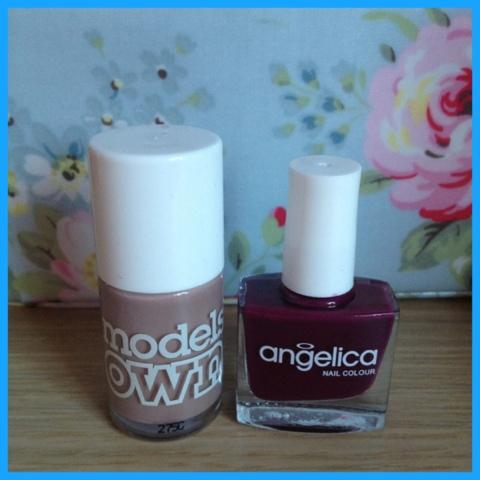 So today while i have been suffering with a really really bad headache and i have to put up with the strangest knocking noise coming from nowhere.. I'm finding myself running round looking where its coming from but i have no idea so anyways while all that's going on i thought i would treat myself and re paint my nails.. crazy i know :) i am a serious lover of the burgundies and the berry colours this winter so i thought i would treat my nails to the color today and see if it can manage to cheer me up any!
i used a angelica polish in mulberry with is a beautiful berry color :) and it was all for £2.50 from Primark.. and then i painted my ring finger with a nude beige from models own.  Of course I'm still really loving my pinks and i know i need to behave and embrace all the winter colours .. someone please shake me and knock some sense into me? 
What colours are you loving this winter? id love to know so i can go out and buy myself some more :) ops!
Plus yesterday was the Manchester bloggers meet up, i didn't manage to take many photographs as i was just basically being a really rubbish blogger, but it was a really fun night in Harvey Nichols! i had my make up done by the lady at Stila and now I'm saving up to buy all the products she used, i really loved it! it was lovely to finally meet some of the peoples blogs which i read :)