You know that Beauty Info Zone loves Miracle Skin Transformer and we've learned that they have an amazing giveaway. Of course we have a great giveaway going on right now with MST products too but here's one directly from the company. Once you read Lisa's review of this balm you will want to win (and please send one to Marcia since she wants this too!!).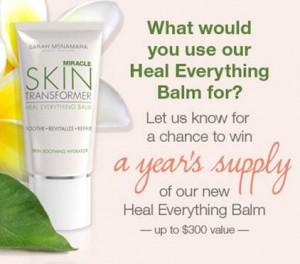 Win a Year's Supply of Heal Everything Balm
NEW Miracle Skin Transformer Heal Everything Balm is a multi-purpose beauty balm that is specially designed to immediately hydrate sensitive, irritated skin, and soothe the multiple sources of aggression and stress. The intensive M3 Complex contains a blend of over 30 moisturizers and emollient ingredients including Manuka Honey to enhance skin's own natural repair process. Perfect for alleviating irritation and redness due to chaffing and sports related activity and after strong exposure to sun, cold climates and wind burns.
This is a Facebook promotion that you can enter through this link: Miracle Skin Transformer Heal Everything Giveaway. Do not enter on Beauty Info Zone but you can go to our giveaway and enter that!!
BEAUTY INFO ZONE'S MIRACLE SKIN TRANSFORMER 4 PIECE GIVEAWAY