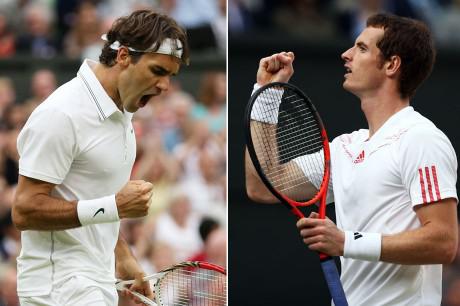 I have been asked countless times since the semi finals on Friday who I thought was gonna lift the Mens Singles title on Sunday and my answer is typical sit on the fence. I understand just what is at stake for both of these guys. For Federer he can write another chapter in the history books, regain the number one ranking for the third time, lift his 17th slam and put to bed all this talk of his decline. For Murray, the Scot can finally break the 'British' hoodoo by winning the title, his first slam and finally and rightfully regard himself as one of the elite in the mens game.
Ofcourse pressure will be huge on both men, even though Roger has won 6 of these things before he will no doubt feel nervous as he knows Murray can beat him. Having done so in 8 of the 15 times the pair have met. For Andy a nation expects, demands he win the title so they can finally put to bed the Fred Perry hoodoo. In their two previous slam matches Murray has failed to win a set, in his other slam final he was soundly beaten ny Djokovic.
Looking at the past doesnt bode well for Murray. But this 2nd week of Wimbledon we have seen an aggressive Murray willing to take the ball on and win the point rather than wait until his opponent misses. His serve has also been a vital tool in dismantling Ferrer and Tsonga, making it big when he needed it most. Forget the past, surely Murray is a far superior player than 2011.
Djokovic was a massive favorite in his semi against Roger, he played very well in the semis of both Paris and Rome and the pundits didnt think Roger could lift it one more time. But as we know how wrong they were. Roger Federer must be a clear favorite for this tournament, aside from his experience, should his game hit the heights of the quarter or semi finals surely nobody can stop him. But there still remains a question in my mind about Federer being able to reproduce that form. Murray leads in the head to head because he has managed to frustrate Roger and get that extra ball back. Ofcourse he can draw on that experience tomorrow.
Its a dividing topic, as pleased for Roger that I would be to accomplish all those feats, he has hogged the limelight for over a decade now perhaps the Swiss may not get another chance again. Even if he doesnt get another slam, 16 slams and seventy something titles and counting is a fantastic return. At 30 he can compete with Murray , Nadal and Djokovic who are all in their prime. Surely now he is the undisputed GOAT. ( Greatest of All Time)
Its clear that both guys want this final a hell of a lot, perhaps Murray may want it a little bit more. Surely the hunger of a player yet to achieve a slam title would be more than that of a multiple winner? But I suppose taking hunger, the venue and history out of it. Its just another tennis match. Man against Man.
My Pro Federer head says Federer but my heart would dearly love to be singing Flower of Scotland come tomorrow evening.
And just another thing, Congrats must go to Sheffields Jonny Marray he and partner Fred Nielsen won a thrilling Mens Doubles title in the 5th set agaisnt Tecau and Lindstedt, fantastic achievement.