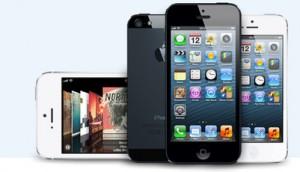 When Apple launched the iPhone 5 back in September, the California based manufacturer also released its iOS 6 software update to existing compatible devices, encompassing a number of different iPhone, iPad and iPod Touch models.
The update quickly became the most rapidly uptake iOS update in Apple's history, taking just days to find its way on to millions of devices around the world.
Although the software update brings a number of innovative new features to the table, unfortunately it has also received many complaints from its users.  It appears that users have experienced issues with the new Apple Maps application (which comes as standard on iOS 6 to replace the long serving Google Maps app), to various other glitches and bugs for example one which makes the screen flicker when the on screen qwerty keyboard is visible. Find the best iPhone 5 Contract Deals and iPhone 4S Price Comparsion at PhonesLimited.
This has prompted speculation that Apple is hard at work on the next instalment, likely to be called iOS 7.  Many believe that this will see the biggest overhaul to date to the UI on Apple's mobile operating system.  It has even led some to suggest there will feature widget functionality, which is being discussed on iPhone5newsblog.
The article has opinions from a number of industry experts who believe that consumers are now more aware than ever of the limitations of iOS 6 compared to platforms like Android and Windows Phone 8, which offer widget functionality and live tiles.  Of course, these are much more versatile and user friendly than having standard applications which need to be opened each time as is the case with iOS.
Of course, this is just speculation as none of this is set in stone, but it would certainly be interesting if Apple would overhaul the visual and functional qualities of its mobile OS.  If we hear of any updates regarding the future software developments from Apple, will be sure to keep you updated.