Google "What Would Iggy Do?" and you don't get anything related to the Punk/British Rock/Pop band based out of California. You may know two of the members, Dominic Kelly and Derek Schanche, or at least their work; their music has been featured on the TV shows, NCIS and Rules of Engagement, respectively. All together, the three man group produce an interesting, at the least, sound that draws from multiple subgenres of Rock. Their EP, Bloody Good Time, gave me a taste of what they're capable of but they never follow through on any attempt to really draw me in.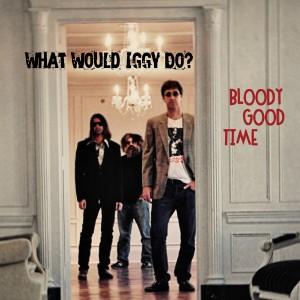 If I had to write a short bio for the band based off of this EP*, I would have to list Iggy Pop & The Stooges, The Who, The Clash, The Beatles, The Rolling Stones, The Eagles, David Bowie, and Jimi Hendrix as their influences. What seems like a normal list of artists for a band's influences is actually a literal breakdown of their music. For example, on "Wild World," the verses are laid on top of a tropical guitar melody that makes me feel like The Eagles are playing at a cabana in Hawaii but then the chorus reminds me more of The Rolling Stones, while throughout, the singer, Kelly, is blending Mick Jagger's and Joe Strummer's voices.
The two songs that came close to convincing me of them owning their own sound were "Bloody Good Time" and "What Would Iggy Do?". On "Bloody Good Time," they do a good job of going between the harder Punk feel and the Pop feel from verse to chorus. The background ethereal sound effect on the chorus is a nice incorporation of David Bowie's music. "What Would Iggy Do?" is a fun take on commenting on the current Rock scene by asking what Iggy Pop would do if you sold out or gave up on preserving what he built. Also, at the end, the band comes alive a little with raw guitar riffs from Schanche and screaming from Kelly. Another standout track was "Naked Mojo." It was a darker song with shallow metaphors about finding your mojo but the production was hypnotizing and felt authentic.
Unfortunately, the lyrics fell way short of my expectations. It was obvious that the band spent a lot more time on the production side of the music. On "Wild World," the only advice Kelly gives to the girl he's breaking up with on the song is to make friends since there's "bad everywhere." I'm not sure if the relationship wasn't a good one to begin with, hence the girl didn't merit more intimate advice because he simply doesn't go into any detail.
Now that I've been introduced to What Would Iggy Do?, I'd like to see where the band goes from here. Maybe they need a band retreat in the wilderness and find their spirit animals or Iggy Pop's ghost. In any case, with the members' credentials I feel that the band can do better. And a few poetry writing classes couldn't hurt.
*I didn't include the last track in my consideration. It is a "club mix" of "Bloody Good Time" that features nothing more than the original with an added cowbell, a removed guitar track, and an out of place guitar solo that awkwardly transitions back to the chorus.

2 / 5 bars
Check out WHAT WOULD IGGY DO? Bloody Good Time EP in full at the band's SoundCloud page.
What Would Iggy Do? – Naked Mojo
What Would Iggy Do? – Bloody Good Time
What Would Iggy Do? – What Would Iggy Do?