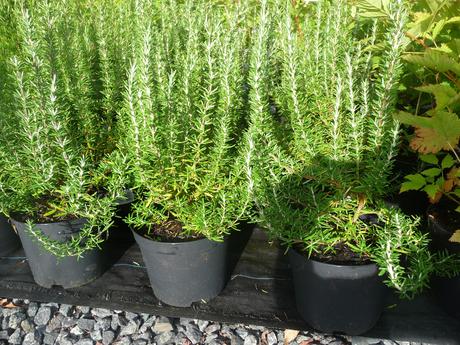 Choose a plant that looks like the rest of the batchPlant quality at nurseries and garden centres varies considerably and it pays to shop at a reputable garden center where the turnover of stock is high. This ensures that you, the customer, can choose from the freshest stock delivered from some of the best nurseries in the country on a regular basis.
At Notcutts, we are so confident in the quality of our stock that we guarantee our hardy plants for five years. If something goes wrong or the plant is for some reason not true to type, we will replace it for you free of charge!
However, there are some points worth noting when choosing plants from your local garden center.
Choose a plant that looks like the rest in a batch. This means that the plant is 'true to type', with no abnormal growth habits. Well grown plants will be sturdy and bushy due to 'pinching' on the nursery where it was grown.

Choose a well shaped plant

Choose a plant that is well branched and an even shape. This may not apply to some young fruit trees that are sold as 'whips' - a single stem with no branching due to its young age. Herbaceous perennials do not have a woody structure, so look for a well established 'crown' or base to the plant.
Make sure that the plant is firm in the pot and not rocking around due to a poor root structure. White roots should be seen coming out of the base of the pot.
Some plants root around their pots very quickly, especially herbaceous perennials. When you take them out of the pot they may seem to be one mass of roots, but this is the nature of many plants and does not meant that they are 'root bound'. The roots can be gently teased out before planting if you wish, but this is not necessary as long as the planting hole is well prepared.
Shrubs and trees that have been in their pots for a while may have weeds and moss on the surface of the compost. Roots may also be visible on top of the compost and this is a sign that the plant may have been in the pot for a while. This does not necessarily mean that the plant is a bad buy, but it may take longer to establish than a younger, smaller plant which has not had the roots restricted for any amount of time. Some specialist shrubs can take several years to reach a saleable size, so this really depends on the type of plant that you are buying. 
Older plants may have leaves that are not as green as a younger batch of plants. This may be because the plant has used all of the fertilizer in the pot and needs a supplementary feed. However, this is not usually a problem once the plant is in the ground or a larger container.

White roots should be visible

If the majority of a batch of plants are in flower or 'budded' (about to flower), it is probably best not to choose one that has no flowers or buds visible. 
Do not choose a plant that looks like it is diseased or has any damage by pests such as aphid or caterpillars. 
Remember that the above are guide lines only and plants vary considerably in their growth habits and requirements. If you are in any way doubtful about choosing plants for your garden then please ask a member of our garden center staff for their help and advice.