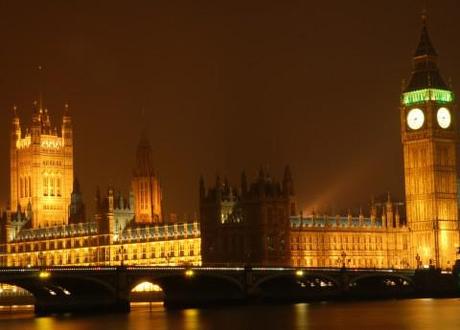 The Houses of Parliament
The background
A-List Tory MP Louis Mensch has resigned from parliament to spend more time with her family. The 41-year-old mother of three is relocating to New York, where her husband works as the manager of the rock band Metallica. Before entering politics she made her name as a best-selling chick-lit author, under her maiden name Bagshawe,
Her decision to quit will trigger a by-election in the Northamptonshire constituency, a marginal seat. Mensch's decision to leave the House of Commons is a blow for David Cameron; media-savvy Mensch was perhaps the brightest of the 2010 intake of MPs.
"I am very sorry that despite my best efforts, I have been unable to make the balancing act work for our family," wrote Mensch in a resignation letter to Cameron.
Superwoman with a flaw – she doesn't drive
At The Independent, Julia Langdon, a former political editor of the Daily Mirror and the Sunday Telegraph, spelled out just how busy Mensch's live as an MP has been. Langdon argued that "ordinary members of the human race may be unsurprised" by Mensch's inability to manage a political career with a husband across the Atlantic, and a family of three young children "while simultaneously keeping sane." "Those circumstances are made even more pressing by the fact that Ms Mensch does not drive a car," argued Langdon. "This is not an insuperable obstacle in life, but for someone who is competing in the superwoman stakes and also nursing a constituency which has a number of rural villages containing the sort of people who might hold the balance of your parliamentary majority when it is under 2,000 votes, it is a somewhat critical detail."
Mensch is no average working mother
At The Guardian's Comment is free, Gaby Hinsliff, a former political editor of The Observer, insisted there are no lessons to be learned from Mensch's departure – "The demands of the MP's job and her transatlantic marriage bear almost no relation to those of the average working mother." Hinsliff suggested that Mensch's may have quit because she was concerned about the Conservative's prospects: "The ambitious working mother's exit often conceals reservations about the next step up the ladder, which help tip the balance towards the eternal guilt about the children. For all those glitzy photo spreads, Mensch was never less than serious about politics and fancied a shot at the right department … But she must have known the juggling act would only intensify had she become a minister – and that on the Tories' polling numbers, MPs in marginal seats risk oblivion in 2015. Was it really worth another three years of frantic juggling, only to be left with nothing to show for it?"
"So with hindsight, the social media business she recently established in the US looks like an escape route: and whether or not it succeeds, I doubt she'll sit around making cupcakes. The chicklit novelist who reinvented herself as a politician is quite capable of reinventing herself again," insisted Gaby Hinsliff at The Guardian's Comment is free.
Tall poppy syndrome
"Some women MPs manage it, but history shows that some of our most successful women politicians have been childless while those who have had children have often had to make sacrifices," noted Langdon at The Independent, who insisted there "are always victims in the families of women who seek to do too much; sometimes it's the partners and the marriage but more often it is the children. There has been a depressingly high number of children of MPs who have suffered and who have sought an outlet for their unhappiness in drink and drugs and sometimes suicide. It is scarcely surprising: MPs are, of course, all self-selected – they choose the crazy life they have to lead – and they are all tall poppies, too. The tragedy of the tall poppy syndrome is that they are cut down."
Women too often walk a tightrope of gender politics
Mensch's resignation is "not a story about the impossibility of juggling motherhood with a high-flying career. It barely needs repeating that we need more mothers in Westminster and not fewer," insisted Rupert Myers of The Daily Mail. Myers suggested that the media "is rarely fair on female politicians – stories about how they dress, or what surgery they have undertaken are clearly irrelevant to the work which they do for their constituents, and yet they never seem to stop dominating the coverage. As Hillary Clinton's campaign showed in America, women too often walk a tightrope of gender politics."