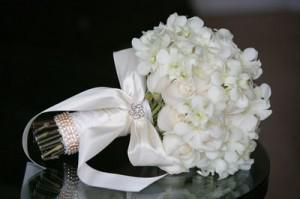 The Victorian Era gave birth to a particularly romantic language for lovers to communicate, 'The Language of Flowers' where words were replaced by flowers. Were you familiar with the fact that magnolia means love of nature whereas stephanotis signified marital happiness? Check for yourself the guide to most popular wedding flowers and decide upon what message your wedding flowers will convey.
Anemone signifies Expectation. These flowers are best suitable for bouquets and other floral arrangements. It blooms starting from fall season till springs.
Baby' Breath implies Innocence and Purity of Heart. Best suitable for bouquet fillers and corsages, they are available year-round.
Calla Lily portrays Magnificent Beauty. These flowers are used for bouquets and other floral arrangements and blooms in spring and summer season only.
Carnation stands for various meanings depending on the colors. The Pink Carnation represents Boldness, whereas Red Carnation symbolizes love, while White Carnation signifies Talent. Other colors of carnation have negative connotations too. Available year-round used for bouquets, boutonnieres, and floral arrangements.
Chrysanthemum stands for Wealth and Abundance. These flowers are also available all round the year and are best suitable for Bouquets and floral arrangements.
Daffodil conveys Regards. Though available only during springs, is not suitable for wedding decorations. Instead used as garden flowers.
Daisy represents Sharing the Feelings. Available year-round and mainly used for bouquets.
The flower Gardenia signifies Purity and Joy. These flowers are available year-round and suitable for bouquets and boutonnieres.
Iris represents the Message of Faith and Wisdom. This flower blossoms during spring season and looks beautiful either in a floral decoration or even in pots placed in the gardens.
Lilac is best to convey the Initial Emotions of Love. Though the local Lilacs are available only during the spring season, but imported French lilacs are available throughout the year. They are used either ways: bouquets or floral arrangements.
The beauty of Lily symbolizes Majesty, Truth and Honor. Lilies are used for bouquets and even flower arrangements and are mainly available only during summers. But can be imported while off season too.
The flower representing Love of Nature is Magnolia. Available throughout spring and summer season, they are basically used as part of flower arrangements.
Orchid is the epitome of Love and Beauty shared in a relationship. Easily accessible all round the year in varied colors and sizes; they serve multiple purposes ranging from bouquets, boutonnieres and even corsages.
Roses, the most vital flowers for any wedding. They are the best expression of Love, Joy and Beauty. Blooms year-round are suitable for almost everything. Be it bouquets, corsages or even floral arrangements.
Stephanotis is a true expression of Marital Happiness. These traditional bridal flowers blossoms year-round and is best suitable for bouquets and even flower arrangements.
The representation of Love and Passion between the newlywed couples can be best portrayed using Tulips. These flowers blooms only once in a year during late spring season, found in a variety of colors are best suitable for flower arrangements and bouquets.
There are certain flowers that can be really inauspicious for the beautiful wedding. Some flowers convey negative meanings and can be depressing. It's advisable to avoid such flowers at any special occasions like wedding ceremony or even receptions. Fascinating Diamonds brings you list of such flowers:
Digitalis (Foxgloves) stands for Insincerity
Hellebore represents Scandal
Larkspur signifies Infidelity
Lavender symbolizes Distrust
Marigold denotes Grief
Raspberry flowers expresses Remorse
Striped Carnation signifies Refusal
Yellow Carnation symbolizes Contempt
Yellow Lily is the epitome of Falsehood
Yellow Rose reflects Jealousy
Also Read : Engagement Rings, Wedding Bands Gels Well with Vows