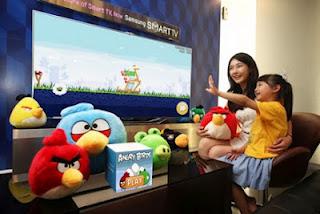 Samsung and Rovio have 
announced
 their cooperation, which will bring the Angry Birds to Smart TV is owned by South Korean vendor, ES7000, ES8000, and ES9000.
 Games which will be redesigned to use motion sensors compatible (motion sensors) are present on the TV. Besides Angry Birds are also known to be present in the new Smart TV SDK, enabling applications to run as the default application without having to rely on additional game consoles. 
Samsung itself reveals that it is already working with Rovio from revealing their first Smart TV platform at CES ago. Rovio will release a game that has been designed specifically for the TV to the Samsung TV app store to be enjoyed by all users. In addition, the Rovio is also known to have worked together to develop some short animations will also be available on TV via the user's request.
source teknoup