Google's new Nexus 4 now has deals available on Vodafone, manufactured by LG for Google the new Nexus 4 Android 4.2 smart phone was first released on O2 and then Orange contract deals as well as being launched with Pay As You Go offers.
Nexus 4 contract deals on Vodafone currently offer the phone free of charge from £29 per month, this tariff includes 300 minutes of calls, unlimited text messaging and a 250MB data allocation each month, considering this is a low volume of data we suggest opting for the next tariff up the scale at £33 line rental which ups this to 500MB and the minutes are increased to 600 per month.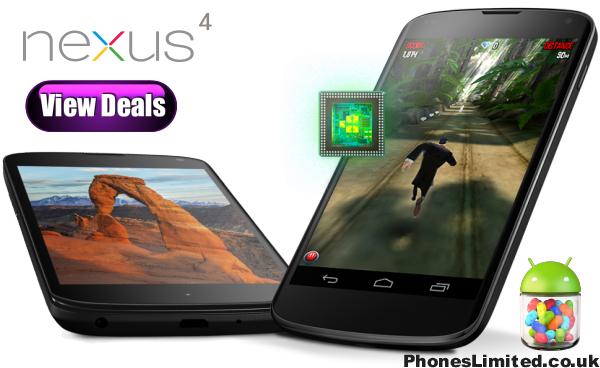 Google Nexus 4 by LG Contract Deals
Still, the cheapest deals to include a free Google Nexus 4 phone are offered by O2 at £24 per month, again the problem is data as there is only 100MB on offer, the most popular contract deal by far is offered on the Orange network which for £26 per month includes 200 minutes, and 750MB of data with an upfront price for the Nexus 4 at just £9.99.
This latest addition to the Google Nexus range is the most advanced Android phone yet, packing quad-core processing power alongside 2GB of RAM the Nexus 4 offers a lightening fast user experience, the main touch screen is a 4.7 inch True HD display with a 768 x 1280 pixel resolution and there's an 8 mega pixel camera shooting full HD video on the back.
Taking on the mighty Samsung Galaxy S3 as well as the new HTC One X+ the new Nexus phone will always be in line for the latest operating system updates before any other, it also means that there are no manufacturer add-ons usually found in the menu system for a 'cleaner' look and feel.