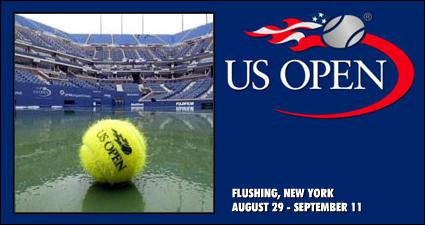 The US Open is upon us and we have got our LTB experts out of hiding from the hurricane to deliver their predictions for the tournament.
Chris: In the men's competition, I can see at least 3 of the world's top 4 players making it through to the semis.   As at Wimbledon, Tsonga might be a threat to breaking their stranglehold, but I feel he won't progress beyond the last 4.  Once again it should be Djokovic and Nadal duelling for the title.  Novak did so well at Flushing last year but was ultimately denied by the Spaniard, but the big-hitting Serb has improved so much in the past year that I can't see any other winner.
Final Predictions: Djokovic beats Nadal in 4
In the women's draw, my pick would have to be Serena Williams.  Coming back from a year's absence at Wimbledon and gaining invaluable match-time will help in the upcoming grand slam event.  She has that aura and will intimidate most of the other ladies on tour, as well as boasting great weapons such as a ferocious first serve and power from the baseline.  Given that she has a bit more variety in her play than rivals Sharapova and Wozniacki, I think she will add to her 3 US Open crowns.
Final Predictions: Serena beats Sharapova in 2
Rebecca : Novak Djokovic is having the best year of his tennis career. The Djoker from Serbia reignited the tennis world who had become sedated in a long debate about the greatest of all time players between Roger Federer and Rafa Nadal. Novak has done exactly what Andy Murray needs to do and broke the mould that said all Slams belong to Roger and Rafa until they retire. The Australian and Wimbledon Champion has the opportunity to revenge his final defeat 12 months ago when Rafa took the US Open title in four sets. As top seed, Novak faces an Irishman in the first Round, Conor Niland. Best of luck to Conor as he takes on a tough opening match after the qualifying rounds.
Roger is in Novak's half of the draw. The Swiss who has won five tournaments here in a row (2004-2008), hasn't won a Slam since the 2010 Australian Open. That said, Roger was the player to put out Novak in the French Open semi's, halting the Serbs chance of winning a 2011 Grand Slam.
As at Wimbledon, Andy Murray and Rafael Nadal wait in the bottom half. As defending champion Rafa will want to avenge defeat for the Wimbledon final when he lost to Novak earlier this summer. Novak seems to be able to get under Rafa's skin better than even Roger has been able to.
And then there's Andy Murray, playing well after a win in Cincinnati even if Novak had to retire with injury. The Scot loves the US Open and was a beaten finalist in 2008 and can take some comfort from Novak's winning streak that it is possible to win slams even in Federer and Nadal's era. 2009 Champion Juan Martin del Potro lies in wait for Andy in the fourth round, a tough test but one that the Scot should come through given his form of late.
Final Predictions: Novak Djokovic vs Andy Murray, Novak to win in 4
Unlike the men's Slams of 2011, there has been a different winner for each of the ladies draws. Kimmy Clijsters took the Aussie Open in January (and withdrew from US Open with injury), Li Na gave China their first Slam victory in Paris and Petra Kvitova won Wimbledon against the odds. The draw is once again pretty much open for New York, it will be a case of who can fight the hardest and wants it the most.
Top of my list is Serena Williams. To win at Wimbledon would have been too much for her only re-joining the tour after an incredible time off court with injury and illness. Having won two warm up tournaments prior to the Open, I think its time for Serena to show us her fierce competitiveness. She was champion here in 1999, 2002 and 2008 so she knows how to win.
Standing in her way potentially in the final would be Maria Sharapova, winner in 2006. Getting to the Wimbledon final this year was a massive achievement, building on her good form in Paris. Maria and Serena are two of the toughest competitors on the tour and New York would be a fitting setting for them to slug it out on court in the final. Maria faces Britain's brightest hope and former junior US Open Champion Heather Watson in the first round. The Xperia Hot Shots star will want to start off like compatriot Laura Robson against Maria at Wimbledon. The plucky Brit took Maria to a first set tie-break then so Heather will now fly the flag for the underdog as she faces the Russian starlet.
We will wait with baited breath to see if Northern Ireland's Rory McIlroy will watch any of Caroline Wozniacki's New York matches. The top seed and finalist in 2009, her best performance in a Slam, needs to show her strength once again before the press hounds her for having the number one title without Slam justification. The Great Dane knows that only too well, here's hoping Rory a US Open winner on the golf scene can transcend some of his advice to his new friend.
Final Predictions: Serena Williams vs Maria Sharapova, Serena to win in 3
Peter :Its almost impossible to look past Novak Djokovic for this title, yes he's been injured and yes he just lost to Murray but Novak knows how to win slams now and is head and shoulders above the rest at this juncture. I just happened to catch a glimpse of last year's final a few days ago and there is a marked difference in both finalists level. Djokovic has certainly upped his game whilst Nadal sadly seems to be a little bit off colour and a shadow of the 2010 version. Although Andy Murray has some momentum having won in Cincy last week, will he be able to take the game to his opponents in the latter rounds. Roger Federer does not look to me like he can win this tournament. He had a great victory against Del Po in Montreal but has really failed to back that up with anything and had two thumping losses against Jo Willie Tsonga and Tomas Berdych.
The man on form on this summer's US Open series has been Mardy Fish, he has backed last season's performances up with a great string of results this summer loosing only to eventual winners Djokovic in Montreal and Murray in Cincy. With the home crowd behind him and a late night match slot, he can surely go deep in the draw. He faces Roger in the quarters should all go to plan, that promises to be a fantastic matchup. Other outsiders for the title, Juan Martin Del Potro, David Ferrer, Tsonga to name but a few. I can see a few upsets along the way but most of the outsiders run out of gas getting towards the last eight.
Final Predictions: Djokovic to beat Murray in 5!
Its great to see both the William's back on tour, shame though that neither are seeded highly enough( Venus isnt seeded at all). The best women's tennis player/ athlete in the world is Serena Williams, like Djokovic should she stay injury free she could be hoisting aloft her 14 Grand slam singles trophy in a fortnight. Sharapova has had a little summer resurgence this year, and despite her serving woes and doublefaults she has developed an extremely potent return of both flanks ( a la Djokovic) She can break even the best serves at will and should she keep it together she could follow up her semi at Roland Garros and Runners Up Spot at Wimbledon.
Petra Kvitova and Na Li have failed to do much since their slam wins and although are highly ranked it would be hard to see either lifting the trophy ( even though both their games suit the hard courts) Big hitting Sabine Lisicki put herself back on the map in Wimbledon and she could string a few results together and see herself in the second week. Vika Azarenka must be cursing her luck this year as she has come been beaten by the eventual champion in the last 3 slams. Unfortunately it doesnt get any easier this time as she is scheduled to meet our Serena in the 3rd round. Wozniacki has arguably went backwards  since earlier on in the year and her new coaching set up is unlikely to pay any dividends just yet. Outsiders for the title Petkovic, Stosur., Bartoli and Zvonareva.
Like a broken record….
Final Predictions: Serena beats Maria in 2