Master Class 11 Meet The Masters Palette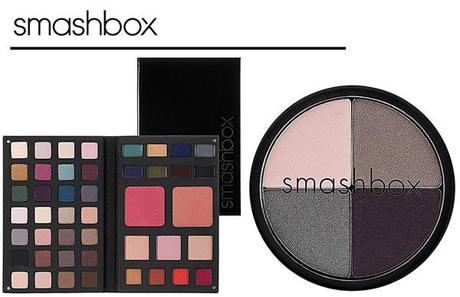 A superloaded palette inspired by the bags full of product Smashbox pro artists bring on set.  From cases full of eye shadows to bags brimming with glosses, the amount of products the Smashbox artists bring on set can be overwhelming. Get all your photo-ready essentials in one place with Megapalette by Smashbox, a palette jam-packed with 28 Photo Op Eyeshadows, four brow tech powders, one large Brow Tech Wax, eight cream eyeliners, two blushes, three soft lights, and four lip glosses.
Master Class Eyeshadow Quad
A beautiful palette of four earth-toned eye shadows. Handpicked by Smashbox pros to play up brown beauties, these flattering shades can also work with any eye color to create everything from naturally pretty to high-glam smoky looks.
Hazel – pink nude, shimmering slate, matte eggplant, taupe
Brown – ivory, cabernet, shimmery sienna, matte navy