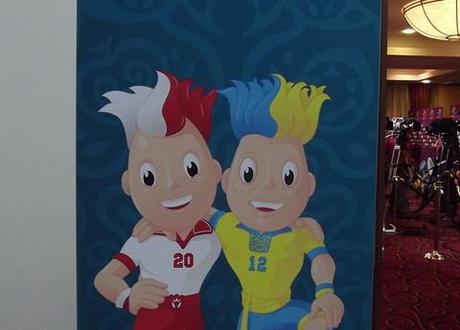 Euro 2012 kicks off in Poland and Ukraine. Photo credit: drabikpany
The background
With just days to go before the kick-off of the Euro 2012 championships, a hard-hitting BBC Panorama documentary has revealed shocking new evidence of racist violence and anti-Semitism at the heart of Polish and Ukrainian club football. In the show, which went out in Britain on the evening of 28 May, a group of Asian fans are shown being attacked on the terraces of a Ukrainian premier league match and anti-Semitic chanting is captured on film at games in Poland. The show has cast fresh doubt on the joint hosts' suitability to stage the high-profile football tournament.
The BBC Panorama team interviewed ex-England international Sol Campbell for the film who had this advice for fans thinking of traveling to Euro 2012: "Stay at home, watch it on TV. Don't even risk it … because you could end up coming back in a coffin."
Manchester City's Mario Balotelli raised the stakes on Tuesday by warning he would walk off the pitch if he was the victim of racist abuse ever again and the families of England's Theo Walcott and Alex Oxlade-Chamberlain have already cancelled plans to attend the European Championships 2012 over safety fears.
The burning question: Will racism marr Euro 2012?
The possibility that Euro 2012 will be badly marred by racist chanting and/or violence has occupied the sports commentariat this week. Some applaud the BBC for exposing the joint hosts' societal problems, while other accuse the filmmakers of irresponsible scaremongering.
"It was a very one-sided programme," Jacek Cichocki, Poland's interior minister, said. "What upset me the most was that they spoke to a person unfamiliar with safety in this country [Campbell]. If they had asked an expert – say a British police officer –- then I think our reaction would have been different."
"FIFA and UEFA (the global and European soccer federations) have made anti-racism campaigns a focal point of their public service efforts in the last few years, but judging by the BBC video there's a lot of work to be done," observed Dashiell Bennett at The Atlantic Wire. Bennett argued that "it's possible that holding a major international event is the exact thing these countries need to root out their worst elements. The entire tournament is seen as a chance for these countries to show they've grown up enough to belong to the modern European community." But he did warn that if the authorities "can't restrain the thugs and racists, there's no telling what Balotelli and other minority players will face before the summer is over."
"Even in Britain, with its wide ethnic mix, police have investigated racist chanting on trains, a student was sent to jail for racially abusing Fabrice Muamba on Twitter and the former England captain, John Terry, is awaiting trial on a charge of racially abusing Anton Ferdinand," pointed out Paul Hayward of The Telegraph.
Paul Hayward of The Telegraph warned that "the creep of extremism reminiscent of the 1930s could be felt in a Panorama exposé" and urged the governments of Poland and Ukraine to "act now on racism or their tournament will never recover." Hayward suggested that "the ultras will be deterred by high ticket prices" but insisted that "the potential for targeted attacks away from the grounds is extremely high. As new light is cast in racism in the host countries it appears more and more organised and ideological." Hayward regretted that "xenophobia has never been properly tackled at a pan-European level (except through sloganeering)" and said that "football is suddenly faced with having to escalate its response dramatically at a three-week tournament … Only two bodies can save its reputation, by enforcing the rule of law and breaking up these gangs: the Polish and Ukrainian governments."