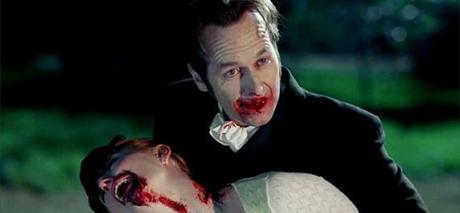 It's spoiler Thursday, Truebies, and E! Online Spoiler Chat has some True Blood scoop, specifically pertaining to Russell Edgington (Denis O'Hare) and whether we'll find out anytime soon what exactly he's up to (and who's helping him). The bottom line: don't hold your breath. According to Kristin Bauer van Straten (Pam), we have to have patience:
"I like how we can be a fly on the wall with True Blood and we can watch things play out and different relationships and guess. It's so much more like life. Nothing is black and white in life either. So, we'll find out, but it might take a little bit."
In the meantime, things will continue to hurtle toward an explosive True Blood finale:
"In the vampire world it's pretty intense because alliances shift. Everything is at stake!"
Bite into a bit more scoop from the lovely Kristin by watching her interview with E! Online.
Source: E! Online Spoiler Chat – Spoiler Chat: Scoop on True Blood, Vampire Diaries, Scandal and More!
Photo Credit: HBO