If you like the Home Shopping Network and are a True Blood fan, you'll love this:
True Blood is sinking its teeth into HSN! The HBO show teamed up with the retailer to launch Forsaken, a line of vampire-inspired beauty and home products starting August 9th.
"Even into its fifth season, True Blood continues to be wildly popular in pop culture so we are always looking to provide new ways for fans to engage with the brand," James Costos, HBO's Vice President of Global Licensing, told InStyle.com. "We felt a fragrance line that was elegant, mysterious and sensual lent itself naturally to the themes of the show."
The Forsaken collection includes a fragrance (developed by mega-perfume company Givaudan), a body cream, a body veil, a DL & Co. candle (featuring a lid with a fang on it) and diffusers, nail polishes with vampy names like "Let It Bleed" (which is scented!) by Deborah Lippmann, as well as the celebrity manicurist's first-ever lipstick, fittingly a blood red hue named "Bite Me." "The collection taps into the essence of the show—romantic, dark, mysterious and extremely sexy," added Betsy Olum, the General Manager of Beauty and Merchandising Strategy for HSN. Click through the gallery to preview the entire lineup, and shop it for $25 to $60 on HSN and hsn.com starting August 9th.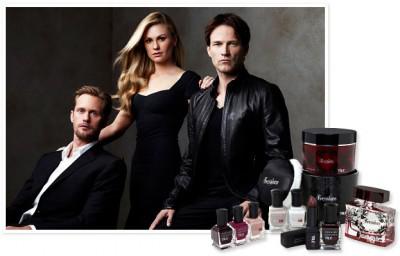 source: instyle.com